Memo Reveals Refuge Officers' Struggle to Secure Lands Along Southwest Border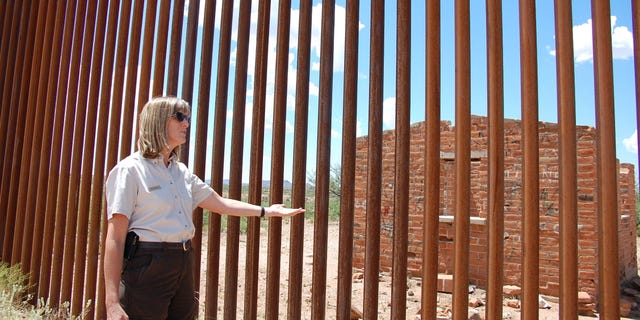 As the threat of violence stemming from illegal immigration hangs over federal lands in southern Arizona, an internal memo from 2007 reveals that refuge officers have been spending most of their time struggling to deal with border-related activities instead of protecting wildlife habitat.
The memo is three years old, but it is unlikely that much has changed, since parts of five federal lands -- including two designated national monuments -- continue to post travel warnings or be outright closed to the public because of the dangers of "human and drug trafficking" along the Mexican border.
According to the memo, which was obtained by FOXNews.com, the Department of Interior warns that refuge officers are spending 100 percent of their time at Cabeza Prieta National Wildlife preserve and between 90 to 95 percent of their time in Buenos Aires National Wildlife Refuge and Leslie Canyon dealing with border-related activities. It also notes that the Cabeza Prieta preserve is spending 60 to 70 percent of its budget on border-related activities.
This includes everything from apprehending illegal immigrants until Border Patrol can arrive, to cleaning up the mountains of trash -- about 500 tons a year -- that they leave behind. More than 1,300 miles of illegal trails had been created on the refuge by illegal border-crossers, the memo says.
In 2006, more than 95,000 illegal immigrants were apprehended on or near refuge lands, the memo says.
The number of border-crossers has declined significantly since an 18-foot-tall pedestrian fence was completed in 2007, replacing the porous vehicle barriers and barbed-wire fences that had stood there before.
But border security is only a small part of the job description for refuge law enforcement officers. Among their expected tasks are investigating wildlife crimes, the destruction of habitat and the commercial exploitation of wildlife. They also work with federal, state and tribal officers on drug and immigration enforcement.
Kendra Barkoff, a spokeswoman for the Interior Department, dismissed the premise of this article as "silly" because it is "based on a three-year-old memo."
"Fox has reported on this issue exhaustively and should know how closely DOI and DHS work along the border," she said in a written statement.
A spokesman for Border Patrol declined to comment, saying it wouldn't be "prudent to give comment on a three-year-old memo."
But T.J. Bonner, president of the National Border Council, the union for Border Patrol agents, told FoxNews.com that the substance of the memo didn't surprise him. "Obviously, the impact of that policy is severe on our operations," he said. "When you can't drive in those areas, it makes it impossible to patrol and enforce the law, and it transforms it into a sanctuary for illegal aliens."
Republican lawmakers have asked the Interior Department for updated information but haven't received anything, a GOP aide told FoxNews.com.
Republicans lawmakers are pushing to give Border Patrol operational control of the federal lands on the border -- a move they say would increase safety on public lands that they say have become a "highway open to criminals, drug smugglers, human traffickers and potentially terrorists."
Rep. Rob Bishop, R-Utah, the ranking member on the House Parks and Public Lands Subcommittee, has introduced legislation that would remove restrictions the Department of Interior imposes on U.S. Border Patrol agents.
But the bill is stuck in committee and is unlikely to see the light of day this year, with congressional elections coming in November.
According to the internal memo, between 200,000 and 300,000 illegal immigrants cross the border via the 5.5-mile section in the Buenos Aires National Wildlife Refuge every year, causing extensive damage due to trailing, trash, abandoned vehicles, vandalism and theft.
Roughly 3,500 acres of that refuge -- about 3 percent of the 118,000-acre park -- have been closed since Oct. 6, 2006, when U.S. Fish and Wildlife Service officials acknowledged a marked increase in violence along a tract of land that extends north from the border for roughly three-quarters of a mile. Federal officials say they have no plans to reopen the area.
"The threat of violence posed by traffickers in drugs and people has affected the safety of staff and visitors, curtailing activities, negatively impacting recruitment and retention, and consuming a greater proportion of resource funding focused on law enforcement and security," the memo said.
It's not clear how many acres of federal land are closed due to safety concerns near the border.
The memo noted that of the 22 law enforcement positions authorized for the Southwest region, nine were in place, eight were in training and five were vacant. The memo revealed the struggles to fill the vacancies, saying several attempts at special recruitments on college campuses had limited results and that applicants were typically from Border Patrol and local law enforcement agencies "due to the challenging nature of working on a border refuge."
"Generally, applicants with a natural resource protection background do not apply; these potential candidates tend to prefer to be employed at a location without the border issues."