Melania Trump takes Fox News behind scenes of 'patriotic' White House Christmas display
First lady Melania Trump gave Fox News an exclusive inside look at the striking red-themed White House Christmas décor that she says represents the "bravery, heart, and patriotism" of the country.
Trump and "Fox & Friends" co-host Ainsley Earhardt toured some of the most iconic locations in the presidential residence, and the first lady offered personal thoughts on what the display means to her.
"So here we are in the Cross Hall and Grand Foyer," the first lady said at the White House's primary first-floor entrance. "This is representing -- you could see the color red. It represents the bravery, heart and patriotism."
The two then continued to the East Room, which often serves as a reception area and backdrop for presidential press conferences.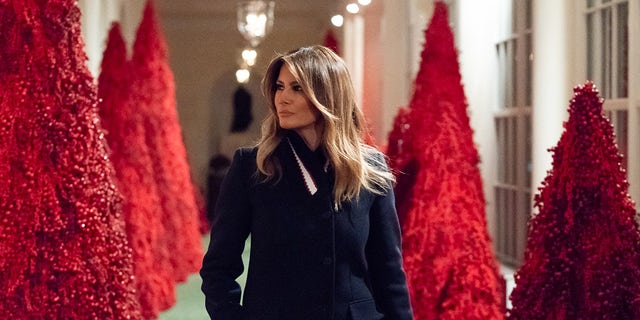 "It's decorated in blue, and then we will see later on the State Room," Trump told Earhardt, referring to the State Dining Room that plays host to visiting heads of state. "This is red, blue and white."
"It's patriotic, and it reminds us of the American flag," Trump told Earhardt.
The White House's Christmas decorations were met with derision when they were revealed on Monday, with critics claiming they look like the handmaids' outfits in "The Handmaid's Tale." Mainstream left-leaning media outlets such as The Washington Post, USA Today, Time, HuffPost, San Francisco Chronicle and Vice all mocked the decorations, at times masking their disdain by focusing on the backlash of trolls on social media.
But at a town hall Wednesday at Liberty University, the first lady made clear that all the negativity about the decorations -- typically a political no-go zone -- did not bother her.
"It's the 21st century, and everybody has different tastes," she said. "I think they look fantastic. I hope everybody will come over and visit it."
As the crowd erupted in applause, Trump added: "In real life, they look even more beautiful. You're all very welcome to visit the White House."
Watch Fox News' full interview with first lady Melania Trump on "Fox & Friends" Friday morning.