Melania Trump, son Barron move into the White House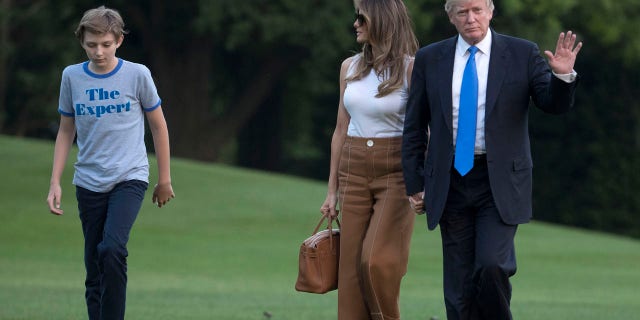 NEWYou can now listen to Fox News articles!
WASHINGTON – The first family has officially moved into the White House.
First lady Melania Trump arrived at the executive mansion Sunday evening alongside her husband, President Donald Trump and the couple's 11-year-old son, Barron.
The trio arrived on Marine One, which landed on the south lawn of the White House as the sun set behind the Washington Monument.
Barron, who will attend St. Andrew's Episcopal School in Maryland this fall, wore a gray t-shirt with the words " The Expert" inscribed on it in blue letters.
Melania Trump's parents, Viktor and Amalija Knav, also arrived on Marine One with the first family. The Knavs were living with their daughter and grandson in Trump Tower.
At one point, Barron Trump turned back to see if his grandparents were behind him.As the president entered into the White House he waved, and smiled towards the cameras.