Medvedev Suggests Agreement on Iran Sanctions, but Putin Still Silent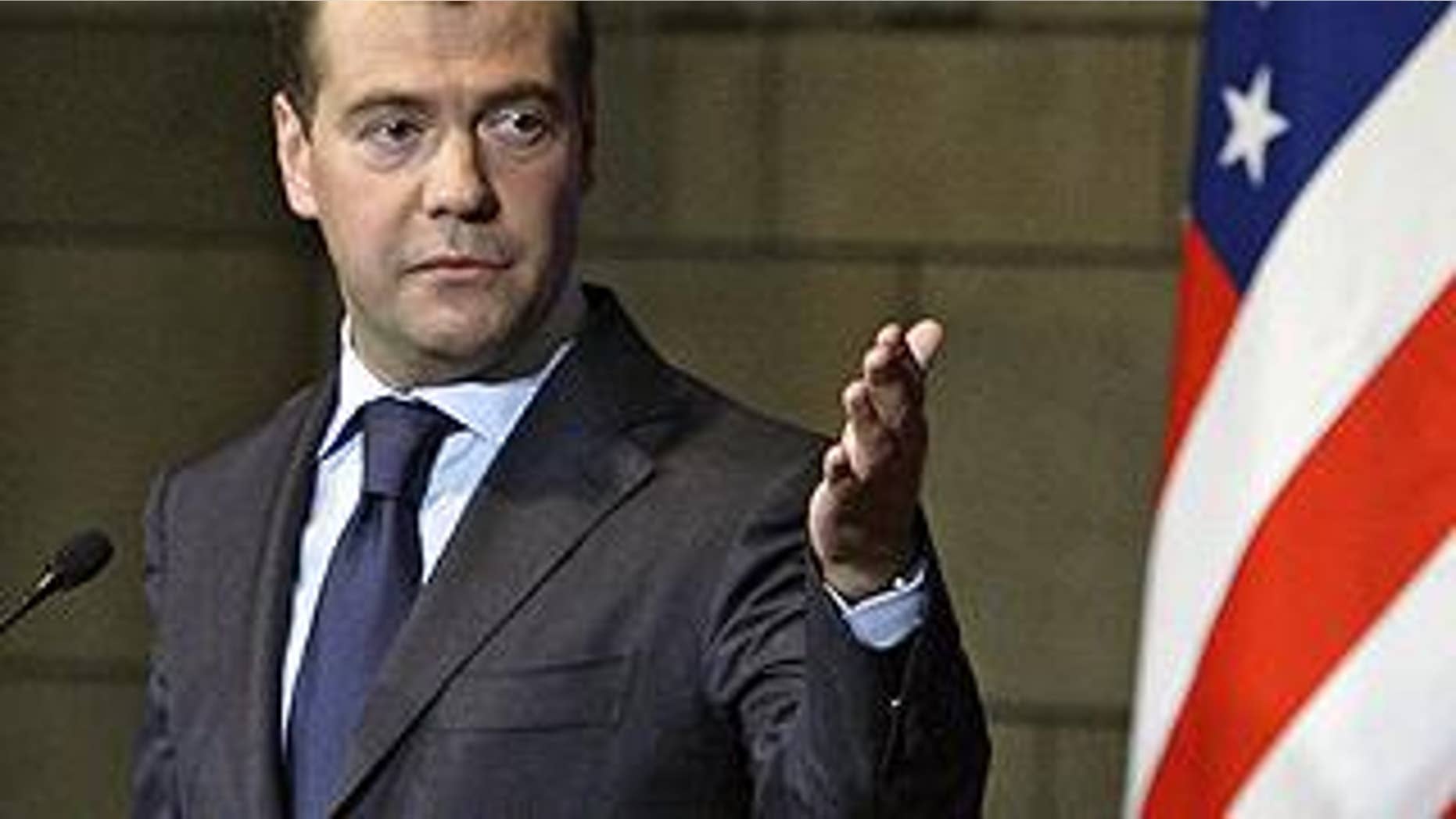 If President Obama's attempt to reset U.S. relations with Russia means scratching each other's backs, he may find that his efforts will leave America itching for more.
When Russia's President Dmitry Medvedev signaled Wednesday that Russia would consider President Obama's wish to impose tougher sanctions against Iran to halt its suspected nuclear weapons program, speculation immediately began swirling that Russia was returning a favor after the president's announcement he would scrap a planned missile defense program in Eastern Europe that Russia despised.
Speaking in New York after talks with Obama on the sidelines of the U.N. General Assembly meetings, Medvedev indicated that while sanctions are rarely productive, he is willing to consider them. The seeming pivot came despite past opposition to sanctions and the close ties between Moscow and Tehran.
"In some cases, sanctions are inevitable," the Russian leader said.
But Prime Minister Vladimir Putin -- the true voice behind the formerly iron curtain -- hasn't weighed in yet.
"To make it happen, it's clear that's something that would require Putin's support," said Paul Saunders, executive director of the Nixon Center, who is also director of the center's U.S.-Russia relations program.
Saunders said he would be cautious in interpreting Medvedev's statement as gesture in return for Obama's announcement last week that he will scrap a plan for a new U.S. missile defense shield in Eastern Europe.
Obama emphatically denied that the missile defense shift had anything to do with trying to get better cooperation from Russia on Iran, and Putin's response to the announcement -- that the U.S. also scrap Cold War-era trade rules -- suggested he was more willing to take than give.
Saunders said Moscow does not appear to be moving any closer to sanctions since Medvedev was in New York, not Moscow, and Putin has yet to speak his turn.
Ariel Cohen, a senior fellow at the conservative Heritage Foundation and an expert on Russia, agreed.
"There are differences of opinion between Prime Minister Putin and President Medvedev," Cohen said, adding that Putin and Russian Foreign Minister Sergey Lavrov expressed opposition to tougher sanctions and the use of force against Iran during a face-to-face meeting with Cohen in Moscow last week.
Lavrov told Cohen that Moscow doesn't consider Obama's decision to abandon missile defense in the Czech Republic and Poland as concessions, Cohen said.
"'(Obama) just corrected what (former President George W.) Bush did wrong,'" Cohen recounted Lavrov telling him. "If they don't play ball on Iran, they're just pocketing concessions, smiling and moving on to new demands."
Cohen said it appears to him that if an exchange was sought, Obama may have conceded missile defense and got nothing in return.
"Unfortunately, the U.S. may pay a very high price for that," he said.
But Saunders said he would be surprised if Obama didn't twist Medvedev's arm in making his New York statement.
"I have no idea what he said. But I think President Obama could have said something like, 'I took a significant risk in changing his program and addressing this concern of yours and if I'm not able to demonstrate that it is leading to some concrete changes in our relations, it's going to be very difficult to sustain any meaningful engagement with you,'" he said.
"I think that's kind of a natural part of diplomacy," Saunders added. "And I think actually it's usually good in a conversation like that to understand the constraints."
The first test of Russia's potentially new stance will come Oct. 1 when negotiations are scheduled between the Iran and a group of six nations, including the U.S. and Russia, over its nuclear ambitions. Obama wants to pursue tougher sanctions if those meetings yield nothing.
Saunders dismissed the Oct. 1 meeting as a gambit by Iran to stall the international community.
"Obviously, everybody has kind of pinned their hopes on that," he said. "I'm a little skeptical that anything decisive has happened. It's more likely that Iran has to keep discussing it but not resolve it in a satisfactory way."
Cohen added that doesn't envision a bright future for U.S-Russian relations.
"The United States is trying to reset them but we're putting huge down payments and not getting quid pro quo," he said. "If the Obama administration does not get quid pro quo, it will lose interest."