Media pounce on White House for nomination delays but miss glaring error by Schumer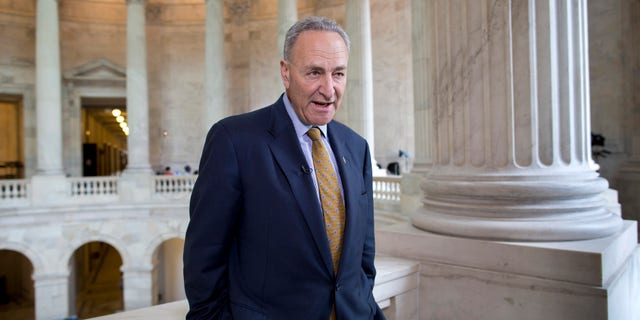 NEWYou can now listen to Fox News articles!
It was a tough statement by the Senate minority leader, blaming President Trump for the fact that so few of his nominees have been confirmed.
"If the president is looking for someone to blame for the slow pace of confirmations, he needs only to look in the mirror," Chuck Schumer said Monday. "Of the 63 that have been nominated, the Senate has confirmed 39 of them."
But as the White House tried to tell a number of reporters, only to be met by a collective yawn, the New York senator had confused the official statistics. At the time, the 63 nominees awaiting Senate approval were in addition to the 39 confirmed – meaning that Trump had nominated 102 people to top posts overall.
Schumer's office put out an updated release later that day, correcting the numbers but making no mention of the mistake. But almost no one in the press picked that up. New York's Daily News, which played up the story, did say the senator had "initially misstated how few people Trump had nominated."
It is hard to imagine Trump getting a pass from the media on a blunder of that magnitude.
A Schumer spokesman said he stands by the criticism. In the revised statement, Schumer said the Senate had to vet many nominees for conflicts and incomplete ethics agreements, and that the president "ought to roll up his sleeves and get to work rather than pointing false fingers of blame."
Trump had tweeted earlier that day, "Dems are taking forever to approve my people, including ambassadors. They are nothing but OBSTRUCTIONISTS! Want approvals."
The president did get around to nominating Christopher Wray as FBI director yesterday, just as James Comey prepares to testify on the Hill today. But he has still not filled such key jobs as head of the Centers for Disease Control.
There is no question the pace of nominations has been slow by historical standards, since the president can fill 559 jobs that require the Senate's consent. And Republicans, of course, control the Senate. But administration officials believe they have gotten a bum rap in shouldering most of the blame.
"The media is quick to attack the White House regardless of the facts, while failing to hold Democrats accountable for their historic obstruction of the president's qualified nominees and false statements," said Raj Shah, Trump's deputy communications director.
Earlier this week, a Politico story quoted Linda McMahon, head of the Small Business Administration, on the subject, based on a podcast interview.
"We're not even staffed up to where we need to be or where we were, to do a lot of our regular activities," she said. She also said that "a lot of the staffing that I'm talking about does have to have White House approval. … There's been some bottleneck, you know. They're trying to fill a lot of roles at one time. And it's a lot of people to process."
But other McMahon quotes from the Politico podcast were not included in the story. Asked about the "bottleneck," she said: "I don't know if it slows it down as much as it means there are many people working very long hours. We will operate much better when we are fully staffed. We won't operate at the full staff levels of the prior administration because we are going to do more with less. We are driving towards efficiency."
The SBA chief also said on the podcast, "I do think we would like to see things move quicker but I think we have gotten over the hump since our deputy, head of comms, and that the general counsel starts next week."
McMahon addressed Politico in a statement to me: "Quit trying to create a riff through truncated and cherry-picked quotes to create a controversy between the SBA and the White House where one does not exist." She also said the headline, "Linda McMahon Complains About White House 'Bottleneck,'" is inaccurate and could be misleading for people who don't listen to the podcast. "Nowhere is there 'complaining.' In fact, quite the opposite," she said.
Politico spokesman Brad Dayspring said that "we appreciate Administrator McMahon joining our Off Message podcast with Isaac Dovere and sharing her insights and unique stories with our listeners. We'd encourage people to listen to the podcast episode themselves and form their own opinion."
The president has drawn criticism because, having fired all 93 U.S. attorneys, he has yet to name a single replacement. But administration officials note that Barack Obama and Bill Clinton didn't name their first U.S. attorneys until June of their first year, and George W. Bush did not do so until September. Plus, both the White House and the Senate Judiciary Committee were preoccupied for weeks with the Neil Gorsuch nomination.
One factor that has slowed the process on the administration's side is the elaborate ethics review that nominees must undergo. A number of Trump's nominees are very wealthy, and several top picks have withdrawn after financial conflicts or complications surfaced during the ethics process.
The issue also surfaced Tuesday at a State Department briefing, where NBC's Andrea Mitchell cited "criticism from people on the Hill, quietly from both parties, that the nomination process is stalled here at the State Department. At all levels, nominations have not gone forward."
Department spokeswoman Heather Nauert, a former Fox anchor, replied:
"I would take issue, first, with the premise of your question. There are people moving through the pipeline." Nauert pointed to last month's confirmation of former Iowa governor Terry Branstad as ambassador to China.
But getting clearance for potential nominees, especially ambassadors, is time-consuming, Nauert said. "I went through a smaller version of the clearance process, and it takes months," she said.