McCarthy emerges as front-runner to succeed Ryan as House speaker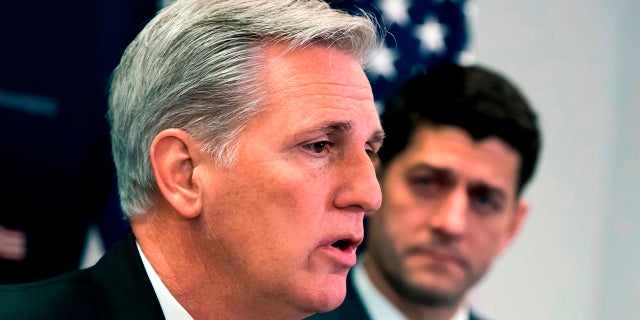 In the days since House Speaker Paul Ryan announced his plans to retire from Congress, Majority Leader Kevin McCarthy has emerged as a clear front-runner to succeed Ryan in the demanding job.
McCarthy, who was first elected to Congress in 2006, earned the endorsement of Ryan himself on Friday.
Presuming Ryan serves out his term, the GOP battle to succeed him will only play out if Republicans hold the House in the midterm elections. But if that happens, other possible candidates include No. 3 House Republican Steve Scalise, of Louisiana, and Rep. Jim Jordan, of Ohio.
McCarthy represents and resides in Bakersfield, Calif., where he formerly owned a deli store. Since arriving in Washington, McCarthy has made steady progress in the Republican hierarchy. In 2014, he was elected House majority leader -- the No. 2 post -- after previously serving as deputy party whip and whip.
In 2015, he initially sought the speakership when then-House Speaker John Boehner of Ohio resigned. But "rumblings" from the conservative Freedom Caucus that he wasn't conservative enough led him to withdraw his bid just hours before his GOP colleagues were to cast their votes, the Los Angeles Times reported.
Ultimately, Ryan reluctantly took the job.
This time, however, many wonder if continued skepticism by conservatives may again block McCarthy from the post.
To his benefit, McCarthy is reportedly one of the most prolific fundraisers for the Republican Party and GOP candidates, raising $8.75 million so far this year, the Times reported.
He also raised more than $30 million during the 2016 election cycle, the Mercury News reported.
"Kevin's the kingmaker of California Republican politics," Mark Martinez, a Cal State Bakersfield politics professor, told the newspaper. "He can literally rain money on any of the other Republicans who run into trouble."
"Kevin's the kingmaker of California Republican politics. He can literally rain money on any of the other Republicans who run into trouble."
Another factor in McCarthy's favor is his close relationship with President Trump, who has called him "My Kevin," the report said. Last year, he reportedly delivered Trump a jar of cherry and strawberry Starburst candies, the president's favorites.
Trump's embrace could be crucial for McCarthy if he wants to nail down support from conservative lawmakers who have been leery of his GOP establishment ties.
But even in a contest of Republican lawmakers, a Trump endorsement is a double-edged sword. The president is unpopular in many suburban and other swing districts, and many Republicans don't want their leader to be viewed as beholden to the whims of the unpredictable president. Others bristle at the idea of presidential meddling in their contest.
"This is a matter to be decided by the legislative branch of government, not the executive branch," Rep. Leonard Lance, R-N.J., said of Trump supporting a candidate.
"Paul Ryan is a brilliant guy, but Kevin McCarthy has forgotten more about California than Paul Ryan knows about California," state GOP Chair Jim Brulte told the Mercury News. "Having a speaker from California can be nothing but helpful to the state."
The paper reported that during negotiations on the tax-reform bill late last year, McCarthy played a major role in watering down provisions cutting mortgage interest and state tax deductions which hit California "harder than almost anywhere else in the country." Critics still said the bill hurt the state.
If McCarthy is chosen as speaker and Rep. Nancy Pelosi, D-Calif., remains minority leader, "an unprecedented arrangement of American politics" would occur in that leaders of both parties in the House would come from the same state.
However, if Democrats take 23 seats nationwide to win control of the House, that party will select the next speaker.
It remains to be seen if Ryan's departure plans will jeopardize the GOP's prospects with potential donors and hopes for victory in November.
"It's like Eisenhower resigning right before D-Day," said Tom Davis, a former Republican congressman from Virginia, who once headed the House GOP's campaign committee.
"Paul Ryan was the franchise," Davis said. "With Paul, this was a Republican Party they could still give to. He's a great brand for the party. He's gone."
Ryan was once viewed as the future of the GOP, and he is now a rudder for a party regularly tossed about by Trump's shifting impulses. He joins a deep bench of Republicans leaving Washington in the Trump era.
Overall, some four-dozen House Republicans — including powerful committee chairmen — are calling it quits.
"Paul Ryan was the franchise. With Paul, this was a Republican Party they could still give to. He's a great brand for the party. He's gone."
On Thursday, Ryan dismissed suggestions from some corners that it would be best if he stepped aside now instead of in January.
"My plan is to stay here and run through the tape," Ryan told reporters, noting he had "shattered" fundraising efforts by previous speakers, more than doubling his $20 million goal.

"I talked to a lot of members — a lot of members — who think it's in all of our best interest for this leadership team to stay in place," Ryan said. "It makes no sense to take the biggest fundraiser off the field."
Ryan said that while he believes McCarthy can line up enough votes now to win the job, he doesn't want a campaign for the party's top job to sidetrack GOP lawmakers at a crucial time.
Ryan has said he will serve as speaker through the end of his term.
Meanwhile, Scalise has said he wouldn't run against McCarthy, a longtime friend. But Scalise hasn't ruled out seeking the job if McCarthy fails to nail down the votes needed to elect a speaker when the new Congress convenes in January.
The White House declined to weigh in Friday on whom the president preferred for speaker.
"The president has a great relationship with Kevin McCarthy, but in terms of an announcement about who he wants to see as the next speaker, I don't have any announcements on that front," White House Press Secretary Sarah Sanders said at a press briefing.
Rep. Jordan said Friday he's "open to running" for the speaker job, according to the Mercury News. Jordan is a leader of the hard-right, 30-member House Freedom Caucus, but his candidacy seems certain to fall short, the report said.
The Associated Press contributed to this report.