Marines, UK combat troops give key command post to Afghan military, as mission draws to close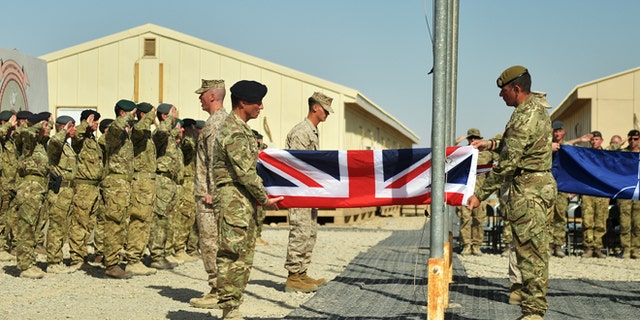 The last Marines unit in Afghanistan officially concluded its mission on Sunday, handing over to the Afghan military the sprawling U.S. military base known as Camp Leatherneck.
The event included the U.S. flag being lowered and folded and occurred at the same time British combat troops officially closed Camp Bastion, which also is in Afghanistan's Helmand Province, Fox News confirmed.
The camp has been the center of U.K. operations in Afghanistan since 2006.
The ceremonies marked the end of operations for the Southwest Regional Command -- a U.S. and U.K. coalition operating under NATO's International Security Assistance Force.
They also end an important chapter in the 13-year Afghan campaign, which started after the Sept. 11, 2001, terrorist attacks.
The joint base once had roughly 40,000 people working there. The province was once a stronghold of the terror-related Taliban group.
U.K. Defense Secretary Michael Fallon said Britain has helped give Afghanistan "the best possible chance of a stable future." However, he acknowledged to the BBC that there is "no guarantee that Afghanistan is going to be stable and safe."
Meanwhile, Brigadier Rob Thomson, senior U.K. officer in Helmand, said Afghan National Security Forces are "more than ready" to assume responsibility for the country's security.
Britain plans to withdraw its final combat troops from Afghanistan by the end of the year and is planning to give Afghan forces control of a base in Kandahar, the country's second most populous city.
Military advisers and trainers are expected to stay in Kabul, the capital.
Some Americans have been critical of the Obama administration's decision to also remove all combat troops from Afghanistan by the end of the year, amid concerns about whether the Afghan forces are ready, considering the hundred of U.S. lives lost in the war on terror.
Fallon said Britain's commitment to support Afghanistan will continue "through institutional development, the Afghan National Army Officer Academy, and development aid."
Britain suffered 453 fatalities during the campaign. The vast majority of the fatalities happened in Helmand province.
Fox News' Jennifer Griffin and The Associated Press contributed to this report.