Marco Rubio Stumps In New Hampshire; Calls Out Obama & 'Big Business'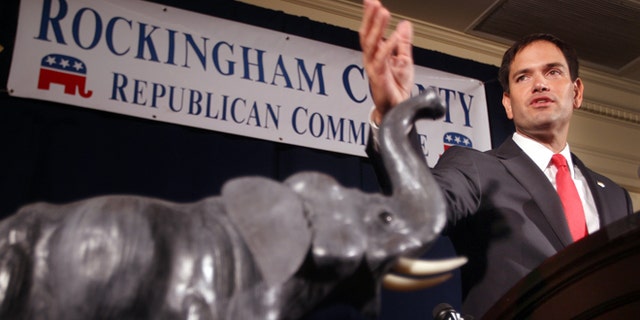 NEWYou can now listen to Fox News articles!
Sen. Marco Rubio on Friday evening called out President Barack Obama for failing to deliver on his 2012 campaign promise to working class families.
Rubio told a gathering of New Hampshire Republicans that, "The extraordinary irony is the man who is now in the White House, and his party, actively campaigned six years ago on the promise that they would work for these people … They say 'Our new focus now is trying to help the people trying to make it.' What's been your focus for the last six years?"
The freshman senator from Florida delivered his remarks at a Rockingham County fundraiser in New Castle, N.H., the county has the largest population of Republicans in the state.
In the past, the senator has pushed for comprehensive immigration reform, a highly divisive issue within the Republican party, but he was silent on the topic Friday evening.
Instead, Rubio focused on creating opportunities for the working class, saying, "The truth is our wages haven't kept pace with the cost of living in America. The solution to that is not more government. It's robust economic growth that creates not just new jobs but better paying jobs—40 percent of new jobs created in America under the Obama presidency have paid less than $16 an hour."
Rubio also pointed a finger at big business. "Big companies may not like big government, but they can afford to deal with it. They can higher the best lobbyist in Washington to help write those regulations. They can hire the best lawyers in America to find loopholes in those regulations. But if you're starting a new business out of the spare bedroom in your home you can't do that."
He added, "There are thousands of companies that were never born because they could not comply with the regulations they were buried underneath."
The Florida senator drew roaring applause when he spoke about school choice for underprivileged families and a parent's right to advocate for his or her children.
Rubio made reference to a New Hampshire parent who was arrested at a school meeting for breaking a two-minute speaking limit, saying we should be "giving the parents a right to speak out about their children's education at a meeting without being arrested."
This is the senator's first visit to the Granite State in nearly two years.
Earlier this week, Sen. Rubio endorsed Iowa Republican senatorial candidate, Joni Ernst, describing her as a "tough, no-nonsense conservative."
With Rubio making headlines in the two earliest electoral battleground states, there would seem to be little doubt about his intentions for 2016?
Follow us on twitter.com/foxnewslatino
Like us at facebook.com/foxnewslatino