Marco Rubio says he may be rethinking Senate run after Orlando shooting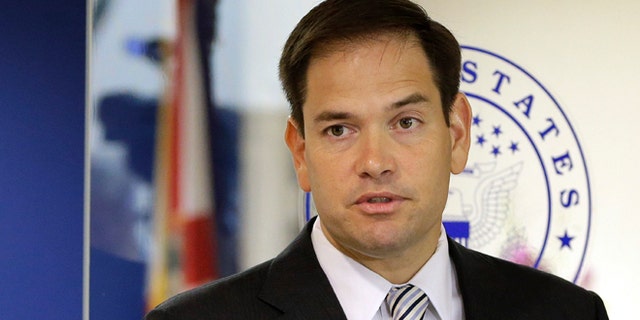 NEWYou can now listen to Fox News articles!
Sen. Marco Rubio says the mass shooting at a gay club in Orlando has given him something to think about in regard to his political future.
Speaking to conservative radio host Hugh Hewitt on Monday, the Florida first-term senator said the shooting at Pulse Orlando nightclub has given him pause to think about the "service to your country and where you can be most useful to your country."
"We live in a very dramatic moment in our history. I think we're at a tipping point here moving into the next election. Irrespective of who the next president is, I think we're going to face some real foreign policy challenges, given some of the things both of the candidates have outlined," Rubio said, according to Roll Call.
"So you know, obviously I haven't thought about it from a political perspective, but it most certainly has impacted my thinking in general about a lot of things," he added.
The former Republican presidential candidate said running for re-election is not part of his family plan at the moment.
"My family and I will be praying about all this, and we'll see what I need to do next with my life with regards to how I can best serve," Rubio said.
The Cuban-American senator has been pushed to run for re-election by some sectors, however has said that he is hesitant to run because Lt. Gov. Carlos Lopez-Cantera is running for the same seat.
The two are friends and Rubio is expected to hold a fundraiser for Lopez-Cantera on June 24 – the filing deadline day.
"I have a friend of mine who is running for the U.S. Senate," he said in reference to Lopez-Cantera. "I really don't want to link the two things right now, because I don't want politics to intrude in all of this."
Just last month, Rubio told reporters that he stands by his decision not to seek a second term in the Senate.
""My sense of it is, nothing has changed in my thinking," Rubio told reporters, according to Roll Call. "Part of the reason why is I have a very good friend running for Senate."
At least 49 people were killed when a lone gunman, now identified as Omar Mateen, entered the gay club Pulse in Orlando early Sunday morning.
Fox News contributed to this report.