Marco Rubio dips into Cleveland convention in 2-minute recorded speech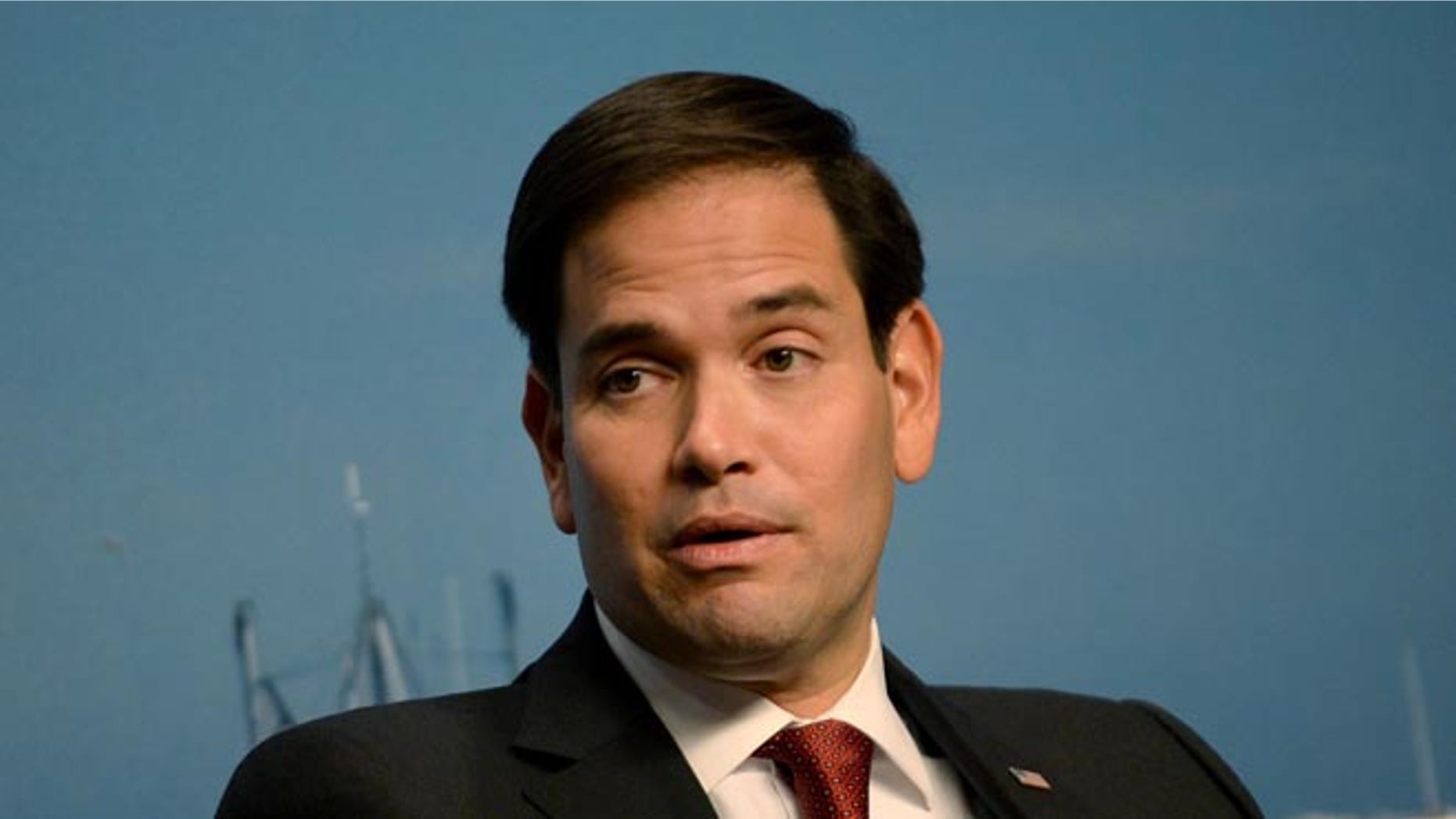 It was short, barely more than a couple of minutes via satellite, but Florida Sen. Marco Rubio emphatically denounced Hillary Clinton as untrustworthy and unfit to lead the United States.
Then Rubio, who exchanged nasty barbs with Donald Trump during the GOP primaries, urged voters in his speech to delegates at the Republican National Convention in Cleveland to vote for the real estate mogul.
"She turned her back on the fallen heroes in Benghazi…and then lied about it to the American people," said Rubio.
He said that unlike Clinton, Trump is committed to cutting taxes, to getting the debt under control, to building the U.S. military and picking constitutionalist judges.
Rubio, who withdrew out of the presidential race after a humiliating loss in the GOP primary in his own state, said "the time for fighting each other is over, it's time to come together."
"It's time to win November," said Rubio, urging voters to cast their ballot for Trump.
Rubio was one of three Latino political leaders to address the convention delegates Wednesday night.
There had been no Latino speakers prior to Wednesday, which drew criticism from many Hispanics who have accused the GOP of giving the community short shrift and backing policies and views that hurt them.
He was preceded by Kentucky State Sen. Ralph Alvarado and followed by Sen. Ted Cruz, who gave Trump the stiffest competition in the GOP primaries.
Alvarado praised the United States as a land of opportunity, and where his parents – a father from Costa Rica, a mother from Argentina – were able to build a new life and give their children even better lives. He said, in English and Spanish, that many Latino immigrants fled homelands that were plagued by corrupt politicians.
He told them not to make the mistake of voting for dishonest politicians, an obvious reference to Democratic presidential candidate Hillary Clinton, whose campaign has been overshadowed by the revelation that she used a private server for sensitive emails while Secretary of State.
The Kentucky state senator said that Latinos share fundamental values with the Republican Party, echoing a favorite line of Ronald Reagan. "At their core, Hispanics believe what Republicans believe: traditional family values, church, faith in God, the dignity of work, and the opportunity for self-sufficiency that comes from a free society and a limited government," Alvarado said. "They have simple dreams that might seem mundane to the average American, but would sound familiar to our founding fathers and their core principles."
Of the three Hispanics addressing the delegates, Alvarado gave the strongest appeal for voters to cast their ballot for Trump.
"There is only one candidate who will protect it for our current and future generations," Alvarado said. "That candidate is Donald Trump."
The speech was a breakout moment for the relatively unknown Alvarado.
For Rubio and Cruz, it was a chance to reappear on the national radar within a presidential framework.
Both are 45 years old, and many political observers say it's possible they will take another shot at a presidential run. Both are seeking re-election to their Senate seats.
Cruz gave a widely anticipated speech that was decidedly not an endorsement. He mentioned Trump's name only once, and to congratulate him for winning the nomination.
Cruz also had deeply vicious exchanges with Trump later in the GOP primaries, a stark departure from the earlier days of the contest, when both men seemed to have a tacit agreement to remain civil, and even amicable.