Lynch takes over DOJ, inherits Freddie Gray probe and more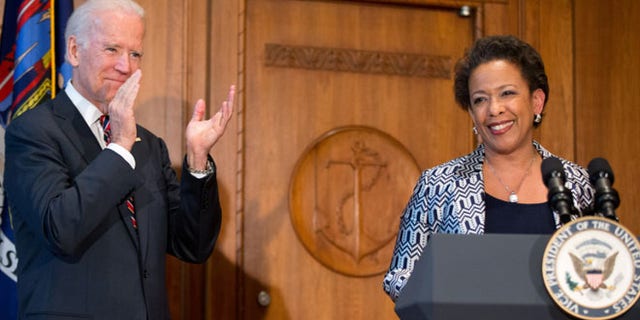 Federal prosecutor Loretta Lynch was sworn in Monday as U.S. attorney general, inheriting from Eric Holder a stack of unfinished business -- not the least of which will be the challenge of easing growing tensions between local police and minority communities.
In addition to continuing Holder's terror prosecutions and tackling the cybersecurity threat, Lynch immediately faces mounting civil unrest sparked by the recent deaths of black men during encounters with police officers. Within hours of her swearing-in ceremony, violent protests erupted in Baltimore connected with the recent death of Freddie Gray.
Gray, whose funeral was held Monday, died April 19 after suffering a severe spinal injury while in police custody. Thousands attended his funeral.
Days before Lynch took the helm, the DOJ launched a federal civil rights probe into the case, an investigation Lynch will now oversee.
"We can restore trust and faith both in our laws and those who enforce them," Lynch said in her swearing-in ceremony, making an apparent reference to the ongoing efforts to repair relations between police departments and minority communities. "I know this can be done."
For Lynch, it is a delicate task ahead. The larger issue will likely be whether she can or will bring federal charges, after her predecessor as attorney general did not bring any against a white police officer in the fatal 2014 shooting death of black teen Michael Brown in Ferguson, Mo.
The 55-year-old Lynch was sworn in by Vice President Joe Biden as the country's top law-enforcement officer late Monday morning, after waiting nearly six months for the Senate to end a partisan squabble and confirm her nomination. She becomes the first black female attorney general.
"This is an incredible moment," Biden said. "It's about time this woman is being sworn in. … She had never been limited by the lower expectations of others, but has always exceeded the expectations she would set for herself."
Lynch was previously the U.S. attorney for the Eastern District of New York, which encompasses much of New York City and is one of the Justice Department's busiest offices.
The Harvard Law School graduate and daughter of a southern preacher inherits a Justice Department consumed by efforts to stop the flow of Islamic State recruits to Syria and to prevent destructive computer crimes against American corporations.
"If a little girl from North Carolina who used to tell her grandfather in the fields to lift her up on the back of his mule, so she could see 'way up high, Grandaddy,' can become the chief law enforcement officer of the United States of America, then we can do anything," Lynch said Monday.
She will have limited time in the twilight of the Obama administration to craft ambitious new policy proposals and is seen as unlikely to depart in radical ways from Holder's priorities.
She has tried to assure Republicans in recent months that she would arrive in Washington with her own law-and-order perspective.
In Holder's six years -- as the first black U.S. attorney general -- he repeatedly clashed with congressional Republicans, who accused him of being overly political. They held him in contempt in 2012 for failing to provide additional information related to the failed federal gun-running program known as Operation Fast and Furious.
Holder also left office without pursing contempt charges raised by the GOP-led House against Lois Lerner for her role in the IRS targeting of Tea Party and other conservative groups.
In Lynch's roughly eight years as U.S. attorney in New York, she oversaw cases against terrorists, cybercriminals and elected officials -- all common Justice Department targets.
The office has recently brought several noteworthy cases against suspected Islamic State group recruits, but without the typical fanfare of a news conference.
And it is still involved in the civil rights investigation arising from the death of a black Staten Island man who was placed in a chokehold by a white police officer.
As a Brooklyn prosecutor, Lynch attracted attention for her leading role in one of the most sensational police brutality cases in city history, the 1997 broomstick torture of Haitian immigrant Abner Louima in a precinct bathroom.
Lynch served from 1999 to 2001 as U.S. attorney for the Eastern District before entering private practice.
She returned to the position in 2010 and was appointed to the Attorney General's Advisory Committee, a position that required her to spend more time in Washington and drew her closer to Holder.
During her second tenure, Lynch's office won convictions in a thwarted Al Qaeda-sanctioned plot to attack New York City subways, and against a Canadian drug kingpin who was one of New York's biggest marijuana suppliers.
More recently, her office brought a tax evasion case against former Republican Congressman Michael Grimm that resulted in his guilty plea and resignation.
Beyond the pressing issues of terrorism, cyber-attacks and community policing, Lynch also inherits pending settlement cases involving currency manipulation on Wall Street and cases of alleged police brutality in South Carolina and Ohio.
Lynch must oversee a department composed of 40 agencies, including the Bureau of Alcohol, Tobacco, Firearms and Explosives and the troubled Drug Enforcement Administration, whose director resigned last week after reports that agents attended drinking parties with prostitutes hired legally by Colombian drug cartels.
The Associated Press contributed to this report.