Lieberman Finds Stride in Senate as the Democrats' Maverick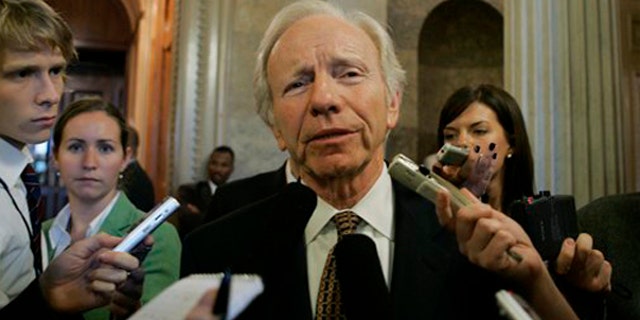 Sen. Joe Lieberman was the Democrats' persona non grata last fall. Having spent most of the year stumping for Republican presidential candidate John McCain, he was on the brink of losing his prized chairmanship of an important Senate committee, and he was on the receiving end of some nasty insults from the soon-to-be Obama White House.
One year later, Lieberman is still unwelcome in the liberal wing of the Democratic party, but his status in the Senate is no longer in question. Joe matters.
The Connecticut senator has emerged as the most vocal critic in the Democratic caucus against a government-run insurance plan, pledging to join a Republican filibuster against health care reform "as a matter of conscience" if the public option is in the bill.
And after the shooting rampage at Fort Hood last week, the chairman of the Homeland Security and Governmental Affairs Committee is poised to lead a congressional investigation into what led to the attack and whether the military and intelligence communities missed "warning signs."
On top of this, the Independent Democrat has embraced the "I" after his name, working at times with fellow Democrats but also hopping across the aisle without hesitation to put pressure on the Obama administration.
In the past few months alone, Lieberman has urged Attorney General Eric Holder not to open an investigation of the intelligence community's interrogation practices; chided President Obama for canceling a missile defense shield in Eastern Europe; and repeatedly joined Republicans in pressing the president to approve a troop increase for Afghanistan.
On Friday, Lieberman ripped the Obama administration's decision to prosecute the self-proclaimed mastermind of the Sept. 11 attacks Khalid Sheikh Mohammad and his accomplices in New York instead of the military commissions.
Timothy Profeta, who used to work as Lieberman's counsel on environmental issues, said Lieberman has emerged once again as an influential moderate.
"There was a lot of raw emotion in '06 and '08 but that seems to have passed at least among the senators themselves," said Profeta, now director of the Nicholas Institute for Environmental Policy Solutions at Duke University. "He's been able to reassume his role as a bridge between the parties on key issues, and perhaps even strengthen."
While his partisan transgressions have earned him the scorn of liberal commentators and some lawmakers, Lieberman continues to have the public backing of Senate Majority Leader Harry Reid.
"I have the greatest confidence in Joe Lieberman's ability as a legislator," Reid said late last month after Lieberman threatened to join a filibuster against health care reform. Reid called Lieberman "my friend," and the one he respects more than any senator.
"Joe Lieberman is the least of Harry Reid's problems," Reid said.
He signaled that Lieberman will be at the table, not on the menu, in the weeks ahead, saying he will "work with us" and be involved in the amendment process.
On health care reform, Lieberman could be a decisive voice, and he restated his opposition to a government-run plan on "Fox News Sunday" earlier this week.
"If the public option plan is in there, as a matter of conscience, I will not allow this bill to come to a final vote, because I believe the debt can break America and send us into a recession that's worse than the one we're fighting our way out of today," Lieberman said.
A source who knows Lieberman well said the senator's not alone, and is speaking for as many as a dozen moderate Senate Democrats who don't want the government-run plan either. The source predicted Lieberman would help guide a compromise that excludes the public plan -- which in turn will trigger a "food fight" with the House of Representatives.
"Washington just doesn't know what to do with someone who doesn't wear their party uniform," the source said, calling Lieberman consistently independent throughout his career. "It just sort of freaks people out."
Among the freaked out are protesters, who were arrested outside Lieberman's office for the second time in a week on Tuesday and charged with unlawful entry.
Sen. Tom Harkin, D-Iowa, fired a warning shot at Lieberman in late October, suggesting Lieberman has a lot to lose if he goes against the Democrats on health care reform.
"He wants to caucus with us and, of course, he enjoys his chairmanship of the committee because of the indulgence of the Democratic Caucus. So I'm sure all of those things will cross his mind before the final vote," Harkin said on a conference call with reporters, according to an account in The Iowa Independent. Harkin said Lieberman doesn't want to "go down in history" as the Democrat who helped kill health care reform.
Sen. Patrick Leahy, D-Vt., also suggested he'd be open to seeking Lieberman's ouster from the caucus if he filibusters, telling Politico.com, "Let's see what happens. I don't think anybody should be filibustering."
In a recent column, Democratic strategist Paul Begala charged that the "I" after Lieberman's name stands for "insurance industry." The senator is heavily funded by the health care and insurance industries, leading to allegations that he's in the tank for those interests.
Despite the criticism, Lieberman's standing does not look anywhere near as tenuous as it did following his speech in support of McCain at the Republican National Convention last summer. Late 2008 was one of the rockiest patches of Lieberman's already rocky career, which took him from Democratic vice presidential candidate in 2000 to defeated Democratic primary candidate in 2006 -- due in part to his support for the Iraq war -- to victorious independent and incumbent U.S. senator months later.
Lieberman's next mission is to head up a Senate investigation into the Fort Hood shooting, with a hearing scheduled for next Thursday.
A Lieberman spokeswoman told Fox News that the investigation will be a continuation of the homegrown terrorism probe the senator has conducted for years.
In the light of the Fort Hood rampage, in which 13 were killed and 29 wounded, Lieberman's office has drawn renewed attention to an eerily prescient report his committee authored in May 2008 warning about the threat of "homegrown terrorists."
While some have been cautious about labeling the shooting rampage an act of terrorism, Lieberman is outspoken -- saying there are signs that the suspect in the killings, Maj. Nidal Malik Hasan, was an "Islamist extremist" and that he should have been kicked out of the military if those signs were apparent. He is presenting himself as a force to be reckoned with in the inquiry ahead.
"This is not a matter of constitutional freedom of speech," he told "Fox News Sunday. "If Hasan was showing signs, saying to people that he had become an Islamist extremist, the U.S. Army has to have zero tolerance. He should have been gone."
Fox News' Trish Turner contributed to this report.