Latinos for Trump say GOP nominee has more Hispanic support than reported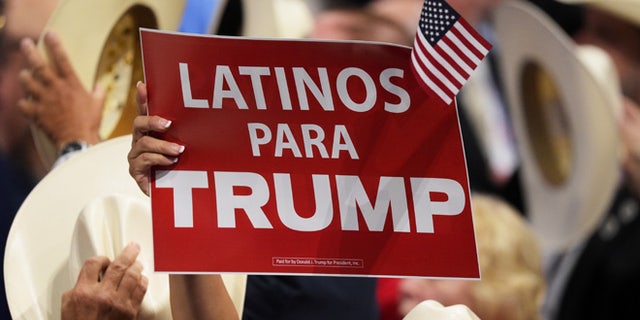 The few, the proud, the Latinos for Trump came out over the weekend in southern California to argue that controversial Republican nominee Donald Trump's support among Hispanics is stronger than has been reported.
A rally organized by the group drew between 60 and 100 people – both Latinos and whites – to the steps of Anaheim City Hall on Sunday where chants of "Viva Trump!" were heard alongside the more common Trump rally slogans of "USA! USA!," "Build that wall!," and "Hillary for prison."
"I don't believe any of the liberal media bias that says Trump is a racist or a bigot," Eddy Rodriguez, a 37-year-old U.S. Air Force veteran from who drove more than an hour from his home in Lake Elsinore, told the Orange County Register. "His businesses – successful businesses – have hired Latinos, blacks, women. I support Trump 100 percent."
While Rodriguez may support the GOP candidate, recent polling data suggests that he is in the minority among Hispanics.
A recent Fox News Latino poll found that Democratic nominee Hillary Clinton holds a commanding 46-point lead over Trump among Latino voters.
The poll found that 66 percent of registered Latinos would head to the ballot box to vote for Clinton and her running mate, Virginia Sen. Tim Kaine, compared to only 20 percent who would pick the ticket of Trump and Indiana Gov. Mike Pence.
The poll showed the gap between the two candidates widening 7 percent since May, when Clinton held a 39-point edge among Hispanics.
The Latinos for Trump rally came only a few days before Trump is expected to make a major speech on immigration and at a time that the real estate mogul has been accused of flip-flopping on his hardline position on the issue.
Trump in recent days has suggested he might be "softening" on establishing a separate deportation military-style force and that he might be open to allowing at least some people in the country illegally to stay, as long as they pay back taxes.
But by Thursday, the reality TV star once again was ruling out any kind of legal status "unless they leave the country and come back."
Despite the controversy, most at the rally said they're going to support the Republican nominee no matter what.
"He's the man," said Marco Gutierrez, a co-founder of Latinos for Trump, according to the Los Angeles Times. "He speaks the language of the heart. He can reach people who have been disenfranchised."
As for Trump's immigration stance, Gutierrez said, "He just wants to expedite the process and better enforce our immigration laws."
The Associated Press contributed to this report.