Latino rights group plans to build 'border wall' around Trump, GOP convention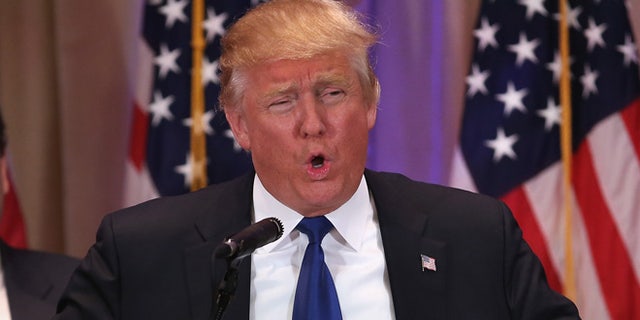 NEWYou can now listen to Fox News articles!
Echoing presumptive Republican presidential nominee Donald Trump's claim that if elected he would build a wall along the United States border with Mexico, a Latino rights group is planning next week to build its own wall.
But this one would circle the real estate tycoon and the Republican National Convention in Cleveland.
Mijente in Action, a group that calls itself "a new political home for Latinx and Chicanx organizing," has started a campaign called "Wall Off Trump," which is raising funds to construct a 15,000- foot banner wall around Cleveland's Quicken Loans Arena, the site of the 2016 GOP convention.
"Latinx" and "Chicanx" are gender-inclusive terms used in place of Latino/-a and Chicano/-a.
"We're going to the Republican National Convention in Cleveland and build a literal wall around the Republican National Convention," Tania Unzueta, an undocumented community organizer with Mijente, said in a recorded message on the fundraising website, Indiegogo. The idea being "to build a wall that protects our community members and defends the people that we love and are part of our families."
Along with Mijente, the non-profit Ruckus Society, the Iraq Veterans Against the War, the Other 98% and the Working Families Party will be participating in the protest against Trump's rhetoric toward building a border wall and immigration.
Trump has made the border wall a staple of his campaign since Day 1. His call for such hard line immigration policies have earned him the enmity of Latinos and immigrant-rights activists, but it has earned him many supporters among working-class voters.
Mijente's wall comes as the GOP coalesces around Trump's idea of a border wall – a draft of the party's official platform explicitly calls for the wall's construction.
The preliminary document proposes a "border wall" that would cover "the entirety of the Southern Border and must be sufficient to stop both vehicular and pedestrian traffic."
To raise funds to build its wall in Cleveland, Mijente has started an online drive that has so far raised nearly $6,000 of its $15,000 goal. Donors are rewarded with perks depending on how much they give – from getting your name put on the banner for $5 to a "Make America Mexico Again" hat for $32 to a Donald Trump piñata for a $250 donation.