Kokomo Turning the Corner because of Big Money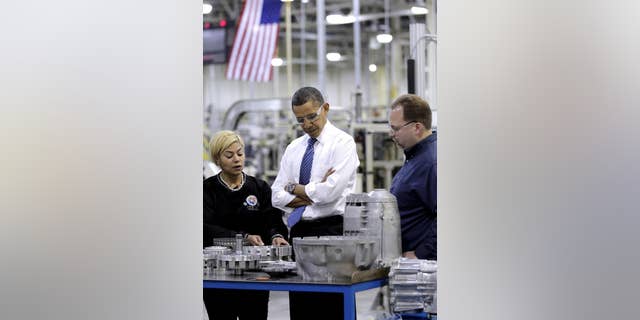 As President Obama stood before Indiana citizens and workers in Kokomo Tuesday, he was lifted by a well-timed announcement that Chrysler was investing another $843 million in area plants, which the company claimed would secure 2,250 jobs.
The administration used the announcement as proof the stimulus worked, and Kokomo is a bright shining example of its effectiveness, "a community that is turning the corner."
"We made the decision to stand with you," said President Obama, "Because we had confidence in the American Worker. More than anything, we know today, that was the right decision."
But Kokomo hasn't really gotten back on its feet. Unemployment has bounced back to 12 percent, but that is after it skyrocketed to roughly 20 percent. The rebound only happened with a massive infusion of money. Chrysler received a $12 billion bailout and had already invested $343 million to re-tool its plants in Kokomo. The one in which the president spoke is producing a new eight-speed automatic transmission.
Chrysler hasn't been the only recipient of government funds in Kokomo. Local manufacturer Delphi received $89 million from the Department of Energy to expand a facility producing circuit boards or "brains" for hybrid cars. The money created 60 jobs and enabled the company to hire or retain 200 workers.
Another $800,000 of federal money went to repair sidewalks, lighting and other infrastructure in downtown Kokomo. Traffic, however, is light. Jamie's Soda Shop has a surplus of empty seating and the owner, Jim Whited, tells us he hasn't seen the town in such bad shape since the depression.
"Unfortunately the young people are all leaving because there are no jobs here," Whited says. "They get out of school and get some training and they have to go to Indianapolis or Chicago to find work. They re-locate, and so what we're seeing is a city that is getting older and older."
The Chancellor at Indiana University Kokomo says the massive infusion of government money only puts a band-aid over a hemorrhaging wound. He believes if Kokomo wants secure jobs, it needs to produce competitive products and the government can only create a friendly environment for that. "Build coalition and build an environment that is supportive of business," Says Michael Harris Ph.D. "Long term, no government dollars are going to keep this economy afloat."
The stimulus does have its defenders in Kokomo. Jeb Conrad, president of the Greater Kokomo Economic Development Alliance, says the government dollars have created stability with the big manufacturing jobs. Because of that, smaller manufacturers and suppliers will be attracted to town.
"The suppliers for the automotive industry in this region feel like there is some security in this region in their long term," says Conrad.
Watch Mike's report on the Special Report homepage