Kerry says top advisers not undermined by Obama Syria decision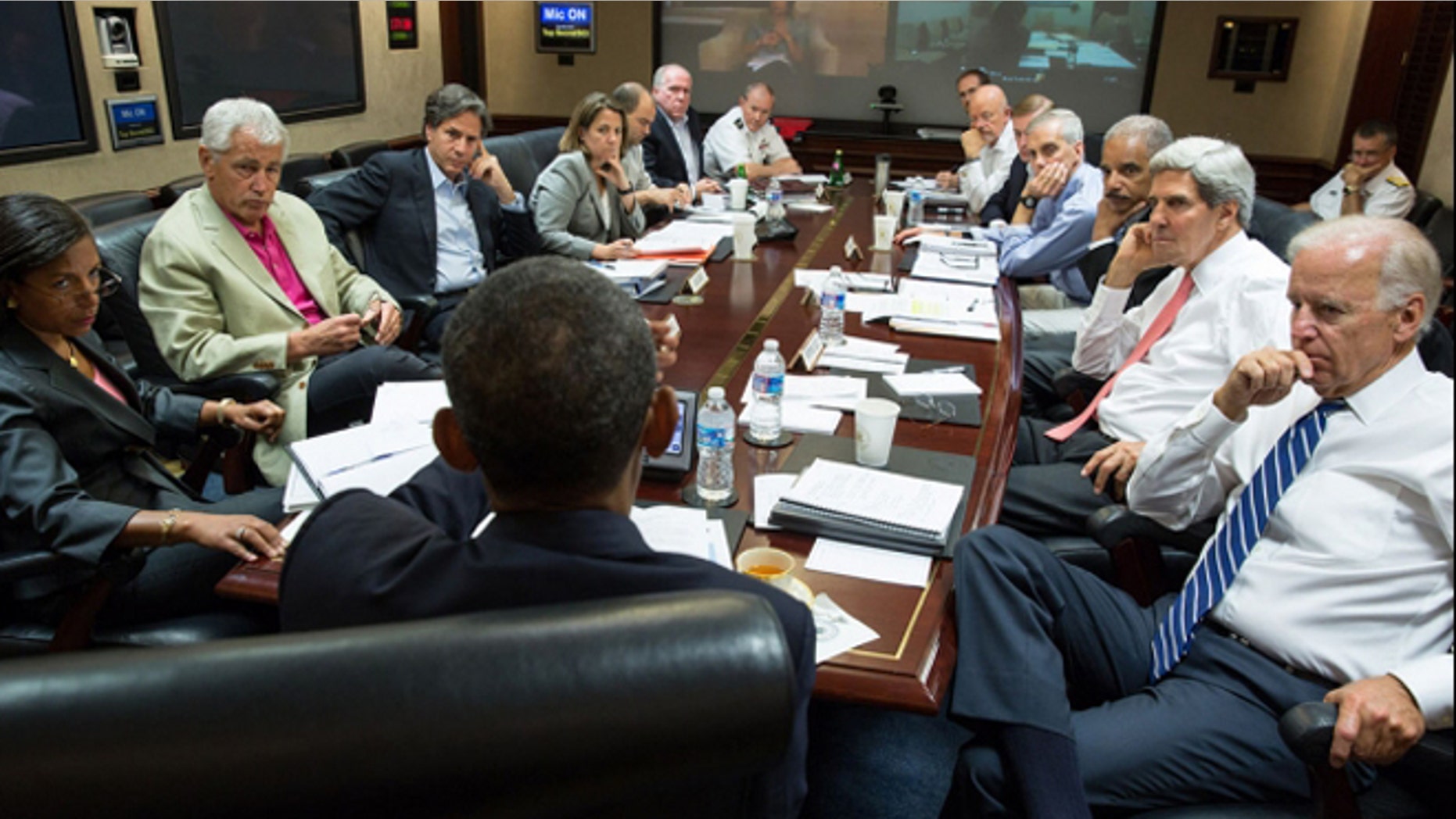 Secretary of State John Kerry insisted Sunday that President Obama's decision to delay military action on Syria did not undermine him, though Kerry had made a passionate case on Friday that Syrian President Bashar al-Assad had used chemical weapons and seemed to argue for a quick U.S. response.
"I believe it is a good idea," Kerry told Chris Wallace on "Fox News Sunday" about the president's abrupt about-face on Saturday in which he asked Congress to authorize military force. "I think the vice president, a whole group of us, believe that the president has made a courageous decision."
Pressed by Wallace, Kerry stressed that while the move delays military action for now, the administration's case will be "stronger" if it can first get congressional backing.
"The president believes very, very much that America will show the best face of our democracy and a great strength, and we will show a unity of purpose in the conviction of the Congress and the president that we need to do this," Kerry said on Fox.
Except getting congressional approval is not a slam dunk, which is why sources say some of the president's top advisers were divided over whether to seek the change in course.
Kerry hinted at that tension in an interview with NBC's "Meet the Press" by saying people in the administration "argued" about the change -- before quickly correcting himself.
"The president has the right to do that and we argued, not argued, discussed the options," Kerry said on NBC.
He added the president "then made the decision that he thought we would be stronger and that the United States would act with greater moral authority and greater strength if we acted in a united way."
Senior administration officials, however, acknowledge the national security team was not initially united after the president decided to call an audible and act on his own to reverse course late Friday.
The officials revealed a dramatic series of events throughout the day on Friday -- including a 45-minute walk the president took with Chief of Staff Denis McDonough on the South Lawn -- after which Obama told his top aides and Cabinet secretaries that he had decided to seek congressional approval. White House aides had said just the opposite for days by insisting they would only "consult" Congress before moving forward.
Friday was a pivotal day in the deliberations with Obama making two important decisions. First early in the day he decided the U.S. should move forward with military action to respond to the horrific chemical weapons attack in Syria on August 21 that Kerry and others claim killed more than 1,400 people, mostly women and children.
That afternoon at the State Department, Kerry held an event and made a firm case for military action, and hinting that it was coming quickly after laying out some of the intelligence backing the contention that Assad's regime was responsible for the attack.
"So that is what we know," Kerry said Friday at about 1 p.m. Washington time. "That's what the leaders of Congress now know. And that's what the American people need to know. And that is at the core of the decisions that must now be made for the security of our country and for the promise of a planet where the world's most heinous weapons must never again be used against the world's most vulnerable people."
Shortly after Kerry went out on a limb with that case, calling Assad a "thug" and a "murderer," there was a clue about an hour late that something was amiss when Obama held an event in the Cabinet Room at the White House and made a much more tentative case for action.
Aides now say that just after 6 p.m. the president went for the long walk with McDonough and threw him a curveball.
Obama, shocked in part by the British Parliament unexpectedly voting down military action on Thursday night, revealed he was now thinking on his own that the administration should reverse course and seek congressional approval.
After the walk, Obama summoned other top aides such as National Security Adviser Susan Rice and senior adviser Dan Pfeiffer to the Oval Office to discuss the change.
Officials said there was sharply divided opinion for various reasons.
The delay has given critics more ammunition to charge Obama is showing weakness.
"This president has clearly retreated," Sen. James Inhofe, the top Republican on the Armed Services Committee, said on "Fox News Sunday."
"President Obama was clearly hesitant, disappointed and confused when he spoke yesterday," added Syrian Deputy Foreign Minister Faisal Muqdad in Damascus, during a meeting Sunday with reporters.
Kerry fired back on Fox the regime's claims are ridiculous, and he put the onus on Congress to now back Obama to send a clear message to Assad.
"And that is in the hands of the Congress of the United States," he said.
Another reason for division within Obama's team is that it's not clear yet whether they can win the votes on Capitol Hill.
With public polls showing solid majorities against greater U.S. intervention in Syria, Obama's aides know there could be a repeat of what we saw in the British Parliament.
Even if Obama wins the votes on Capitol Hill, he may burn a lot of political capital to get there. He needs that capital on major issues looming in the fall on Capitol Hill, from budget negotiations that could result in a government shutdown to the fading prospects of getting an immigration reform deal as a legacy item.
After Friday night's two-hour debate among staff and the president in the Oval Office, officials say Obama called Vice President Biden, Kerry and Defense Secretary Chuck Hagel to let them know about the change.
Kerry stressed the fact that he believes the president was still deliberating and was not informing his secretary of state that the debate was over.
"He discussed it," Kerry said of the call with Obama. "He had not made up his mind."
Officials stress that any tension was smoothed over on Saturday morning, when Obama convened his National Security Council in the White House Situation Room.
Obama then called all four of the top congressional leaders to inform them of his decision, before heading out to the Rose Garden to reveal his secret to the world.
While Senate Majority Leader Harry Reid, D-Nevada, signaled he's on board, the other leaders and many rank-and-file lawmakers in both parties are reserving judgment on whether they will support the authorization.
There is also the question of whether the delay will let Assad off the hook and allow him more time to prepare for potential strikes, since Congress does not come back into session until September 9 and will presumably take at least a few days to debate the matter.
Obama said Saturday that Gen. Martin Dempsey, chairman of the Joint Chiefs, told him "our capacity to execute this mission is not time-sensitive; it will be effective tomorrow, or next week, or one month from now. And I'm prepared to give that order."
Sen. John McCain, R-Ariz., dismissed that claim on CBS' "Face the Nation" by saying if timing does not matter he believes it's just going to be a "symbolic action" and not a major military strike that would decimate Assad's forces.
Former Sen. Joe Lieberman added on Fox that he was "shocked and disappointed" Obama hesitated because the chief executive has the power to act on his own and now Assad has to re-position his military assets.
Lieberman backed the president, however, on the votes upcoming on Capitol Hill by adding the "worst" option now would be for Congress to vote no because it would give Assad a pass and "compromise our credibility in the world."
As for whether Assad may use the delay to launch more chemical attacks, Kerry said on Fox that if the regime "were to be foolish enough to attack yet again and to do something in the meantime," Obama has the power to act unilaterally and would probably "move very, very rapidly" in that case to take action.
And if Congress votes down the authorization, senior administration officials said, they believe Obama does have the power to act alone down the road but is going to wait to see what Congress does before making any final decisions to order the military to move forward.
Obama on Saturday said he would prefer Congress approve force but hinted he could still act unilaterally if necessary.
"Yet, while I believe I have the authority to carry out this military action without specific congressional authorization, I know that the country will be stronger if we take this course, and our actions will be even more effective," he said.
Beyond potentially getting a buy-in from Congress, aides say the president may also get some political cover. Senior administration officials note a slew of lawmakers were demanding more consultation and yet were bound to second-guess the president if he moved forward with unilateral action.
Now if Congress approves the authorization, they also will take some ownership in the difficult decision.
"Congress is now the dog that caught the car," David Axelrod, one of the president's longtime advisers, Tweeted on Saturday. "Should be a fascinating week!"