Kasich, Cruz still picking up delegates, votes ahead of GOP convention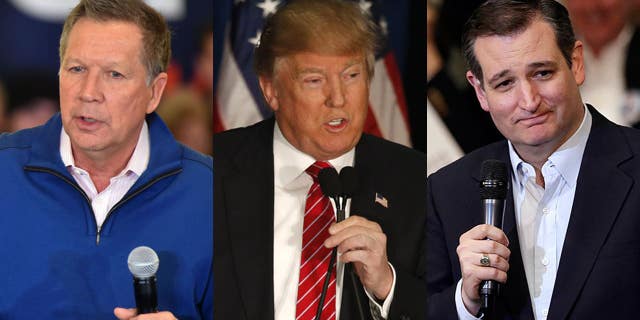 NEWYou can now listen to Fox News articles!
Despite suspending their presidential campaigns weeks ago, Ohio Gov. John Kasich and Texas Sen. Ted Cruz both have managed to pick up hundreds of thousands of additional votes – along with more delegates – heading into next month's GOP convention.
While the ghost candidates and their zombie delegates won't have that much leverage in Cleveland -- barring a drastic change in party rules -- the pick-ups speak to the lingering discontent among some primary voters over the choices in this election. Donald Trump clinched the nomination in late May and earlier this week passed another milestone when he earned enough 'bound' delegates alone to secure the party nod.
Trump's off-the-party-line stances and controversial remarks – including comments about the heritage of the judge in his Trump University lawsuit -- have voters and even influential Republican leaders throwing their support behind 'candidates' who realistically have no shot.
On Tuesday, though Trump took home all the delegates in California's primary, thousands of GOP voters including former California Gov. Arnold Schwarzenegger said they didn't vote for him.
"I can confirm he voted for Kasich," Schwarzenegger's spokesman Daniel Ketchell said.
All told, since the last competitive primary in Indiana on May 3, Kasich has won about 408,000 votes and Cruz has pocketed over 376,000.
Of the 1,560,820 ballots cast in the California Republican primary, Kasich won 176,620 votes (11.3 percent) while Cruz placed third with 144,125 votes (9.2 percent).
California delegate rules give the GOP candidate holding the majority of votes in any of the 53 congressional districts all three district delegates; Trump won it all.
Cruz and Kasich have picked up delegates elsewhere, however.
When Oregon held its GOP contest more than a week after Trump became the last candidate standing, Cruz managed to walk away with 61,590 votes and Kasich with 59,096.
They each picked up five delegates in the state. Kasich also picked up one in West Virginia, which also voted after Trump emerged as the lone primary survivor.
The two candidates continued to rack up thousands of votes through the final primaries this past Tuesday -- though that didn't add to their delegate counts in part because states like New Jersey hold winner-take-all primaries. Trump easily won, taking all the delegates. In total, Cruz has 559 delegates to his name, Kasich has 161, and Florida Sen. Marco Rubio has 165.
That's not to overlook the historic primary support Trump has earned since February: more than 13 million votes. He's working to unify the party, but also touts broad support that includes independents and cross-over Democrats. As of Friday, he had 1,542 delegates, well over the 1,237 needed to clinch.
On Thursday, Kasich told Fox News' Bill Hemmer that he feels no special obligation to endorse Trump ahead of the Republican convention being hosted in his home state next month.
"We're like two companies, you know, we have a different vision, a different value system and a different objective. … The divisiveness, the division, the name-calling, it just doesn't go down well with me."
Still, GOP strategist Brad Blakeman downplayed the impact of Republican holdouts in places like Ohio, California and Oregon -- arguing that in the general election, the unease in the party might not hurt him.
"The broad appeal of Donald Trump needs to be broad, way beyond the base," he told FoxNews.com's "Strategy Room." "We need to appeal to independents and fiscally conservative Democrats, and you don't do that being a fringe candidate because there aren't enough of those people who are going to come out and vote."