Kagan a Courtroom Novice No Problem for High Court, Supporters Say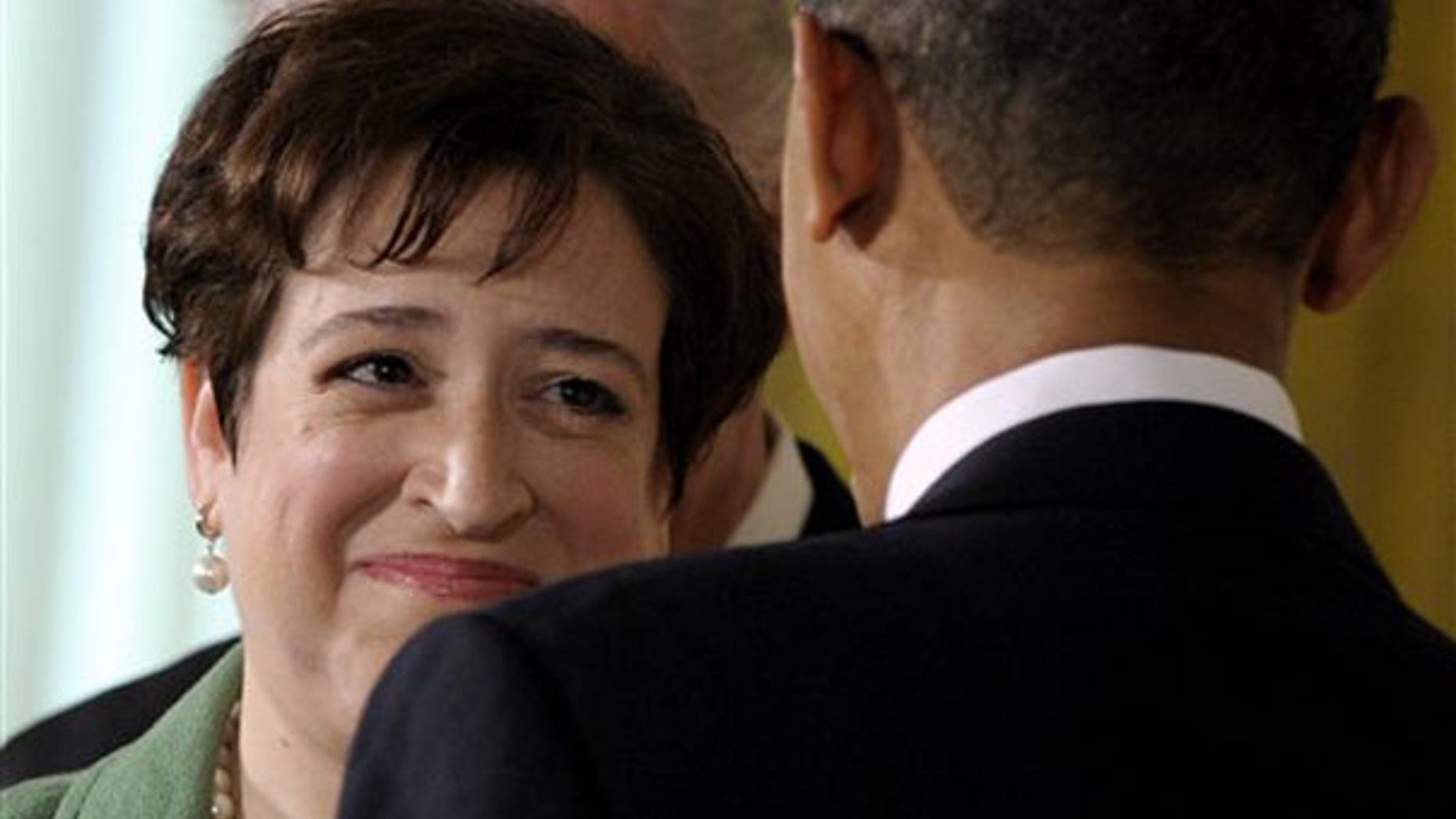 Supreme Court nominee Elena Kagan has never been a judge, she's never ruled on a case and she's never written an opinion. But that doesn't mean she's President Obama's Harriet Miers.
For the president's supporters, lack of courtroom experience is no problem for a Supreme Court justice.
"President Obama said he wanted someone on the high court who understood the impact of the law on average Americans, and I believe the depth and breadth of Ms. Kagan's experience will allow her that perspective," Senate Majority Whip Dick Durbin, D-Ill., said Monday in a statement echoed by several Democrats.
While Republicans raise Kagan's lack of experience as a potential sticking point, the gap in her resume doesn't seem to be putting her in the same boat as Miers, President George W. Bush's White House counsel who was forced to withdraw her nomination for the Supreme Court over complaints that her record of opinions was thin.
Miers' nomination was derailed by questions about not only her judicial experience, but also her intellectual aptitude and preparedness.
Kagan, by contrast, is cast as a sharp thinker and litigator.
"One of the foremost legal scholars in the country. Supremely qualified," said White House senior adviser David Axelrod.
The former Harvard Law School dean wouldn't be the first non-judge elevated to the high court -- both the late Chief Justice William Rehnquist and Justice Lewis Powell Jr. were confirmed to the court in 1972 without a judicial background.
Kagan had never argued a case in her life before winning confirmation last year as solicitor general, a job for which Kagan now argues before the Supreme Court on behalf of the U.S. government.
Robert Bennett, law professor at Northwestern University, said that will help her during the Senate confirmation process.
"If there was any concern about her not having been a judge, to some extent that will be undercut by her having been solicitor general, which is often talked about as the '10th justice,'" Bennett said. "She's not only an advocate before the Supreme Court, but she's also a confidante of the Supreme Court."
Several Senate Democrats, who since last year have called for Obama to nominate somebody from outside the appeals court system, also describe Kagan's atypical resume as a plus.
"Just a few decades ago, most justices had no or little judicial experience," Judiciary Committee Chairman Patrick Leahy, D-Vt., said, adding that Kagan would bring a "diversity of experience" to the Supreme Court.
"I am particularly pleased President Obama has chosen a nominee from outside the judicial monastery," added Senate Majority Leader Harry Reid, who in 2006 also defended Miers' qualifications for the court.
Though senators will not have piles of judicial decisions to examine before the confirmation hearing, they will be able to pick through Kagan's writings, her work as solicitor general and foremost her performance at Harvard.
In particular, one case expected to stir controversy will be Kagan's attempt to keep military recruiters off Harvard's campus because of objections over the Pentagon's "Don't Ask, Don't Tell" policy barring gays from serving openly in the military.
Kagan signed a friend-of-the-court brief to the Supreme Court arguing against a Clinton-era law mandating that college campuses that accept federal funding must also allow military recruiters. The Supreme Court ruled unanimously against Kagan's position and in favor of the law.
"The military thing is quite a significant issue," Sen. Jeff Sessions, R-Ala., ranking Republican on the Senate Judiciary Committee, told Fox News.
Aside from that case, Republican senators, some of whom disapproved of Miers' nomination, warned Monday that Kagan's lack of judicial experience opens her up for a rigorous screening on Capitol Hill.
"Given that Ms. Kagan does not have a judicial record, it will be especially important for senators to inquire as to her views on the Constitution and the role of the court," Sen. John Thune, R-S.D., said in a written statement.
"Americans believe that prior judicial experience is a necessary credential for a Supreme Court Justice," said Sen. John Cornyn, a former Texas state Supreme Court judge. "Ms. Kagan failed to answer many questions posed by senators prior to her confirmation as solicitor general. This failure led many members to oppose her nomination. I hope that she will now more willingly respond to reasonable and relevant questions."