Justice Department: Alabama Immigration Law Complicating Enforcement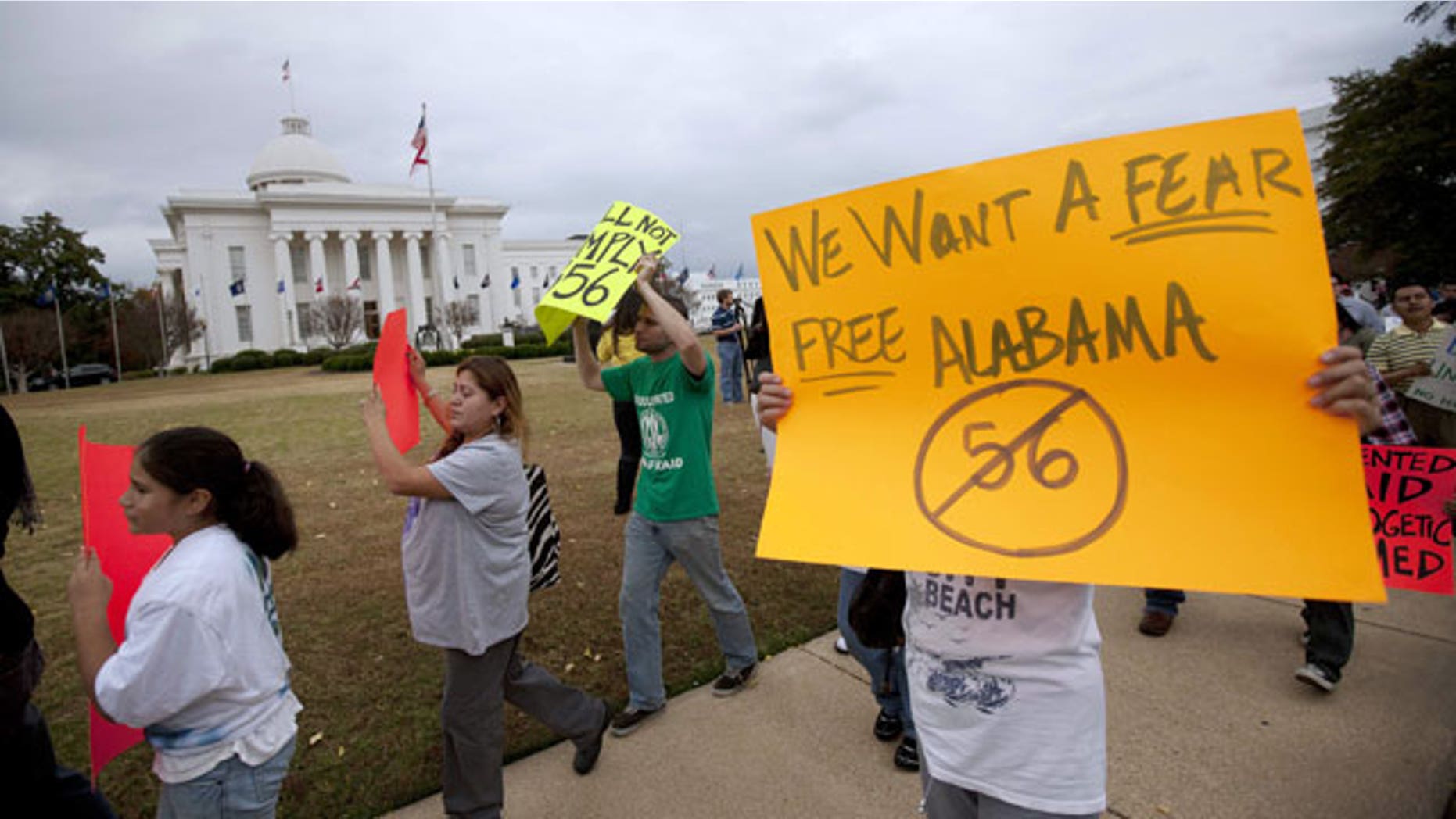 BIRMINGHAM, Ala. – Alabama's new law against illegal immigration may hamper enforcement rather than being the tough crackdown sought by its supporters -- by taking officers away from the vital job of prosecuting and deporting immigrants with criminal records, Justice Department lawyers said Monday.
The president of the Alabama Association of Chiefs of Police, Boaz Police Chief Terry Davis, agreed that officers are stretched by multiple duties, particularly with tight budgets. But, he said, enforcing the state law should not conflict with the broader federal goal of nabbing criminals who are in the country illegally.
"I can see where they're coming from ... but I think it's just another tool to use in doing our job," Davis said of Alabama's tough, new law. "We're going to get the federal folks involved just like we always have. I would hope it doesn't cause a conflict because we're all in this together."
U.S. Attorney Joyce Vance, the top federal prosecutor for 31 counties in north Alabama, said local agencies already strapped for money and manpower are been forced to develop their own plans for enforcing the state law rather than concentrating on prosecuting and deporting illegal immigrants with criminal records, the priority set by the Obama administration.
Vance said she and the head of the Justice Department's civil rights division, Tom Perez, have met with local authorities to discuss what she called a "significant problem" of both enforcing the state law and tracking down criminal immigrants with only limited resources.
"Rather than strengthening immigration enforcement opportunities at a time, quite frankly, there are fewer resources than we have had in the past, this had made a more difficult environment for us to work in," Vance said.
Press aides to Gov. Robert Bentley, who signed the bill into law, and Attorney General Luther Strange, who is defending it in court challenges, didn't return messages seeking comment.
Vance commented during a news briefing with Perez and Assistant U.S. Attorney General Tony West. West was in Birmingham for a private meeting with business leaders, members of the state's immigrant community and others to discuss the law, which the Obama administration has filed suit to block.
While the administration has filed suit to block similar laws in Arizona, South Carolina and Utah, West said the situation in Alabama is different than anywhere else.
"We have a unique situation in this state because portions of the law have gone into effect, which we have not seen in other states," he said.
The department said it has received more than 1,000 telephone calls and emails to a hotline established for people to report possible abuses under the law, which supporters say is meant to make it impossible for illegal immigrants to live in Alabama.
Federal courts ruling in lawsuits filed by the Obama administration and other opponents of the law have temporarily blocked some of its provisions, but police are still required to ask for proof of citizenship and detain people who can't provide it. The administration contends federal law prohibits states from enacting immigration laws, but Republican supporters argue the federal government has failed to enforce immigration statutes for years.