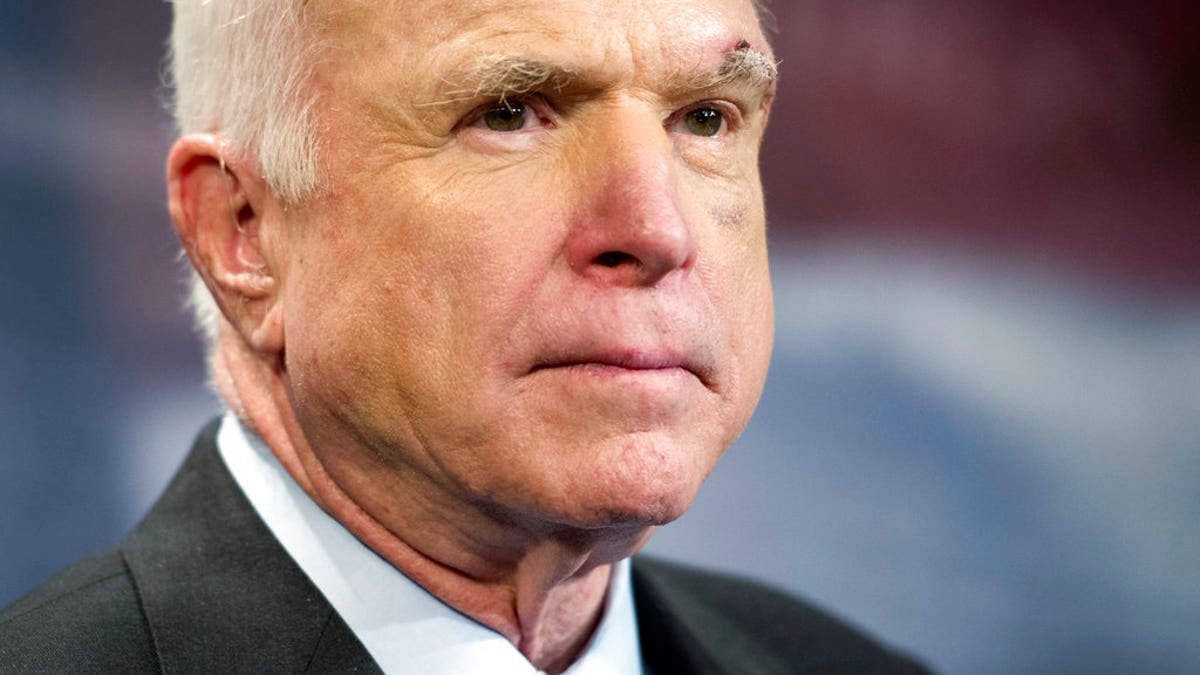 Sen. John McCain was hospitalized over the weekend after he suffered a "minor tear" of his Achilles tendon and side effects from his cancer therapy, his office said in a statement.
"Senator McCain was treated at Walter Reed Medical Center over the weekend for a minor tear in his right Achilles tendon, as well as for other normal and non-life-threatening side effects of cancer therapy," his office said in a statement on Monday.
"Senator McCain has returned to work in the Senate and will be wearing a walking boot until his injured tendon is fully healed," it added.
RAND PAUL RECOVERING FROM 5 BROKEN RIBS AFTER ATTACK AT KENTUCKY HOME
McCain tweeted out a photo of him with a walking boot on and the caption: "I can't tell you how much I hate wearing this boot!"
The Arizona Republican is undergoing treatment for brain cancer. McCain, a 2008 presidential nominee, revealed in July he was diagnosed with glioblastoma, a particularly aggressive type of tumor. More than 12,000 people are diagnosed with glioblastoma, the American Brain Tumor Association reported.
"The prognosis is very, very serious," McCain said on CBS' "60 Minutes" in late September.
He recalled his doctor calling him in July and saying he had to return to the Mayo Clinic in Phoenix while he was driving home to his ranch just outside of Sedona, Ariz.
MCCAIN RECALLS HOW HE LEARNED ABOUT BRAIN CANCER
"Some say 3 percent, some say 14 percent. It's a very poor prognosis. So, I just said, 'I understand, now we're going to do what we can, get the best doctors we can find, and do the best we can.' And, at the same time, celebrate with gratitude a life well-lived," McCain said.
He continued, "I am more energetic and more engaged as a result of this because I know I've got to do everything I can to serve this country while I can."