Joe jumps, Hillary swoons in Q poll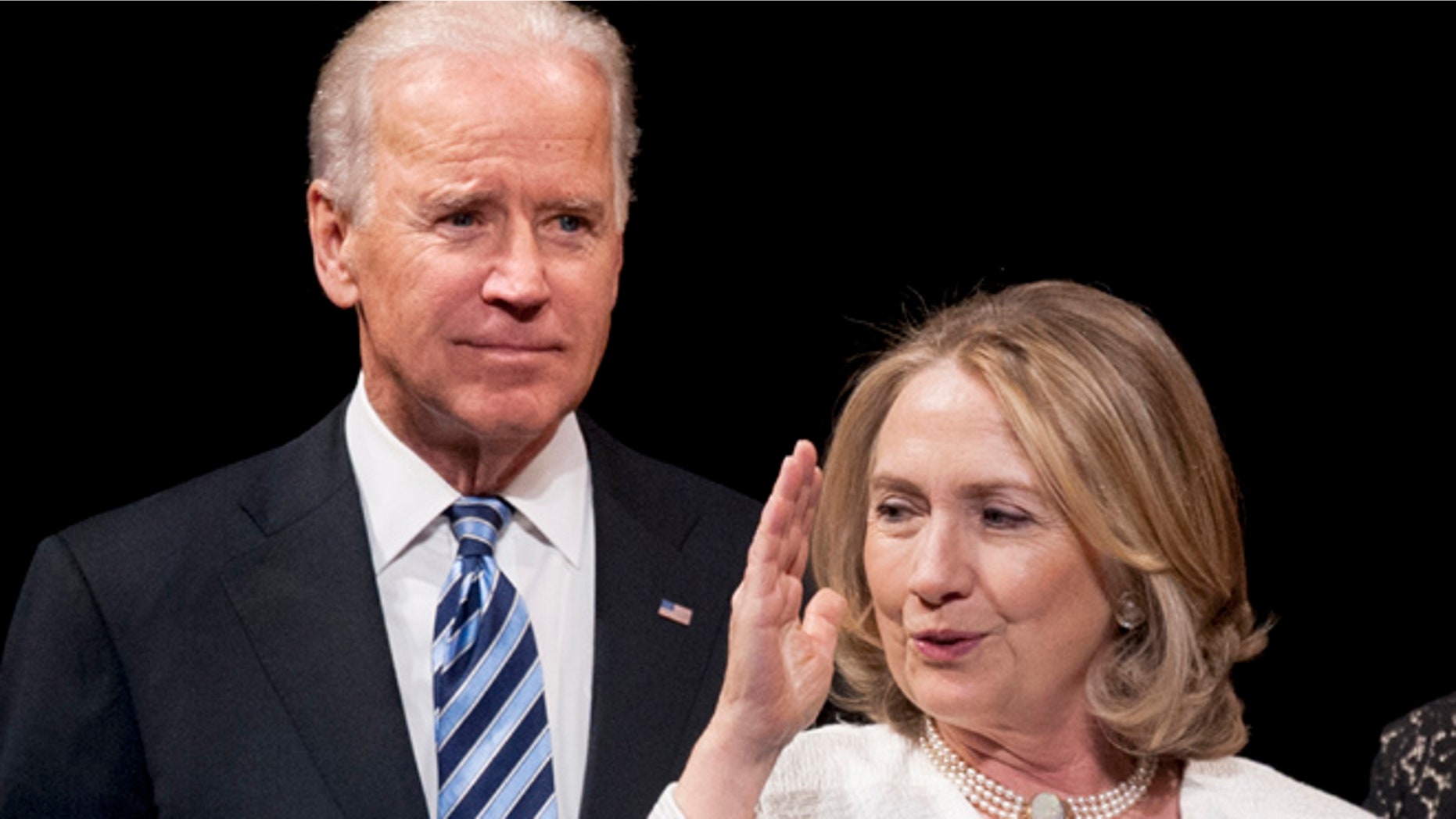 **Want FOX News First in your inbox every day? Sign up here.**
Buzz Cut:
• Joe jumps, Hillary swoons in Q poll
• O'Malley says Hillary's party protectors 'un-Democratic'
• Power Play: Illinois holds on in 'Take Five'
• Jeb jabs, Trump taunts
• Waxworks humpers 1, Civilization 0
JOE JUMPS, HILLARY SWOONS IN Q POLL
Vice President Joe Biden runs as well or better than Hillary Clinton against top-tier Republicans in a new Quinnipiac swing-state poll. Among general election voters in Ohio, Pennsylvania, and Florida, Biden looks like a better bet. The veep beats Donald Trump by a commanding 10 points in Ohio, double Clinton's margin in the same matchup. Biden also wins against former Gov. Jeb Bush, R-Fla., and comes within shot of Sen. Marco Rubio, R-Fla., in Biden's native Pennsylvania. Overall, the poll shows Biden in a similar position to Clinton and could be just as strong a contender for Democrats. Even better news for Biden? His trustworthiness rating hangs around 60 percent in the three states… about the same percent of voters who do not trust Clinton.

But Clinton still holds a dominant lead among Democratic primary voters, with 45 percent or more. Second place finisher Sen. Bernie Sanders, I-Vt., falls nearly twenty points behind her, and Biden even further down. Biden's seemingly strong general election performance, however, could turn a few more primary voters' heads in his direction as Democrats seek a challenge to Clinton.

Another addition to 'Draft Biden' team - WSJ: "Steve Schale, a longtime Democratic strategist in Florida who helped President Barack Obama twice win the state, has joined the Draft Biden 2016 super PAC as an informal adviser. The move is another sign that the Draft Biden campaign is ramping up as if Mr. Biden will jump into the race."

O'Malley says Hillary's party protectors 'un-Democratic' - AP: "'I think we're making a horrible mistake as a party if we allow our contest to be defined by the latest questions of the day about classified emails and Benghazi and all of those other things,' he said. 'We need to talk about issues that are on the kitchen tables of every American and until we do, we're just going to find ourselves getting kicked back into questions that Secretary Clinton and her lawyers can only answer.' He says some people in the Democratic National Committee are 'circling the wagons.' 'They see that every day the front-runner's campaign is defined by the latest allegations of emails and the solution to that is to have debates. Not to circle the wagon. Not to cut off debate. Not to become the un-Democratic party,' he said."

But other than that, he thinks she's doing great… - NRO: "A House Democrat thinks that Hillary Clinton's e-mail server scandal has the potential to ruin her political career. "I think if she intentionally misled or lied to the American people and did something that was clearly against the rules, and knowingly did it against the rules, if that is the ultimate conclusion, then I think she has disqualified herself," Representative John Yarmuth (D., Ky.) told a local political reporter."

The Judge's Ruling: A Clintonian crisis? - Senior Judicial Analyst Judge Andrew Napolitano chronicles the legal implications of Hillary Clinton's growing email scandal and ponders whether her actions will lead to a courtroom. "What will happen if the FBI recommends that Clinton be indicted and the White House stonewalls? Will FBI Director Jim Comey threaten to resign as he threatened to do when President George W. Bush wanted him to deviate from accepted professional standards? Will Clinton get a pass? Will the public accept that?" Read it all here.

POWER PLAY: ILLINOIS HOLDS ON IN 'TAKE FIVE'
Your votes are tallied and Illinois keeps its top spot as the most likely Senate flip from red to blue. The rest of the list remains unchanged as well with Wisconsin, Ohio and Pennsylvania all tying for second with Florida bringing up the rear. Power Play guest Shira Center, political editor for the Boston Globe, agrees that Illinois will flip. Do her other picks match your Take Five list? Center joins Chris Stirewalt to discuss. WATCH HERE.

We still need your votes! Keep the tallies coming. All eyes may be on the presidential cycle, but the Senate is in for a dog-fight of an election as well. Think the ranking is wrong? Write in and tell us why. We want your take…of Take Five.

Share your top five picks. Email them – just five, please – toFOXNEWSFIRST@FOXNEWS.COM or tweet @ChrisStirewalt.

IRAN'S SELF INSPECTION GOES NUCLEAR ON THE TRAIL
News of a secret deal that allows Iran to use its own inspectors to investigate a site it's been accused of using to develop nuclear arms and the revelation that the White House is fine with the arrangement blew up. President Obama's sales pitch to Congress took an immediate hit from GOP leadership, who called the verification arrangement a "sham." And the news makes Hillary Clinton's support of the nuclear deal tougher to defend. Clinton has said the U.S. must enter the deal with "eyes wide open" and that she doesn't trust the Islamist regime. Among GOP 2016ers' reaction…

"Enough of the concessions, capitulations and back-room deals that make up President Obama's catastrophic nuclear deal with the Islamic Republic of Iran." – Sen. Ted Cruz

"Iran deal is a farce. Nuclear inspections of state sponsors of terrorism can't work on the honor system." – Jeb Bush

"Allowing Iran to inspect its own alleged nuclear sites puts trust in a fanatical regime that's cheated for decades and hates everything we stand for." – Gov. Scott Walker

WITH YOUR SECOND CUP OF COFFEE…
This day marks the confluence of two long distance communication milestones, History.com notes. On August 20, 1911 a dispatcher in the New York Times office sent the first telegram around the world via commercial service, which made the trip in 16 and a half minutes. The dots and dashes simply read: "This message sent around the world." Exactly 66 years later, the National Aeronautics and Space Administration sent a different kind of message–a phonograph record containing information about Earth for extraterrestrial beings–shooting into space aboard the unmanned spacecraft Voyager II.  In 1990, After yielding a wealth of planetary information on its grand tour of the solar system, Voyager II headed into deep space. But it's still sending data and is expected to do so until the year 2020.

Got a TIP from the RIGHT or the LEFT? Email FoxNewsFirst@FOXNEWS.COM

POLL CHECK
Real Clear Politics Averages
Obama Job Approval: Approve – 44.5 percent//Disapprove – 49.7 percent
Directions of Country: Right Direction – 28.4 percent//Wrong Track – 62.6 percent

JEB JABS, TRUMP TAUNTS
WaPo: "MERRIMACK, N.H. -- Republican presidential candidate Jeb Bush made a significant shift in strategy Wednesday night by launching a direct attack on rival Donald Trump, questioning the businessman's conservative credentials. Bush's comments about Trump came as the two held rival town hall meetings about 20 miles apart from each other. The dueling appearances dominated cable news coverage Wednesday night as several channels broadcast split screens to demonstrate a contrast in styles. While Bush led a more intimate gathering of mostly elderly voters, Trump took the stage before 2,500 people packed into a theater in Derry. Bush has found himself in an unexpectedly vulnerable position in New Hampshire in recent weeks. Trump has surged to the top of the field among Granite State voters, pushing Bush to a distant second. Meanwhile, Ohio Republican Gov. John Kasich -- a late entrant into the race -- has moved into a statistical tie with Bush in recent surveys."

[Bush holds a town hall with Cheshire County Republicans in Keene, N.H.]

Kasich PAC claims Bush donors reaching out - Fox News: "Ohio Gov. John Kasich's climb up the polls in the GOP presidential race has not gone unnoticed by supporters of former Florida Gov. Jeb Bush. A spokesperson for New Day for America, the super PAC supporting Kasich, told Fox News late Wednesday that several Bush donors have been in contact with the organization in recent days. The spokesperson declined to elaborate how many donors had contacted the PAC or whether they had donated any money."

What's up, Cochise? - Ben Carson continued his visit on the U.S.-Mexico border Wednesday in Cochise County, Ariz. Carson said the fence was, "…a small impediment. It's not going to keep anyone out," and instead said he'd favor armed drones patrolling the border.

Walker supporters share home raid details - On "The Kelly File" Gov. Scott Walker, R-Wisc., supporters who had their home searched as targets of a secret prosecution subsequently shut down by the state's courts spoke out about what they say was a politically motivated raid intended to intimidate Walker backers. Watch here.

[Walker holds a pair of meet and greets and a town hall meeting in New Hampshire.]

Rubio talks taxes, schools in Detroit - Detroit Free Press: "Republican presidential candidate Marco Rubio will outline his plans to cut taxes and reform schools Thursday at a speech to the Detroit Economic Club…[In planned remarks, Rubio says] 'No city understands the vision and toil it took to build the American Century better than Detroit. No city understands the heights attainable through the American Dream better than Detroit. And no city understands the pain of losing that dream — and the importance of restoring it — better than Detroit.'"

[Watch Fox: Chief Political Correspondent Campaign Carl Cameron reports on Rubio's address from Detroit.]

Huckabee continues Israel swing - AP: "Huckabee said in an interview with The Associated Press on Wednesday that he considers the West Bank to be part of Israel and spoke against the establishment of a Palestinian state. He also said he would withdraw from the recent U.S.-led international nuclear agreement with Iran…Huckabee arrived in Israel on Tuesday and held a campaign fundraiser in 'ancient' Shilo — a spot in the West Bank where tradition holds the ancient Israelites kept the tabernacle with Moses' tablets..."

CAMPAIGN DAYBOOK
Carly Fiorina holds a meet and greet and spaghetti dinner event in Littleton, N.H.

Sen. Ted Cruz, R-Texas, keynotes the first annual Wyoming GOP Chairman's Reception in Cheyenne, Wyo.

WAXWORKS HUMPERS 1, CIVILIZATION 0
LAist: "On Wednesday the Las Vegas museum issued a statement saying they would be more vigilant around the [Nicki Minaj] figure, which is modeled in a racy pose from her music video for 'Anaconda'…'We have been made aware of the inappropriate photograph taken at Madame Tussauds Las Vegas, involving Nicki Minaj's wax figure,' read the statement. 'We are taking immediate steps to ensure more staff are present in this area and that the set around this particular figure so that a picture like this cannot be taken again.' Although they did not say which 'inappropriate photograph' it was that sparked the response, the one that seems to have garnered the most attention was this one, showing a visitor straddling the faux-Minaj from behind."

AND NOW, A WORD FROM CHARLES…
"The Iranians have said all along they never were intended on making a bomb. There has never been any military activity. That's written in the agreement. Iran says it was always a peaceful activity. So we know in advance that the self-inspection will yield a conclusion that there was no weaponization happening." – Charles Krauthammeron "Special Report with Bret Baier."

Chris Stirewalt is digital politics editor for Fox News. Want FOX News First in your inbox every day? Sign up here.