Jefferson Memorial exhibit to feature update addressing slavery
NEWYou can now listen to Fox News articles!
The Jefferson Memorial, the popular and majestic monument overlooking Washington's Tidal Basin, is slated for an update that will address the "complexity" of America's third president -- reportedly including his history as a slave owner.
Plans for the addition come amid a roiling debate nationwide over Confederate statues that foes say must come down because of their connection to slavery, stirring speculation over whether monuments to founding fathers who owned slaves could be next.
The memorial to Thomas Jefferson in Washington is almost certainly safe. But The Trust for the National Mall, a nonprofit partner of the National Park Service, is planning an exhibit update—one that's been in the works for months.
"In the coming weeks and months, the physical symbols of American history and democracy will be scrutinized and challenged," Catherine Townsend, president of the Trust for the National Mall, reportedly wrote in a letter to supporters. "When that happens, we will work with our partners to ensure the National Mall continues to be a vibrant and relevant place where Americans can learn about our history and imagine our future, together."
The Trust is raising funds from private donors to preserve and improve the National Mall, specifically for elements not eligible for federal dollars.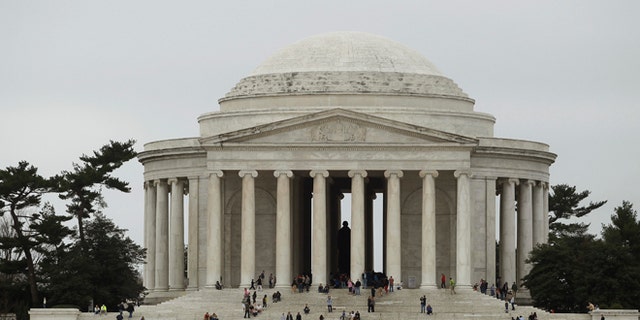 Kate Greenberg, vice president of marketing and communications for The Trust, told Fox News that after the violence in Charlottesville, "it became clear to us that some of that discussion would spill onto the National Mall."
She said Jefferson is "one of the most obvious because of his complexity," noting his history as a founding father but also a slave owner.
"This was an active project for us prior to the event, but it's obviously a topic people are really interested in, and this is a way for people to get involved with an organization like ours to engage," she said.
National Mall and Memorial Parks Superintendent Gay Vietzke estimated the new design would cost a total of $4.3 million, and would improve access, by including "new ramps, restrooms, a reconfigured elevator and exhibits."
"We appreciate the Trust for the National Mall's commitment to raise $3.5 million to implement the design and its support of the National Park Service's efforts to tell a more complete American story through the extraordinary places in our care," Vietzke said, adding that some current exhibits at the Jefferson Memorial "include content about slavery and Thomas Jefferson's ownership of enslaved people."
The Washington Examiner first reported on the slavery component of the exhibit update.
The Trust is currently raising private support to make upgrades to an exhibit space underneath the dome of the Jefferson Memorial.
"That space has not been updated in 20 years or so, so there is an opportunity to re-do the exhibit," Greenberg explained, adding that there have been "accessibility issues" in the past. "We're trying to make it a little more modern and more interactive to represent the complexity of someone like Jefferson in an appropriate way."
Greenberg noted that the Trust would speak with stakeholders and scholars about the "most inclusive and accurate information" on Jefferson for the space, while "understanding that there are other sites across the nation that will be able to go into more depth," citing Jefferson's Monticello estate in Charlottesville.
"I can't tell you what will be in the space, but it will be thoughtfully considered," Greenberg said, adding that the timeframe to begin the project has yet to be determined.