Jeb Bush ahead of Marco Rubio among Cuban-American GOP voters in Miami, poll finds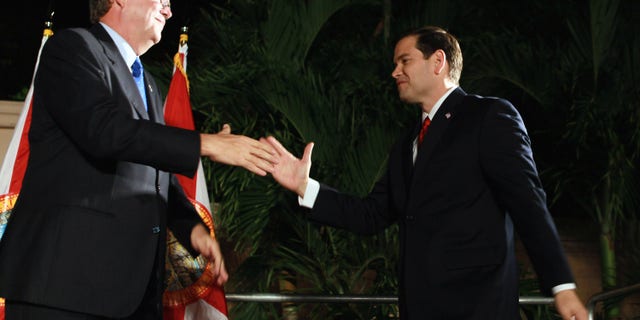 NEWYou can now listen to Fox News articles!
A new poll published Monday by the Miami Herald shows that former Florida Gov. Jeb Bush leads fellow Florida Republican Sen. Marco Rubio among Cuban-Americans in Miami-Dade County — which both candidates call home.
Rubio, whose parents were born in Cuba, trails Bush 31 percent to 43 percent among GOP registered voters. The other Cuban-American presidential hopeful, Sen. Ted Cruz from Texas, only registered 7 percent in the county, according to the survey conducted by Bendixen & Amandi International.
Among all Miami-Dade GOP registered voters, Bush also led 35 to 25 percent over Rubio.
Miami-Dade is the most populous county of the Sunshine state.
Bush endeared himself to the Cuban-American community during his two terms, with a pro-business, anti-Castro rhetoric that resonated among Latino voters in Florida.
"In spite of the fact that Jeb enjoys honorary Cuban status, he does that much better than the person who would be the first potential Cuban-American president of the United States," pollster Fernand Amandi told the Miami Herald.
"It could be a very difficult number for Marco," he added. "When he can't win over the heart of his base, what does that mean for his prospects of winning the primary in Florida?"
Being fluent in Spanish may also help him in the Cuban-heavy county. In a separate article back in June, the Herald noted that the former governor is the only one of the three who speaks Spanish at home — and with a slight Cuban-American accent.
"He speaks Spanish better than some of us," a young Cuban-American lawmaker named Marco Rubio said of Bush in 2002, the Herald said.
"He's practically Cuban, just taller," Rubio added.
Bush has lived in Venezuela and Mexico, where he not only taught English as a second language but also met his wife, Columba.
The Bendixen survey polled 600 registered voters in English and Spanish between July 8-14. It has an error margin of plus or minus 4 percentage points.