It's Time to Probe Obama's Top Advisers Over Job Deals, Issa Says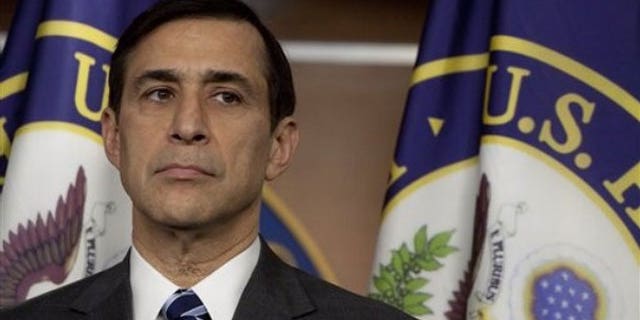 California Rep. Darrell Issa has asked the independent office of the special prosecutor to investigate White House Chief of Staff Rahm Emanuel and his deputy, Jim Messina, for their roles in trying to lure Democratic candidates out of primaries with potential administration posts.
If they are investigated and found guilty of wrongdoing, they could be removed from their positions.
Issa, a Republican, has aggressively pursued more information on the White House efforts to clear the field last year for Democratic senators in Pennsylvania and Colorado.
Emanuel enlisted the help of former President Bill Clinton to persuade Rep. Joe Sestak, D-Pa., to abandon the primary against Sen. Arlen Specter in exchange for an uncompensated position on a presidential advisory board, according to Sestak and the White House.
Messina contacted Colorado Senate candidate Andrew Romanoff to see whether he'd be interested in a federal job instead of running against incumbent Sen. Michael Bennett in the Democratic primary, according to Romanoff and the White House. Both Romanoff and Sestak, who won his primary race last month, rebuffed the White House.
But Issa says the White House officials may have violated the Hatch Act, which "prohibits federal officials from using official authority or influence for the purpose of interfering with or affecting the result of an election."
"Rahm Emanuel was leveraging the power and access of his official position to advance the political interests of the Democratic Party by affecting the result of the Pennsylvania Democratic primary," Issa wrote in a referral to the U.S. Office of Special Counsel.
"Averting divisive primary campaigns and protecting a Democratic seat in the U.S. House of Representatives are purely political concerns and, as such, federal officials are prohibited from using their official authority or influence to address them…this is precisely the sort of behavior forbidden by the Hatch Act," he wrote.
In Romanoff's case, Issa disputed the White House stance that Messina's conversation with Romanoff was not problematic because there was no offer of a job.
"There is evidence to the contrary," Issa wrote. "Additionally, a finding of a Hatch Act violation does not require that a job was formally offered; any use of official authority by a restricted federal official to interfere with or affect the outcome of an election is unlawful."
The U.S. Office of Special Counsel confirmed to FoxNews.com that it received Issa's request but declined to comment further. Still, an official told FoxNews.com that when a complaint is filed, a preliminary review is opened to determine whether a full investigation is warranted. If it is, the office recommends whether prosecution is warranted once the investigation is complete. If it is, the office would take the case before its executive branch board for disciplinary action.
The penalties for violating the Hatch Act range from a 30-day suspension to termination of employment.
Issa has called on the Justice Department to appoint a special prosecutor, but Attorney General Eric Holder has turned him down, saying it won't be necessary.
"We assure you that the Department of Justice takes very seriously allegations of criminal conduct by public officials," Assistant Attorney General Ronald Weich told Issa in a letter last month. "All such matters are reviewed carefully by career prosecutors and law enforcement agents, and appropriate action, if warranted, is taken."
Weich said a special prosecutor won't be needed because the Justice Department "has a long history of handling investigations of high-level officials professionally and independently, without the need to appoint a special counsel."