Is Boehner heading for the exits?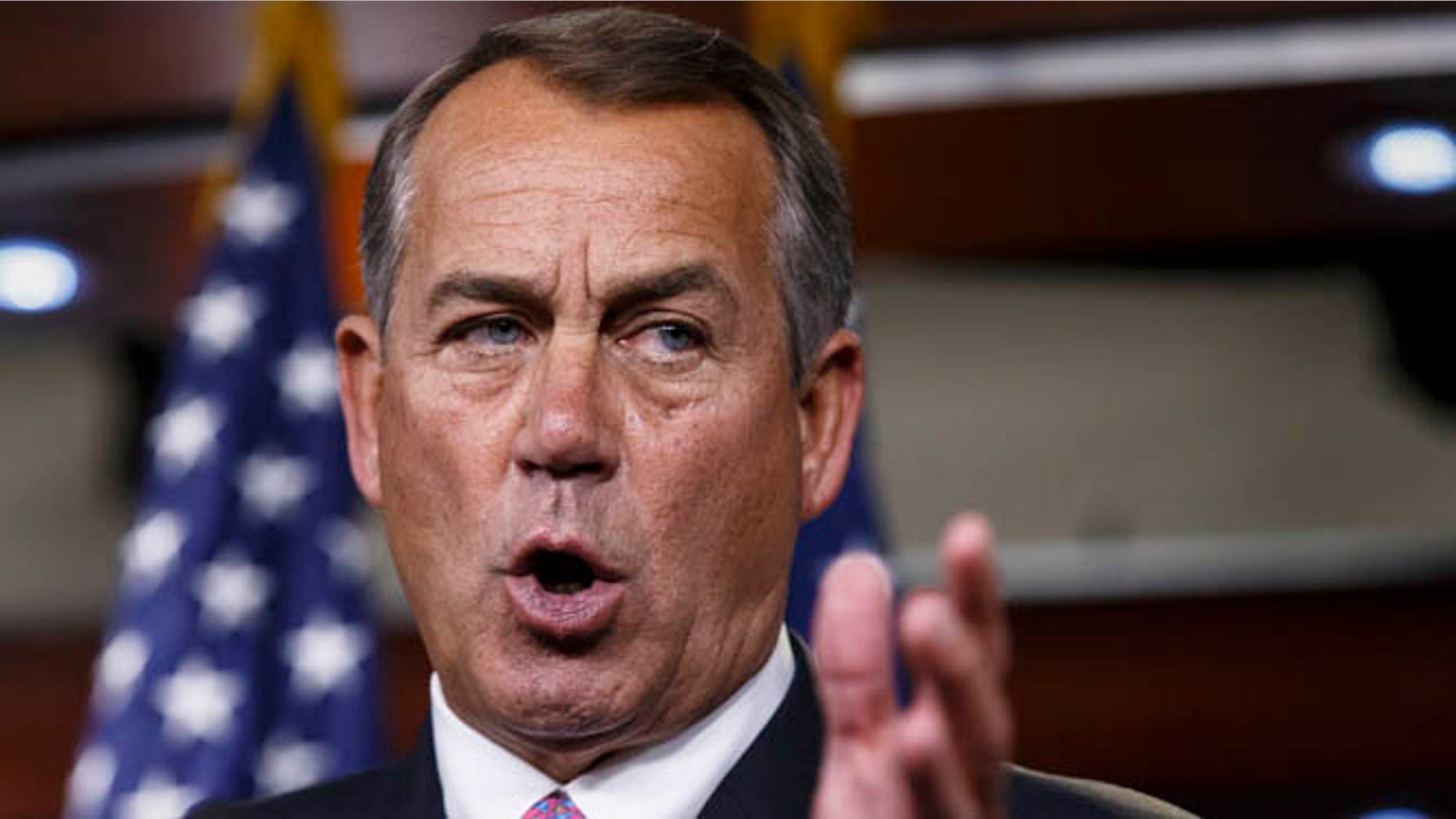 The reading of political tea leaves is one of Washington's most popular parlor games.
And when it comes to the future of House Speaker John Boehner, political soothsayers are busy divining patterns in tea leaves, wine sediments and coffee grounds to determine whether the Ohio Republican will stick around for another term. Questions are rampant as to whether Boehner could decide to leave on his own accord or be shoved out the door by a cabal of upstart conservatives intent to flip the House of Representatives on its ear.
This tasseography involving the speaker's gavel takes on many forms. The Capitol Hill clairvoyants interpreted the following events as harbingers that Boehner is sure to soon hang it up:
In December, the Ohio Republican took the rare step of blistering conservative advocacy groups like the Club for Growth and Heritage Foundation. Those organizations routinely pelt Republican offices with messages about how to vote on key issues. And Boehner had enough.
"Frankly, I just think they have lost all credibility," Boehner said. "I don't care what they do."
In particular, Boehner chastised the groups for driving conservatives to shutter the government unless they defunded the Affordable Care Act.  Boehner said those same advocates later conceded they didn't think their approach would work.
"Are you kidding me?" Boehner vented. "I think they're pushing our members into places they don't want to be."
In February, Boehner purchased a condo in Marco Island, Fla., for $835,000. At the time, Boehner spokesman Mike Steel noted that "this area of Florida has been the Boehners' family vacation spot for many years, and rather than continue to put money into vacation rentals year after year, they decided to buy a condo."
Naturally, prognosticators saw the purchase as a sure sign Boehner was prepared to retire to spend his time golfing in the Florida sunshine.
There was the spate of retirement announcements. Boehner acolytes like Sen. Saxby Chambliss, R-Ga., House Armed Services Committee Chairman Buck McKeon, R-Calif., and, perhaps the speaker's best friend in the House, Rep. Tom Latham, R-Iowa, all announced they were cashing it in at the end of this Congress.
Surely Boehner wouldn't want to remain in Congress without those confidants, whispered the oracles.
But there was more.
In late March, there was the sudden retirement announcement of House Intelligence Committee Chairman Mike Rogers, R-Mich. Rogers had taken a pass on the Michigan Senate contest after longtime Sen. Carl Levin, D-Mich., announced his intention to step aside. One of the arguments for Rogers remaining in the House was that he wanted to continue his stewardship of the Intelligence panel. House Republican Conference rules dictate six-year term limits for committee chairs and ranking members. Rogers was only halfway into his six-year term and perhaps didn't want to give it up.
Until Rogers declared he would depart Congress in January with two years remaining on his chairmanship to become a radio host with Cumulus.
Surely this augured bad things for Boehner, said the mediums. After all, unlike most committee chairs, the head of the Intelligence Committee only serves at the pleasure of the speaker. Congressional visionaries noted that Rogers didn't have the best relationship with House Majority Leader Eric Cantor, R-Va., who would be next in line to succeed Boehner as speaker. The Capitol Hill prophets murmured more. Surely Rogers' hasty departure in the middle of chairmanship must mean Boehner is out the door and that the Michigan Republican didn't stand a chance of reclaiming the gavel in the 114th Congress under "Speaker Cantor."
The retirement announcement of House Ways and Means Committee Chairman Dave Camp, R-Mich., fueled even more speculation about Boehner's future.
Some lawmakers found it curious that Boehner was absent in late March for a controversial vote to stave off a 24 percent cut in pay for physicians who treat Medicare patients. As the vote approached, Boehner was scheduled to be in California and Arizona for fundraising activities. The decision on how to proceed with the vote was left to Cantor. It was unclear if the House had the votes to pass the measure, known as the "doc fix." Chances of a roll call vote melting down on the floor were high. Cantor elected instead to execute a "voice vote," sidestepping an actual roll call vote. The maneuver agitated members of both parties. But nonetheless, some in the chattering class saw Boehner's deference to Cantor as a sign: The speaker was checking out and handing over the baton to the gentleman from Virginia.
Others were more cynical, believing Boehner's fingerprints were all over the strategy. Be out of town so rank-and-file members could see Cantor fumble a big decision.
Boehner recently spent nearly $300,000 on local campaign TV commercials for the first time in four years. Some even played on Cincinnati Reds games. The sages inferred that to mean Boehner was burning off campaign cash because he was departing soon. But others saw the advertisements as a sign that Boehner was serious about re-election and staying in the House.
When speaking to GOP donors in Las Vegas, Boehner recently declared he was "hell-bent" on passing immigration reform before the end of the year. That elicited a rebuke from Boehner spokesman Brendan Buck who said "everyone can tell their editors to chill." Buck said that nothing had changed and that there wasn't enough "trust" to ensure that President Obama would enforce immigration laws. But those on Boehner-watch interpreted the immigration comment as a sign the Ohio Republican was willing to move a very unpopular immigration reform measure, anyway. Such an effort could inflame rank-and-file Republican members who adamantly oppose immigration reform under any circumstances. The assertion was that the gambit could cost Boehner his job.
Unless of course, Boehner was planning on leaving anyway. Then a "damn the torpedoes" strategy could make sense.
All of these suppositions come as a group of 40 disgruntled House Republicans scheme not-so-quietly to oust Boehner, hopefully after the midterm elections. At the same time, prognosticators are closely watching the machinations of Cantor; House Budget Committee Chairman Paul Ryan, R-Wis.; House Financial Services Committee Chairman Jeb Hensarling, R-Texas; and Rep. Tom Price, R-Ga. Would any of them try to challenge Boehner? Would someone attempt to vault Cantor to supplant Boehner? Is Cantor in jeopardy?
This is just prattle. None of it is necessarily true. None of it is necessarily false. These are merely scenarios which prompt Congressional "seers" to study every twitch as though they're reading Tarot cards.
As Yoda said in The Empire Strikes Back, "hard to see the future is. Always in motion, it is."
Amid all the drama, there are some facts to dispel rumors that Boehner is departing.
In a March interview with the Cincinnati Enquirer, Boehner said he intended to be speaker next year.
"It won't even be close," Boehner told the Enquirer, adding he's "in better shape with my own caucus that I have been any time in the last three years."
In addition, those close to Boehner indicate the speaker is intent on running and is acting like he plans to run. Still a few sources say Boehner won't make a formal decision until after the election. At that point, he'll know where the votes are in the House and what sort of (prospective) GOP majority he has to work with. In addition, Boehner will know if Republicans control the Senate. It is said that Boehner would relish working with Senate Minority Leader Mitch McConnell, R-Ky., perhaps promoted to majority leader, in an all-Republican Congress. That is, if McConnell survives his own re-election bid against Democratic challenger Alison Lundergan Grimes.
But sources who know Boehner say the Ohio Republican doesn't even truly know what he wants to do until he evaluates the autumn landscape and assesses his own standing with the House Republican Conference.
Would some Republicans really want to ignite internecine warfare if they hold control of the House? Or better yet, gain seats in the House? Or still better, score control of both chambers of Congress for the final two years of President Obama's term?
Still, conservative agitators could contrive an interesting vote for House speaker in January 2015.
In the 2013 election for speaker, Boehner secured 220 votes, six more than were necessary to win. The speaker must secure an outright majority, not a plurality of votes. If no candidate secures the outright majority, the House votes again. And again. And again. Until there is finally a winner.
The House hasn't gone to a second ballot for speaker since 1923. Speaker Frederick Gillett, D-Mass., eventually recaptured the gavel in a crowded field on the ninth ballot over a period of three days. The House took 133 ballots and two months to select a speaker in 1856.
Could rabble-rousers force a second or third ballot come January? Very possible. But if Boehner's running, it's hard to see where the votes come from to defeat him for a third term.
With all this speculation, it's a wonder someone doesn't install a "Zoltar the Fortune Teller" arcade machine in the Speaker's Lobby. That could make it easier for the Capitol Hill prophets.
Capitol Attitude is a weekly column written by members of the Fox News Capitol Hill team. Their articles take you inside the halls of Congress, and cover the spectrum of policy issues being introduced, debated and voted on there.