Iran's New BFFs in Latin America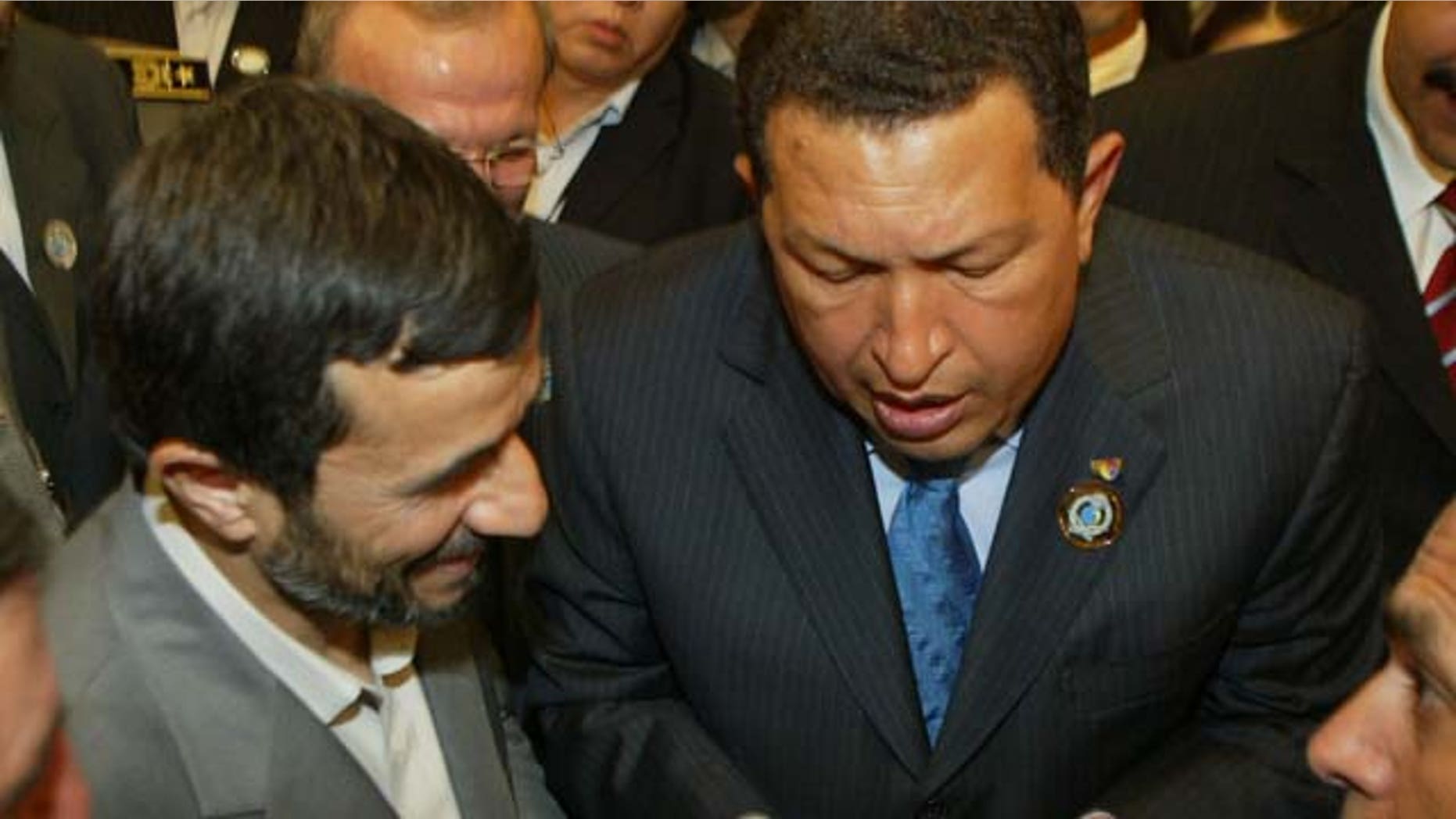 As proverbs go, "Show me who your friends are and I'll show you who you are" fits Hugo Chávez and Mahmoud Ahmadinejad just fine.
The Venezuelan president and his Iranian counterpart, united by ideology and their distrust of the United States, have brokered in natural resources, banking and military. This cozy relationship, some experts warn, has security implications for the United States.
Larry Haas, a senior fellow for U.S. foreign policy at the American Foreign Policy Council, a non-profit organization, said Iran's ever-emerging presence in Latin America creates a danger to the U.S. that is too close to home.
"Iran represents the most serious threat to peace, both in its own region and elsewhere," Haas said by phone. "The combination of its radical ideology, support of terrorist groups and pursuit of nuclear weaponry, especially on America's backdoors, is a serious threat."
Haas added that the alliance is essentially forcing the U.S. to draw a line in the sand.
"We need to understand who's on our side and who's not," he added.
"Iran is finding desperately needed friends in the ALBA nations," said Joel Hirst, International Affairs in Residence for the Council on Foreign Relations, referring to the Bolivarian Alliance for the Americas, or ALBA – of which Venezuela, Bolivia and Ecuador are members.
That alliance gives Iran a supposed friendly zone in the west, a 2.5 million square kilometers "blackout" area that's only three hours from Miami, Hirst said – yet a world away U.S. diplomatic reach.
"You have these big areas where anything can happen," he said.
The concerns of analysts center on the suspected nuclear dealings between Iran and Venezuela. But the released WikiLeaks cables from the U.S. Embassy also show that any perceived nuclear danger would be some ways away.
Currently, the cables state, Venezuela is "incapable of substantive nuclear cooperation with Iran/Russia."
"Although rumors that Venezuela is providing Iran...uranium may help burnish the government's revolutionary credentials, there seems to be little basis in reality to the claims," the cables read, according to the Associated Press.
And continue: "It is highly unlikely that Venezuela is providing Venezuelan uranium to third countries."
But the WikiLeaks cables also contain less reassuring messages.
Jonathan Pearl, Stanton Nuclear Security fellow at the Council on Foreign Relations, a nonpartisan think tank, said there is enough smoke to sound the alarm. He referenced a published article in which, according to a WikiLeaks cable, a reported 57 Iranian engineers have visited Venezuela in the last five years in search of uranium deposits.
"This would be incredibly problematic," Pearl said in a phone interview. "There's something to be worried about there. It's not a threat to deal with tomorrow, but it is something the Obama administration is taking very seriously."
The United States, however, has to walk a fine line between levying sanctions and proposing additional levels of International Atomic Energy Agency transparency measures, and giving its critics a platform to cry foul.
"The administration is caught between a rock and a hard place," Pearl added. "They've tried not to give Chávez his usual opportunity to bash the U.S."
Follow us on twitter.com/foxnewslatino
Like us at facebook.com/foxnewslatino