India's rape epidemic: Will the US apply pressure for change to its Asian ally?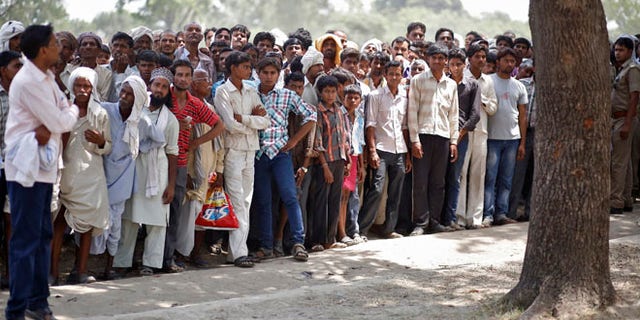 NEWYou can now listen to Fox News articles!
WASHINGTON – When the news of a young Indian woman brutally beaten and gang-raped on a moving bus in New Delhi went viral, vows to change the system and strip the stigma attached to victims came quickly.
Politicians across the country, responding to public pressure and global outrage in the wake of the 2012 attack on the 23-year-old female student and her male friend, promised they would modernize outdated policies on women and violence.
Collectively, it looked like the country was moving toward change and working hard to repair its global image. And for a while, it seemed to work.
But in late May, the bodies of two teenage girls were found hanging limply from a mango tree in their village in Uttar Pradesh. The girls, 14 and 15 years old, had been gang-raped. A week later, another case surfaced. Like the others, the girl had been raped and asphyxiated. She was found dead, hanging from a tree.
As the grisly cases start to emerge again, many are hoping the United States and others will apply pressure to their Asian ally to renew the fight against what is by any standard an epidemic of rape.
But it won't be easy.
In recent years, U.S. officials have faced significant obstacles with India, ranging from disagreements over economic conditions which include grudges over limits on temporary work visas to polarizing political figures like the country's new Prime Minister Narendra Modi.
Some say applying more pressure, even on an issue like rape, could strain the fragile U.S.-India relationship even more.
Others, like Shamila Chaudhary, a senior South Asia fellow at the New America Foundation, see it differently.
Chaudhary told FoxNews.com the U.S. government now has a chance to re-frame its relationship with India into one that would be beneficial to both countries and one that draws more attention to the epidemic ripping through the country.
The number of rapes reported in India from 1953 to 2011 has shot up 873 percent, according to statistics from the National Crime Records Bureau. In 2011, 24,206 rape cases were reported in India. (This increase could reflect, in part, a greater willingness by victims to come forward.)
Of those, 6,227 were in northern India, covering New Delhi where the bus rape took place.
Ruth Manorama, president of the National Alliance for Women, recently told The Wall Street Journal, "It is not a north India phenomena, it is an all India phenomena."
A victim's rights advocate based in the northern part of the country, who wished to remain anonymous, echoed the sentiment and told FoxNews.com that "the problem is not going away."
She added that the data from the National Crime Records Bureau carries the caveat that the actual number of rapes still is much greater than the number being reported. Victims have long stayed silent in the face of societal pressures as well as reluctance by authorities to register reports of abuse.
"This type of terrible sexual violence, though horrific, is not unique to India," U.S. State Department spokeswoman Jen Psaki told FoxNews.com. "We continue to urge improved protections and rights for women and girls and accountability for perpetrators of such violence in countries around the world, including India."
The State Department has, broadly, been speaking out more on the issue of sexual violence. In June, Secretary of State John Kerry vowed to "banish sexual violence to the dark ages and the history books."
"We will not tolerate rape as a tactic of war and intimidation," Kerry said during his keynote address at the Global Summit to End Sexual Violence in Conflict.
The four-day meeting – the first of its kind – was held in London last month. The U.S. was among 155 countries there that signed a declaration of commitment to end sexual violence in developing countries and regions.
From a political standpoint, how America responds to the rape crisis in India could have a ripple effect on ties with the country, which has been a key ally for the U.S. in the region.
The U.S. relationship with India has hit a few rough patches lately.
This year's elections put the Bharatiya Janata Party (BJP) in power – a party that typically advocates conservative social policies, free market capitalistic principles and foreign policy driven by a nationalist agenda.
"It is in the national interest of both India and the U.S. to move beyond the current plateau in relations and build a durable and strategic partnership," said Lisa Curtis, a senior research fellow at The Heritage Foundation.
Modi has been a controversial figure in Indian politics. His critics claim he did little to stop Hindu-Muslim riots in the state of Gujarat, where violence in 2002 led to the deaths of more than 1,000 people. For a time, the U.S. denied Modi a visa to enter the country – something that was reversed following the recent election.
But how the U.S. handles relations during Modi's time in office has yet to be seen. The India-U.S. relationship has been tested and strained during the past several years, with one of the hardest hits coming last December when the U.S. arrested Indian diplomat Devyani Khobragade on charges she lied about how much she paid her housekeeper as well as allegations of mistreatment.
Experts like Curtis say the U.S. must now reframe its relationship with India, striking a balance between tough messages on terrorism and women's rights, as well as capitalizing on economic opportunities.
Back in Washington, senators sat down last week to discuss how to reduce violence against women and discrimination around the world.
The hearing came as lawmakers tried for the fourth time since 2007 to pass the International Violence Against Women Act, which would make stopping violence against women a diplomatic priority for the U.S.
Sens. Debbie Stabenow, D-Mich., and Barbara Boxer, D-Calif., were among the lawmakers who took up the thorny topic at the Senate Subcommittee on International Operations and Organizations, Human Rights, Democracy, and Global Women's Issues hearing.
But despite some bipartisan support, the bill has never been voted out of the subcommittee.
"I struggle to understand why the United States has failed to pass the convention, but I understand politics," Sen. Dick Durbin, D-Ill., said. "We need to acknowledge our responsibility and our leadership on issues."