In climate bid, Obama stares down melting Alaska glacier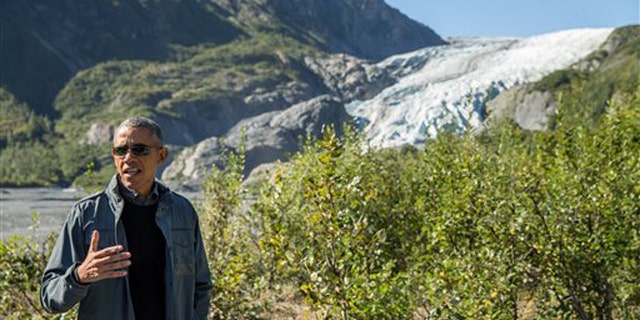 SEWARD, Alaska – President Obama stared down a melting glacier in Alaska on Tuesday in a dramatic use of his presidential pulpit to sound the alarm on climate change.
From a distance, Exit Glacier appears as a river of white and blue flowing down through the mountains toward lower terrain. In fact, it's just the opposite. The 2-mile-long chock of solid ice has been retreating at a faster and faster pace in recent years - more than 800 feet since 2008, satellite tracking shows.
"This is as good of a signpost of what we're dealing with when it comes to climate change as just about anything," Obama said with the iconic glacier at his back.
Obama trekked up to the glacier with photographers in tow in a carefully choreographed excursion aimed at calling attention to the ways human activity is degrading cherished natural wonders. The visit to Kenai Fjords National Park, where the glacier is located, formed the apex of Obama's three-day tour of Alaska, his most concerted campaign yet on climate change.
The president, dressed for the elements in a rugged coat and sunglasses, observed how signposts along the hike recorded where the glacier once stood and now only dry land remains.
"We want to make sure that our grandkids can see this," Obama said, describing the glacier as "spectacular."
Obama is counting on Alaska's exquisite but deteriorating landscape to elicit a sense of urgency for his call to action on climate change. He opened the trip on Monday night with a speech painting a doomsday scenario for the world barring urgent steps to cut emissions: entire nations submerged underwater, cities abandoned and refugees fleeing in droves as conflict breaks out across the globe.
Exit Glacier has been receding for decades at an alarming rate of 43 feet a year, according to the National Park Service, which has been monitoring its retreat for decades using photography and, more recently, by satellite.
Glaciers ebb and flow due to normal fluctuations in the climate, and even without human activity, Exit Glacier would be retreating. But the pace of its retreat has been sped up thanks to heat-trapping greenhouse gases blamed for global warming, said Deborah Kurtz of the National Park Service.
"Climate is the primary driver for the retreat of glaciers and for ice loss," Kurtz said.
Obama's trip was more about visuals than words, and the White House has put a particular emphasis on trying to get the message across to audiences who don't follow the news through traditional means. To that end, Obama taped an episode of the NBC reality TV show "Running Wild with Bear Grylls," putting his survival skills to the test while in the national park.
Obama's first glimpse of a glacier on the trip came as Marine One whisked him about 45 minutes south of Anchorage to tiny Seward. As he flew past snow-capped peaks and sprawling forests, the sheet of ice emerged, snaking its way through mountains toward a teal-tinged lake.
His itinerary also includes the first presidential visit to the Alaska Arctic, which comes amid concerns that the U.S. has ceded influence to Russia in strategic Arctic waters. Melting sea ice has been making way for shipping routes that never existed before, but the U.S. only has two working icebreakers, compared to the 40 in Russia's fleet — with another 11 on the way.
As he boarded a U.S. Coast Guard vessel to tour Resurrection Bay on Alaska's Kenai Peninsula, Obama said he was asking Congress to speed up construction of new icebreakers. He offered few details about the timeline or costs.
"These icebreakers are an example of something that we need to get online now," Obama said. "They can't wait."
Although Obama's trip hasn't entailed new policy prescriptions or federal efforts to slow global warming, Obama has said the U.S. is doing its part by pledging to cut carbon dioxide emissions up to 28 percent over the next decade.
Obama set that target as America's commitment to a pending global climate treaty that Obama hopes will be a capstone to his environmental legacy. Obama has urged fellow leaders to make similarly ambitious pledges as the talks near a close.
Despite his efforts, the U.S. isn't a shining example when it comes to greenhouse gases. Each American emits more than twice as much carbon dioxide as a Chinese and 10 times that of someone from India, Energy Department figures show. China, the U.S. and India are the world's top three polluters.