In California governor's race, incumbent Jerry Brown chases fourth term; GOP rival seeks to rebrand party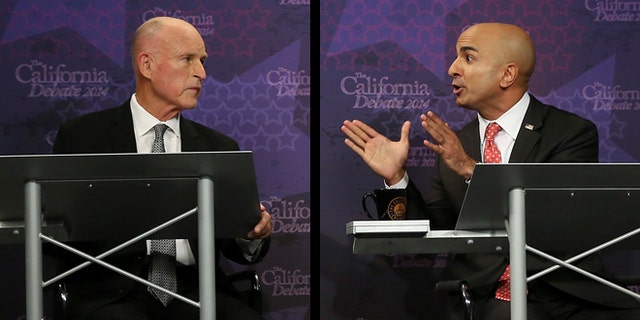 NEWYou can now listen to Fox News articles!
The longest-sitting governor in California seems headed toward a fourth term.
Gov. Jerry Brown, 76, is enjoying a roughly 20 percent lead over his Republican challenger, former U.S. Treasury official Neel Kashkari, who is 41.
One poll found that only a quarter of likely voters could identify Kashkari, who quit his job as investment banker to run for governor.
Brown is riding a wave of kudos over ending the long-standing state deficit and making a surplus the new normal. Brown accomplished it, although it meant raising taxes and targeting tax loopholes that benefited business.
"In public polling, people think Brown has done a good job," said Louis DeSipio, a political-science professor at the University of California, Irvine. "He's field-tested, he's very popular, and Democrats have a very strong advantage, as far as registered voters, in California."
Less than a third of California's registered voters identify as Republican. No Republican holds a statewide elected office.
Brown has enjoyed a relatively good relationship with California's Latinos, many of whom link the Republican Party to former Gov. Pete Wilson's efforts in the 1990s to crack down on undocumented immigrants through Proposition 187, an initiative that called for denying healthcare, education and other services to people who were not in the country legally.
It also required professionals who might come into contact with undocumented immigrants such as teachers and doctors to report them.
Brown, by contrast, has signed bills allowing undocumented immigrants to obtain driver's licenses, go to public colleges and receive financial aid to cover tuition, among other things.
"He's been countering the national anti-immigration rhetoric," DeSipio said.
That said, though Latinos are about 40 percent of California's population, and 23 percent of registered voters, their turnout is likely to be on the low side on Nov. 4.
"Governor Brown has his party backing him on very immigrant friendly legislation because they understand that a huge percentage of Latino families are mixed status," said Apolonio Morales, the political director for the Coalition for Humane Immigrant Rights of Los Angeles (CHIRLA).
"What impacts one family member impacts the whole family. This is an investment in the future work force and, politically speaking, to the next generation of voters here in California."
Kashkari has highlighted his Indian immigrant roots in his campaign, portraying himself as someone who actually is more representative of California than Brown, whom the Republican depicts as privileged and the continuation of a political dynasty. (Brown's father was also governor of California.)
Kashkari, a fiscal conservative, has said that despite the polls, he still is running to win.
He has made income inequality a central theme of his campaign, and he accused the governor of overselling California's comeback, saying millions of Californians are still trapped in low-paying or part-time jobs and too many poor children attend failing schools.
He also has described his candidacy as an effort to rebrand the Republican Party. He's actually staked out political positions that sound more Democrat than Republican. He supports same-sex marriage, he is pro-choice and backs a comprehensive immigration reform plan that address both tighter border security and a path to legal status for undocumented immigrants.
The state GOP organization says that his immigrant roots makes Kashkari the kind of candidate Republicans are looking to have more of in the future.
"Neel Kashkari is a great representative of the people of California," said Kaitlyn MacGregor, the communications director for the California Republican Party. "He has a great background, a great story, his family immigrated, achieved the American Dream. It resonates with a lot of people."
"The Republican Party in California has talked about trying to find nominees and candidates who come from the communities," MacGregor said, "and really can get in there and represent them as they want to be represented."
Morales, the CHIRLA political director, said the American Dream image is window-dressing and that Kashkari will find it difficult to overcome the GOP's image as anti-immigrant.
"The party swung too far to the right on the issue of immigration and has been in decline since the days of Proposition 187," Morales said. "As far as Latinos are concerned, the Pete Wilson style of politics never ended for the Republican party."
"To win back the Latino vote in the state, it will take more than window dressing," he said. "It will take a commitment to move pro-immigrant legislation, healthcare, education and jobs despite immigration status."
MacGregor said the Republican challenger is addressing issues that many Californians care about, including job creation and education.
Kashkari has hammered away at Brown for the governor's $68 billion high-speed rail project. Brown argues that the rail, which is controversial in the state, is a less expensive alternative to building more freeways.
Kashkari has said the state would be better off spending the money geared for the rail to address such things as the water shortage.
But Kashkari's liberal views on social issues make him radioactive to many Republicans.
The national GOP has kept a rather low profile regarding Kashkari's candidacy, political experts note.
"Kashkari represents a divided Republican Party," DeSipio said. "He was not a universal choice in the primary. Leading establishment Republicans don't want to get into that fight. The easy way for them is to be quiet and not be very [publicly] supportive of Kashkari to preserve their own future in the party for a future run."