Immigration Law Breathes Life Into Brewer's Re-Election Campaign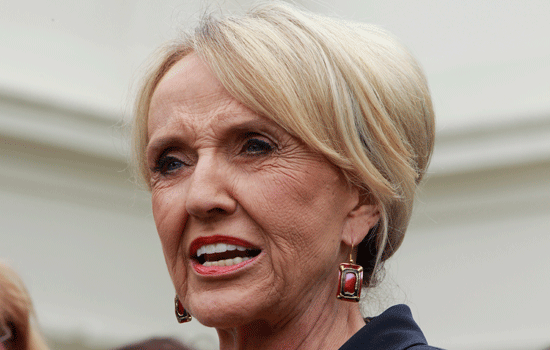 Only nine months ago, politically speaking, Jan Brewer had flatlined; the Arizona governor's approval rating was at 22 percent. And as recently as three months ago, a Rasmussen poll of likely voters showed her trailing her likely opponent, state Attorney General Terry Goddard, by nearly 10 points in the runup to November's gubernatorial election.
But voters in the Grand Canyon State have been singing a different tune since April, when Brewer signed SB1070 -- the state immigration law that has become the focus of a national controversy.
Since then, Brewer's approval ratings have skyrocketed, catapulting her to the top of the polls in the gubernatorial race and launching what may be the biggest political comeback of the year in the U.S.
Just one month after signing the law, Brewer had taken a 13-point lead over Goddard, with 52 percent of likely voters backing her candidacy, according to Rasmussen Reports.
It's a remarkable turnaround for Brewer, who assumed office last year when Gov. Janet Napolitano resigned to become President Obama's secretary of homeland security. Brewer has pulled far ahead in Arizona's Aug. 24 Republican primary race, and she has emerged virtually overnight as a national figure in the debate over border security and illegal immigration.
Matt Roberts, communications director at Arizona Republican Party headquarters in Phoenix, says Brewer's comeback is all the more impressive considering how far behind she was when she took office.
"Our former governor really left our current governor in a bad spot," Roberts said. "The voters hold elected officials accountable, and maybe her polling figures that have gone up are due to the fact that things are going better."
In a second legislative victory last month, Brewer rallied voters to pass a temporary sales-tax increase to help combat the state's budget crisis. She also delighted conservatives earlier this spring when she circumvented Goddard's office in filing a lawsuit that challenges the president's health care law.
But the signature issue in Brewer's surge is Arizona's immigration law, which makes it illegal to be an undocumented immigrant in the state and empowers law enforcement officials to question people they suspect are illegal immigrants about their status. Seventy-one percent of voters in the state support the law, and 63 percent say immigration is "very important" in determining how they will vote. Goddard has said he opposes the law, and Brewer has now hired outside counsel to defend her and the state against impending lawsuits.
Businessman John Munger, who dropped out of the Republican gubernatorial primary race last week due to fundraising problems, said Brewer's surge is due to the media frenzy over the law, and not because she suddenly won over the hearts and minds of voters.
"She's signed a bill that is very popular with Arizonans and hit a chord with Arizonans, and I think she's reaping the advantage of that," Munger said. "Campaigning around the state, I rarely found voters enamored with Jan Brewer."
Munger said Brewer's spike in the polls had to do with the perception among voters that she was responsible for SB1070, although he pointed out that she was not involved in formulating the law and that she did not concern herself with the bill before it hit her desk. Indeed, he said, she waited more than four days to sign it.
"It wasn't even clear that she was going to sign (the bill)," Munger said, "but she eventually made the decision to do so, and it turns out that may be the luckiest decision she's made in a long time."
Bruce Merrill, a long-time pollster and professor emeritus at Arizona State University, said "immigration is the overriding issue in Arizona, and a vast majority of voters in Arizona support Brewer's position."
"She symbolically represents a lot of people in Arizona saying, 'We've dealt with this issue for a long time and this is how we're dealing with it now,'" Merrill said, adding that even some of the 24 percent of Arizonans who oppose the law may like that Brewer stood up for it.
"It's not just about whether you like or dislike the bill," he said. "To defend Arizona really helps her with a lot of people -- it emphasizes her leadership skills and pride in Arizona."
Merrill predicted that SB1070 will sustain Brewer through the Aug. 24 primary. "I think (immigration) will be the major issue, and I think she's picked the right position on it," he said.
The Obama administration has said that it will send staffers to Arizona in coming weeks to discuss implementation of the law, but with the primary nearing, Merrill said he believes it's unlikely that such a visit will have much effect on election outcomes.
Munger, too, said Brewer is riding a wave of popularity among her party's luminati.
"She's certainly captured the imagination of most of the conservative pundits that are listened to by many of your typical Republican voters," Munger said. "Her name is daily mentioned on most of the shows, so she's getting astounding amounts of free advertising, and it's very, very difficult to compete with that in this atmosphere."
Added Merrill: "The more the liberal media rails against Arizona and against [Brewer], the more it helps her."