Illinois voters go to polls to replace GOP Rep. Schock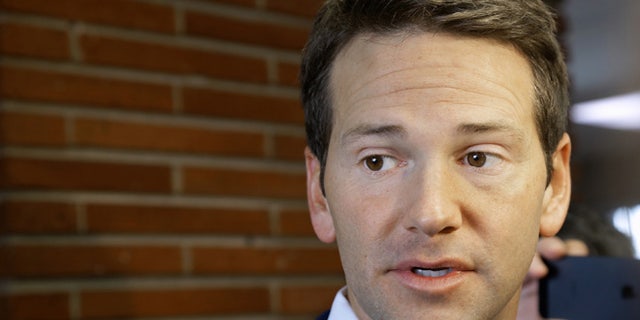 NEWYou can now listen to Fox News articles!
Voters in Illinois go to the polls Thursday in a special election to replace GOP Rep. Aaron Schock, who resigned in March amid a spending scandal.
Republican are expected to retain the seat with state Sen. Darin LaHood of Peoria, the son of a former congressman and Obama administration Cabinet member. He is facing Democrat Rob Mellon, a teacher will far less funding and name recognition.
Schock resigned in the middle of his fourth term. He is under federal investigation in a scandal that was essentially triggered by interest in his Capitol Hill office that he lavishly redecorated in the style of the "Downton Abbey" TV show.
Those questions eventually led to revelations about tens of thousands of dollars in questionable travel reimbursements.
The case has also puts Shock, 34, in a legal battle with the Justice Department over control of his records from his congressional office.
Shock has argued in part that he still needs time to review the documents.
He reportedly turned over 10,703 financial records on Aug. 26 to comply with a subpoena deadline but still has roughly 3,000 more records that his lawyers say do not fall under the subpoena but still could be made available to a judge.
The winner of Thursday's race will restore the number of House members to a full 435.
Voter turnout is expected to be low across the district's 19 counties.
Election officials in some of those counties have demanded that Schock pay the tab for the election
Gov. Bruce Rauner ultimately picked a general election date, just three days after Labor Day.
LaHood is the son of former Transportation Secretary Ray LaHood, a Republican who previously held a congressional seat in the central Illinois region.
The younger LaHood, a former prosecutor appointed to the state Senate in 2011, easily won the July primary over writer Michael Flynn, who helped found a conservative website with late commentator Andrew Breitbart, and State Farm employee Donald Rients.
Both of them portrayed LaHood as a hand-picked establishment candidate.
LaHood, 47, portrayed himself as more conservative than his father, who had agreed to cross party lines and serve under a Democratic president.
Mellon, a 44-year-old Army veteran, lost an attempt to win his party's nomination in 2014. This time, he bested a Springfield school board member as both appealed to the middle class Democrats in union-heavy areas.
The Republican-leaning district includes both industrial areas and farm land stretching west to the Mississippi River.
Countering LaHood's fundraising, name recognition and endorsements would be daunting for any Democrat.
LaHood has out-raised Mellon $1.2 million to roughly $10,700, according to campaign finance records.
Neither is a fan of President Obama's nuclear deal with Iran, both saying they want to learn more. Mellon says he "leans toward" support, while LaHood says he'd likely vote with Republicans against it.
The Associated Press contributed to this report.