Idaho Governor Vetoes Bill to Block Health Care Law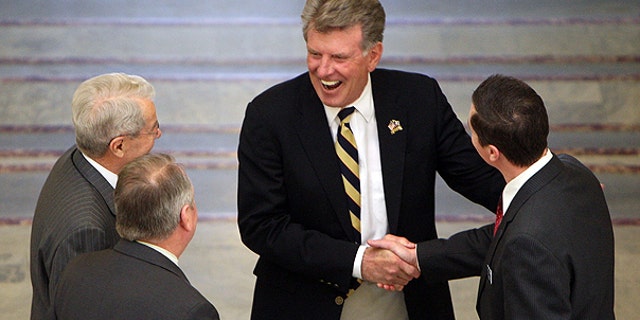 NEWYou can now listen to Fox News articles!
BOISE, Idaho -- The governor vetoed a bill to help Idaho block the federal health insurance overhaul and instead, issued a sweeping executive order Wednesday targeted at the reforms.
Republican Gov. C.L. "Butch" Otter is no fan of the health care reform -- he was the first governor to sign legislation requiring his state to sue over President Obama's overhaul -- but said the bill state lawmakers passed in the 2011 session would have required Idaho to forego the creation of a state health insurance exchange.
That would have opened the door for the federal government to step to develop and operate the system, Otter said.
"While I agree that the state should not implement Obamacare, this legislation has the unintended consequence of eliminating a possible opportunity for Idaho and ceding control to the national government," Otter said in a letter to the Idaho Secretary of State detailing his decision to veto the bill.
The governor instead issued an executive order to prohibit Idaho agencies from implementing the reform, or assisting the government in carrying out the law, while still allowing the state to continue developing a home-grown health insurance exchange.
"No one has opposed Obamacare more vehemently than me," Otter said in his letter to Secretary of State Ben Ysursa. "... However, ending Obamacare by whatever means does not alleviate the need for Idaho to develop its own solutions to healthcare issues in our state."
Idaho is among 27 states that have sued the federal government over the health care overhaul and provisions that would force residents to buy insurance by 2014, or face financial penalties. That case is likely to end up being decided by the U.S. Supreme Court.
During the 2011 session, conservative state lawmakers drew on writings of Thomas Jefferson from 1798 to promote a plan to nullify the federal health insurance overhaul that's despised by Idaho Republicans. But state senators dumped the measure amid constitutional concerns.
Supporters resurrected a tuned-down version that orders government not to implement "discretionary" parts of the insurance overhaul. It focused on blocking portions of the Patient Protection and Affordable Care Act that are not specifically required or don't take effect before June 30, 2012.