House to vote on high-stakes, longshot GOP immigration bills after sparks fly between top Republicans
The House of Representatives is barreling toward votes on two major Trump-backed immigration proposals Thursday, but both bills appeared to have little chance of passage as tensions between feuding GOP factions boiled over this week.
For congressional Republicans -- who suffered an embarrassing defeat last year in a failed vote to repeal key elements of ObamaCare -- securing immigration reform has been a key goal ahead of November's midterm elections.
The stakes for the votes are particularly high, as they will come just one day after President Donald Trump signed a surprise executive order to end the separations of families who illegally enter the country.
One of the bills, a compromise approach branded by Majority Whip Steve Scalise, R-La., as the "president's bill," would appropriate funding for Trump's proposed border wall, to the tune of $25 billion. It would also provide a pathway to citizenship for nearly 1.8 million so-called "Dreamers," illegal immigrants brought to the U.S. at a young age.
The other bill up for a vote Thursday, put together by House Judiciary Chair Rep. Bob Goodlatte, R-Va., takes a more conservative approach. It would afford the nearly 700,000 Deferred Action for Childhood Arrivals (DACA) recipients only a temporarily protected legal status that could be indefinitely renewed, rather than a full pathway to citizenship.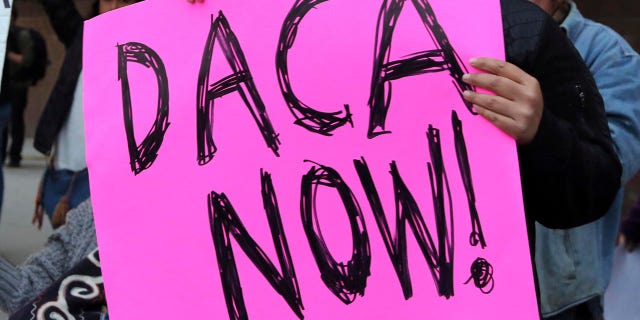 And it would authorize approximately $25 billion for the border wall and security on the border -- but the money would not formally be appropriated, which a senior House GOP leadership aide told Fox News was important to the president.
Neither solution faces good odds Thursday. Rep. Mark Meadows, R-N.C., chairman of the influential conservative House Freedom Caucus, openly derided the compromise approach Wednesday.

"The compromise bill is not ready for prime time," Meadows told reporters. "There are things that were supposed to be in the compromise bill that are not in the compromise bill that we had all agreed to."
LIVID MARK MEADOWS CONFRONTS PAUL RYAN ON HOUSE FLOOR
In a dramatic moment Wednesday, a visibly irate Meadows directly confronted House Speaker Paul Ryan on immigration on the floor of the House, as both Republicans gestured at one another. Sources told Fox News that the dispute stemmed from confusion over which of two immigration bills the House is expected to consider Thursday.
At one point, Meadows said simply, "I'm done! I'm done!" and walked away.
WATCH THE CONFRONTATION ON THE HOUSE FLOOR:
Multiple Republican members told Fox News they were disturbed by the skirmish between Ryan and Meadows. One source said a few members who were a "hard yes" on the immigration legislation were now "squirming" after seeing the confrontation.
Adding to the confusion, the House has also been toying with a third piece of legislation, a modified version of the conservative Goodlatte bill.
Goodlatte told Fox News the modified bill creates a new merit-based immigration category and expands the eligible DACA population.
"We would vote for the modified Goodlatte bill, and we would prefer that because we think it has a better chance of getting a higher vote count," Meadows said Tuesday night.
DEMS SLAM TRUMP'S EFFORTS TO DETAIN CHILDREN 'INDEFINITELY'
Holding a vote on the conservative Goodlatte bill is important for the House leadership, because it would defuse additional efforts by the House Freedom Caucus to derail the vote on the comprehensive federal farm bill set for some point this week. The farm bill would include tighter welfare restrictions.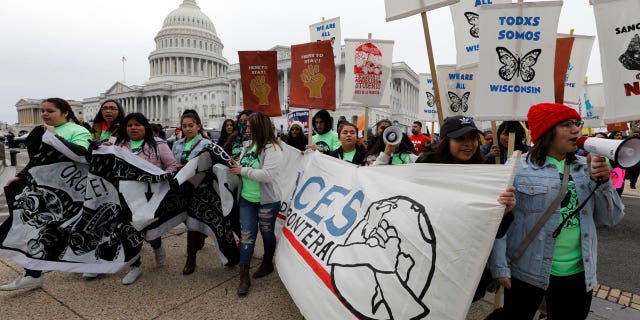 The conservative Freedom Caucus had threatened to hold up a vote on the farm bill without a vote on the conservative Goodlatte immigration bill.
But on Wednesday, a senior House GOP source told Fox News that getting the necessary votes to pass either bill would be an uphill battle.
Fox News' Chad Pergram and Anne Ball contributed to this report.