House Speaker John Boehner Comes Out Swinging Against Friend And Foe Alike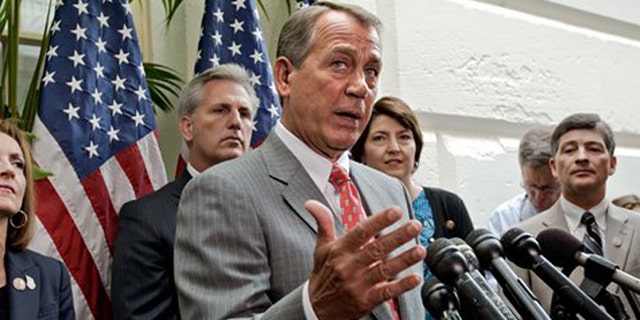 House Speaker John Boehner was pulling no punches on Thursday.
First, he challenged allies of the United States who want America to show strong leadership globally, and then he said he wants his congressional colleagues to stop shying away from immigration reform.
Boehner said other countries are looking for the United States to lead, and that the 150 troops now in Poland with similar contingents planned for three other European countries is a step in the right direction. With tensions growing over the conflict between Ukraine and Russia, the arrival of 150 paratroopers for joint exercises in Poland on Wednesday is considered a sign of President Barack Obama's commitment to security in Europe.
Here's the attitude: 'Oh, don't make me do this. Oh, this is too hard'
"They're begging us to lead, and they want us to lead," Boehner told a Middletown Rotary Club luncheon. "And I have to say, I was pleased with the news late yesterday that the president is in fact sending ... troops to Estonia, Latvia, Lithuania and Poland."
Boehner said that American leadership lets the world know "what the rules are" and that U.S. allies want more of it.
"When America's not leading, when America's not strong, the bad guys know they can stick their heads up with impunity," Boehner said.
Boehner also expressed frustration with those in Congress who are reluctant to tackle immigration reform this year. Boehner mocked those he said lack an appetite for addressing needed changes.
"Here's the attitude, 'Oh, don't make me do this. Oh, this is too hard,'" Boehner said, affecting a whiny voice. He added that some of his colleagues would rather take the path of "least resistance."
"We get elected to solve problems," Boehner said.
Boehner and other GOP leaders offered a set of immigration principles in January, but rank-and-file members balked at moving ahead. In the past, Boehner has blamed Republicans' distrust of the President for lack of movement on the legislation.
The issue is a difficult one for congressmen facing midterm elections this year. Boehner himself has three Republican opponents in a May 6 primary for Ohio's 8th District, which he first won in 1990.
After the comments, Democrats and immigration advocates seized on the principal Republican congressional leader mocking his own GOP allies for their reluctance to take up immigration legislation.
On Friday, Latino advocates noted that it's Boehner's job as Speaker of the House to bring the issue to a vote, not to blame others. Democrats made the same point.
Boehner's office attempted to downplay the apparent rift, noting that he often has said to colleagues, "You only tease the ones you love."
The Associated Press contributed to this story.
Follow us on twitter.com/foxnewslatino
Like us at facebook.com/foxnewslatino