House Majority Leader Cantor Calls Obama Insincere For Blaming Immigration Impasse On GOP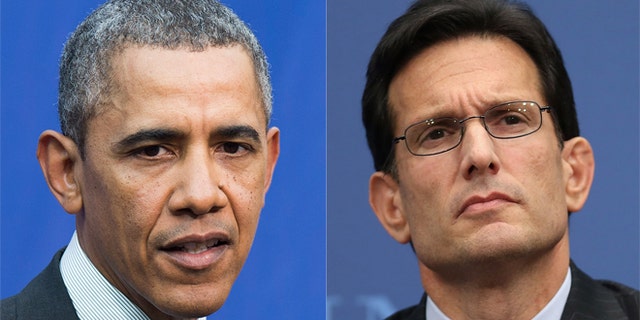 NEWYou can now listen to Fox News articles!
House Majority Leader Eric Cantor said President Barack Obama attacked the same lawmakers he's supposed to be working with on immigration during a phone call between the two on Wednesday.
The Virginia Republican says Obama called him Wednesday to discuss Obama's desire for an immigration overhaul. The call came after Obama released a statement accusing Republicans of repeatedly failing to act and of being behind the times on immigration.
Cantor says Obama still hasn't learned how to work effectively with Congress. He says Obama's statement shows he has no sincere desire to work together.
"The president called me hours after he issued a partisan statement which attacked me and my fellow House Republicans and which indicated no sincere desire to work together," Cantor said in a statement, according to Politico. "After five years, President Obama still has not learned how to effectively work with Congress to get things done.
"You do not attack the very people you hope to engage in a serious dialogue," he continued.
Obama supports a bipartisan Senate bill that has stalled in the House, where Republicans have stated that they prefer a piecemeal approach. Cantor says House Republicans don't support the Senate bill and the House won't vote on it.
"Unfortunately, Republicans in the House of Representatives have repeatedly failed to take action, seemingly preferring the status quo of a broken immigration system over meaningful reform," Obama said in a statement earlier Wednesday. "Instead of advancing common-sense reform and working to fix our immigration system, House Republicans have voted in favor of extreme measures like a punitive amendment to strip protections from 'Dreamers.'"
The White House took issue with Cantor's version of events, arguing that Obama had called Cantor, who is Jewish, to wish him a happy Passover, and immigration came up during the call. A White House official described the call as "pleasant" and said the White House was surprised by the description of the call circulated by Cantor's staff, adding that it didn't reflect what had actually transpired.
The official, who spoke on condition of anonymity, wasn't authorized to comment by name.
House Democrats reacted angrily to Cantor's accusations and accused Cantor of playing politics instead of working to solve the immigration issue.
"In response to the president's renewed call for action on comprehensive immigration reform, Congressman Cantor once again offered only excuses for inaction," said Drew Hammill, a spokesman for House Minority Leader Nancy Pelosi (D-Calif.).
The Associated Press contributed to this report.
Follow us on twitter.com/foxnewslatino
Like us at facebook.com/foxnewslatino