House approves ObamaCare bill despite veto threat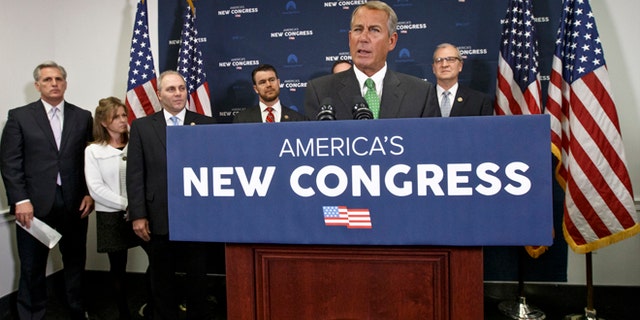 NEWYou can now listen to Fox News articles!
The House voted Thursday to curb a provision in ObamaCare that some lawmakers say is hurting the job market, as the new Republican-controlled Congress moved quickly to challenge the administration on several fronts.
The House voted 252-172 for the ObamaCare bill, which tweaks the law's definition of full-time workers who must be offered employer-provided health care. Twelve Democrats sided with Republicans in approving the first Affordable Care Act-related legislation of the new Congress.
The bill changes the full-time worker threshold from 30 hours weekly to a 40-hour minimum. Critics claim defining full-time employees as those working at least 30 hours is pressuring firms to save money by cutting workers' hours below that and, in turn, the number of full-time jobs.
The White House, though, already has vowed to veto the bill, drawing jeers from GOP leaders.
"You say you care about low-income workers, about working women and small businesses?" House Majority Leader Kevin McCarthy, R-Calif., taunted Obama. "Show it and sign this bill."
The White House, just days into the 114th Congress, also has threatened to veto two other Republican-sponsored bills, including one forcing approval of the Canada-to-Texas Keystone pipeline.
The House is planning to vote on that bill Friday, while a Senate panel on Thursday approved the legislation - teeing up debate on the Senate floor for next week.
On both bills, GOP leaders would face uphill fights mustering the two-thirds House and Senate majority votes they would need to override Obama vetoes. But both measures had some support from Democrats, and Republicans could use them to portray themselves as championing bipartisan legislation, only to be thwarted by Obama and his Democratic congressional allies.
"Given the chance to start with a burst of bipartisan productivity, the president turned his back on the American people's priorities," House Speaker John Boehner, R-Ohio, told reporters Thursday, adding, "We were taking our oath of office when they were issuing veto threats. Come on."
House Minority Leader Nancy Pelosi, D-Calif., said Democrats would sustain Obama's vetoes on both bills and said it was Republicans who have blocked progress.
"The president has always extended the hand of friendship. Some say too much," she told reporters.
She also said Democrats would uphold a promised Obama veto on a third measure rolling back some regulations on the financial industry enacted after the 2008 economic crash. That bill fell short in the House this week but is expected to pass on a revote next week.
Obama's 2010 health care law, a perennial GOP target, is phasing in a requirement that companies with more than 50 full-time workers offer health care coverage or face penalty payments to the government.
House Republicans say boosting the standard to 40 hours would protect those workers and named their bill the "Save American Workers Act." They cite a study by the conservative Hoover Institution saying that 2.6 million workers are at risk of having their hours reduced by the 30-hour minimum, including disproportionately high numbers of female, low-income, younger and less-educated workers.
The White House and Democrats, with support from labor and liberal groups, mock the measure as the latest attempt by Republicans to scuttle Obama's health care law. The House has voted more than 50 times to repeal or roll back parts of that law since Republicans took control of the chamber in 2011.
Democrats say changing the full-time threshold from 30 to 40 hours would make fewer workers eligible for employer-provided health coverage and put more of them at risk of losing that coverage from companies looking to cut costs.
The measure's fate is less clear in the Senate, where majority Republicans will need at least six Democratic votes to get the 60 needed to overcome Democratic delaying tactics. Senate GOP leaders have not said when the bill will be debated.
The Associated Press contributed to this report.