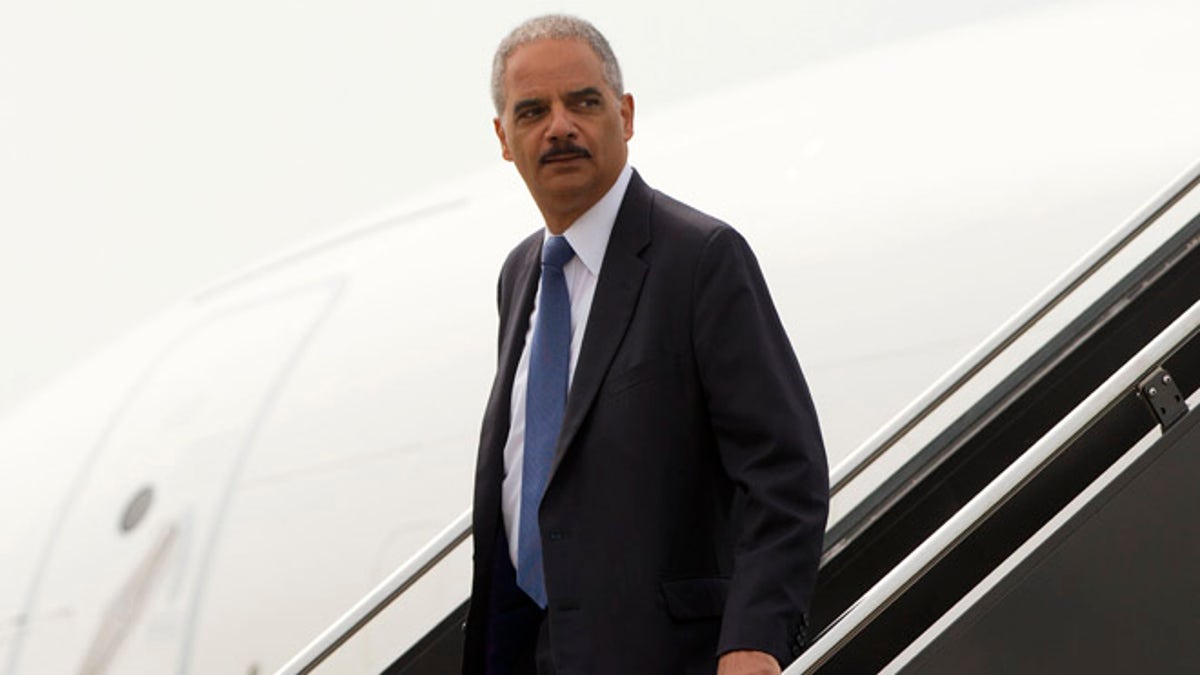 U.S. Attorney General Eric Holder reassured residents in suburban St. Louis that "change is coming" in the wake of the controversial police shooting that has rocked the community and triggered days of protests and riots.
The attorney general spoke as he visited the area Wednesday to meet with community leaders as well as law enforcement officers and federal investigators – who are conducting their own probe into the shooting of 18-year-old Michael Brown.
To the backdrop of Holder's visit, new details were emerging about the case. One source close to the department's top brass told FoxNews.com that Darren Wilson, the officer who shot Brown, suffered severe facial injuries and was nearly beaten unconscious by Brown moments before firing his gun.
Meanwhile, Holder vowed that federal investigators would aggressively conduct their probe, while local law enforcement do the same.
Holder, who was expected to head to Ferguson, Missouri, and meet with law enforcement officers and federal investigators, made his first stop Wednesday at the nearby Florissant campus of St. Louis Community College.
Kiyanda Welch said Holder talked to her and other students about the unrest and their own interaction with police. The attorney general told the group, "change is coming," Welch said.
Outside the St. Louis County Justice Center in Clayton, where the grand jury was expected to convene on the matter, two dozen protesters gathered in a circle for a prayer, chanted, and held signs urging prosecutor Bob McCulloch to step aside. Nearly two dozen officers guarded the building's main entrance, which also was blocked off with yellow police tape.
McCulloch's deep family connections to police have been cited by some black leaders who question his ability to be impartial in the case of Darren Wilson -- the white officer who fatally shot the unarmed Brown on Aug. 9. McCulloch's father, mother, brother, uncle and cousin all worked for the St. Louis Police Department, and his father was killed while responding to a call involving a black suspect.
The prosecutor, who is white, has insisted his background will have no bearing on the handling of the Brown case, which has touched off days of rancorous nighttime protests during which authorities used tear gas and rubber bullets to clear the streets of the St. Louis suburb where he was killed.
The protests were more subdued Tuesday night, with smaller crowds, fewer confrontations and no tear gas. Police said they still made 47 arrests, but mainly of people who defied orders to disperse. Tensions rose briefly when someone hurled a bottle at officers, but there were no reports gunfire or the clashes that had marked previous nights.
The slight easing of tensions preceded the visit during which Holder was expected to meet with FBI and other officials carrying out an independent federal investigation into Brown's death, as well as with community leaders. Holder arrived in St. Louis shortly before 11 a.m. CST Wednesday, along with several Justice Department officials including members of its Civil Rights division.
In a letter published late Tuesday on the St. Louis Post-Dispatch website, Holder promised a thorough investigation while calling for an end to the violence in Ferguson. He said the bond of trust between law enforcement and the public is "all-important" but also "fragile."
Arrest patterns "must not lead to disparate treatment under the law, even if such treatment is unintended. And police forces should reflect the diversity of the communities they serve," Holder wrote.
The Associated Press contributed to this report.