Holder to France: We Will Close Guantanamo Bay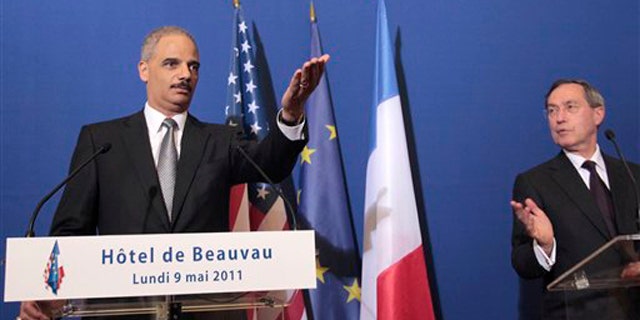 NEWYou can now listen to Fox News articles!
With Usama bin Laden out of the way, President Obama has achieved one of his top goals in the War on Terror. But Attorney General Eric Holder, during a visit to Paris, reminded the public Monday of another goal -- closing Guantanamo Bay -- and he vowed to finish the job.
"It is still the intention of the president, it is still my intention to close the facility that exists at Guantanamo and we continue our efforts in that regard," Holder told reporters during a joint press conference with French Interior Minister Claude Gueant.
Holder reiterated the administration view that national security would be "enhanced" by closing the prison camp. Obama has claimed the presence of the facility hurts the U.S. by serving as a ready recruiting tool for terror groups. Closing it was one of his first initiatives as president in January 2009.
But more than two years later, practical and congressional hurdles have prevented that from happening -- Congress has blocked the administration from bringing prisoners into the U.S., and the administration is wrestling with how to process the remaining detainees. Some Republicans say the facility is ideally suited for handling terror suspects and should remain open.
Regardless of whether it is closed, the administration will have to find somewhere to keep future detainees. Holder said Monday that, while bin Laden is dead, "There are still people, still parts of that organization that want to strike France, that want to strike the United States, that want to strike our allies."
The Obama administration is working closely with France, and Great Britain, on the military mission in Libya to protect civilians from Muammar al-Qaddafi. The cooperation marks a turnaround from relations at the start of the 2003 Iraq war, which France opposed along with other U.S. allies.