Hillary Clinton drowned out by immigration hecklers during campaign appearance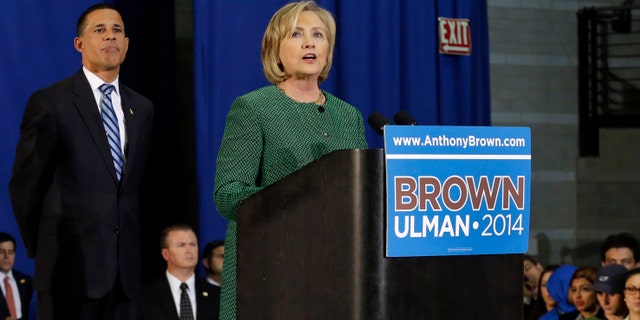 NEWYou can now listen to Fox News articles!
Democrat Party star Hillary Clinton was the headliner, stopping by Maryland on Thursday to lend her clout to gubernatorial candidate Lt. Gov. Anthony Brown.
But something grabbed the headlines from the headliner.
Young undocumented immigrant activists heckled the former first lady and secretary of state for roughly the duration of Clinton's speech in College Park.
They were organized, and they were loud.
As security removed one group of hecklers, another group started yelling at Clinton, and when they were removed, yet another group picked up where they had left off, according to Politico.
The demonstrators – members of United We Dream, a group that advocates for an end to deportations and for policies that will enable undocumented immigrants to obtain a path to legal status – have been targeting Clinton, who has indicated she may run for president in 2016.
The Dreamers have told reporters that they want to start putting pressure on her now in the hope that she will articulate, in clear terms, where she stands on various aspects of immigration reform.
Recently, they heckled Clinton when she was in North Carolina stumping for Sen. Kay Hagan, who has drawn the ire of many Latinos and immigrant advocates by voting against the Dream Act, a measure that would have given undocumented immigrants brought to the United States as minors a chance to legalize their status if they meet a strict set of criteria.
Clinton has addressed immigration on occasion, at times making remarks that have irked advocates. This year, for example, she said that the Central American children who were part of the surge of immigrants at the U.S.-Mexico border should be returned to their home countries.
In North Carolina and now in Maryland, she spoke about immigration after Dreamers began heckling.
"If they had just waited a little while I was getting to the Dream Act," Clinton said, then going on to praising the measure.
Maryland, as it happens, passed a state measure aimed at Dreamers that allows them to attend public college at in-state tuition rates, which tend to be half of out-of-state rates.
"I'm a strong supporter of comprehensive immigration reform," said Clinton, adding that the it is a "moral" issue. "We have to treat everyone with dignity and compassion."
That was too little for the Dreamers at the campaign event.
"I think she avoided the question like she has in the other events where we've tried to connect with her before," said Greisa Martinez, an organizer with United We Dream, according to Politico.
"I know that Hillary Clinton is a very intelligent woman and she knows exactly what we are talking about… It's not about the Dream Act and it's not about immigration reform … it's about administrative relief, and so to hear her use that as a cop out" was frustrating.
Proponents of more lenient immigration measures have grown frustrated over the lack of action by Congress and what they say is a lack of a effort by President Barack Obama to work on modifying aspects of immigration policies and reducing the record number of deportations during his administration.
The Dreamers, as well as other advocates, are warning Democrats generally, and Clinton specifically, that they will experience a backlash if they do not make a more forceful commitment to the passage of immigration reform.
Maryland Gov. Martin O'Malley, whom Lt. Gov. Brown is hoping to succeed, was at the event. Clinton and O'Malley, who also is seen as a potential 2016 presidential contender, kept a distance from each other at the event.
Follow us on twitter.com/foxnewslatino
Like us at facebook.com/foxnewslatino