'Hey, diddly-ho!' Ted Cruz 'auditions' for role on 'The Simpsons'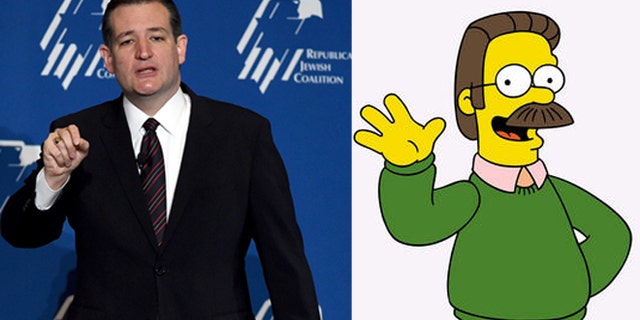 LOS ANGELES (AP) – Ted Cruz wants to be president, but he's got another job in mind as well: voice actor for "The Simpsons."
In a tongue-in-cheek BuzzFeed video posted Tuesday, the Republican senator from Texas says he's auditioning to replace "The Simpsons" cast member Harry Shearer, who has said he's leaving Fox's animated TV show.
"Hi, I'm Ted," Cruz says, adding that he'll take any part he can get. He then offers game versions of "Simpsons" characters including tough boss Mr. Burns, nerdy Ned Flanders, family patriarch Homer and even schoolgirl Lisa.
It's a lighthearted change-of-pace for the conservative senator, whose tone is often stern and serious. The audition that hits closest for Cruz? His take on the alien Kodos Clinton, a presidential candidate on the show.
"I'm running for president now, and you know it's really tough," Cruz said, launching into a version of a Kodos campaign speech. "Forwards, not backwards. Upwards, not downwards. And always twirling, twirling for freedom," Cruz says earnestly, spinning around, arms raised.
"I have been told many times, I have a face for radio. And I have a face for animation," Cruz says at the video's end.
Laughs aside, it's an open question whether BuzzFeed got permission to use the "Simpsons" character images in the video. The online news site didn't immediately respond Tuesday to requests for comment.
What is clear is that Cruz should focus on his career in politics, because this video didn't appear likely to launch one in television.
"He didn't ask permission, we don't endorse a specific candidate, and probably most disappointing for him, he's not getting the part," Al Jean, "The Simpsons" executive producer, said in a statement.
Like us on Facebook
Follow us on Twitter & Instagram