Hagel orders military medical team to train, get ready for quick response to more Ebola cases in US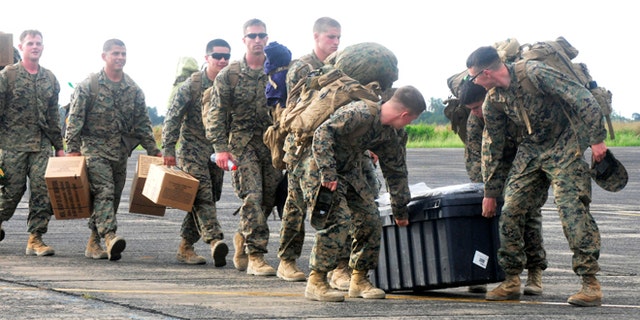 NEWYou can now listen to Fox News articles!
The Defense Department said Sunday that it is preparing a quick-response medical team to help health-care professionals should the Ebola virus spread in the United States.
Defense Secretary Chuck Hagel ordered the training of the 30-member team and said the effort was in response to a Department of Health and Human Services request.
Pentagon spokesman Rear Adm. John Kirby said the move is "an added, prudent measure to ensure our nation is ready to respond quickly, effectively and safely in the event of additional Ebola cases."
The military is already assisting in efforts to stop the spread of Ebola in West Africa, where roughly 4,300 people have died so far this year from the virus.
Last week, six U.S. military planes delivered more supplies and 100 Marines to West Africa. The Marines' arrival means roughly 300 U.S. service members are now in the region, said Maj. Gen. Darryl A. Williams, the commander leading the U.S. response.
The U.S. military is working to build medical centers in hard-hit Liberia and may eventually send as many as 4,000 soldiers to West Africa.
The Obama administration has faced sharp criticism for its handling of the virus so far in the United States, particularly about whether proper hospital protocol and safety measures are in place.
The first known Ebola patient in the country, Thomas Eric Duncan, was sent home from Dallas' Texas Presbyterian Hospital in late September after arriving at the emergency room with Ebola-like symptoms. Duncan, who had just come from Liberia, returned to the hospital several days later and died.
Now, two health professionals who were treating Duncan have the virus.
In addition to the new Defense Department effort, the Centers for Disease Control and Prevention is expected to announce changes in protocol, in response to the lapses and widespread public concern.
The members of the 30-member military team will be selected and led by Northern Command Commander Gen. Chuck Jacoby.
The team of 20 critical care nurses, five doctors trained in infectious disease and five trainers in infectious-disease protocols will go to Fort Sam Houston, in Texas, for as many as seven days to receive specialized training in infection control and personal-protective equipment.
Dr. Anthony Fauci, director of National Institute of Allergy and Infectious Diseases, told "Fox News Sunday" that one of the two health-care workers with Ebola, nurse Nina Pham, was likely infected because "she was not completely covered" with her protective clothing.
He also said she's "very stable" and expressed guarded optimism about her recovery, saying she was "progressing very well."
Kirby said the quick-response team's training is expected to start within the next week and will be provided by the U.S. Army Medical Research Institute of Infectious Diseases.
When the training is completed, the team will remain in a "prepare to deploy" status for 30 days, making it ready to go to any CONUS, or contagious United States, location.
Kirby said the team will not be sent to West Africa or elsewhere overseas and will be called to respond in the U.S. only at the order of public health professionals.
"Secretary Hagel is committed to ensuring (the Defense Department) is prepared to provide appropriate capabilities, as required, to support our government's response to this deadly disease," he also said.
Fox News' Jennifer Griffin and The Associated Press contributed to this report.