Guatemalan vice-president ousted amid corruption scandal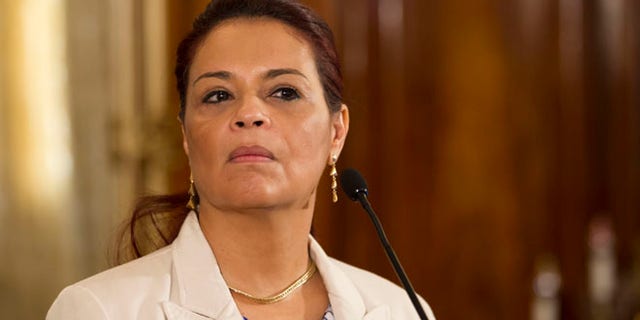 GUATEMALA CITY (AP) – Guatemala's once-powerful vice president formally lost her post Saturday as the congress accepted her resignation, leaving office amid a customs corruption scandal that has implicated her former private secretary.
In a letter released late Friday, Roxana Baldetti said the move means she is giving up her immunity from possible prosecution and promised "to collaborate with all investigations" into the graft scheme. She has denied any involvement in the alleged bribery.
President Oscar Perez Molina called the decision "brave" and said it was a personal decision. Legislators voted 149-0 at a special session to accept her stepping down.
A court later issued an order barring Baldetti from leaving the country during the investigation. The order was sought by Guatemalan prosecutors and a U.N. commission formed to investigate criminal networks and fight impunity in the Central American country.
Baldetti is the first Guatemalan vice president to step down due to a corruption case, although prosecutors have not implicated her in the scandal and she denies involvement.
The resignation shows the continuing impact of the U.N. commission, which has been in Guatemala since 2007. It worked with prosecutors who brought charges in the customs case.
Baldetti's former aide, Juan Carlos Monzon Rojas, is alleged to have been the ringleader of a scheme to defraud the state of millions of dollars by taking bribes in exchange for lower customs duties. Monzon's last known whereabouts were overseas, and he is currently being sought by authorities.
Recent days had seen rising calls for Baldetti's resignation by protesters and influential business leaders. The country's Constitutional Court ruled that congress would have the power to strip her of the immunity from prosecution that came with her office.
After the announcement of her resignation, hundreds of people celebrated in the streets of the capital, shooting off firecrackers and honking horns.
"Roxana's resignation is a victory for the people!" jubilant protesters chanted in central Constitution Square.
Thousands more turned out for another celebratory rally Saturday.
A former journalist and businesswoman, Baldetti was one of the founders of Perez Molina's conservative Patriotic Party in 2001, served as head of its congressional delegation and was its secretary-general until earlier this year.
Her resignation adds to disarray for the governing party ahead of the Sept. 6 elections. Its presidential candidate, Alejandro Sinibaldi, quit the party last month, complaining of corruption and of feuds with Baldetti. Perez Molina's approval ratings have been plummeting.
Perez Molina said he would send congress a list of three names from which a new vice president can be selected.
At least 50 private citizens and public officials, including Guatemala's current and former tax chiefs, are suspects in the customs scandal. Prosecutors said 27 are in custody.
Earlier Friday, authorities arrested five lawyers who allegedly bribed a judge to free suspects jailed in connection with the case.
Prosecutors and a U.N. investigative commission said the attorneys paid Judge Marta Sierra Stalling to release the three suspects on bail.
Authorities revoked bail and were seeking to lift Sierra Stalling's judicial immunity in order to launch an investigation.
In Washington, U.S. State Department spokesman Jeff Rathke expressed support of Perez Molina's "efforts to address charges of official corruption in Guatemala," as well as the U.N. panel known as the International Commission against Impunity in Guatemala.