Graham: Obama 'Screwed Up' on Closing Gitmo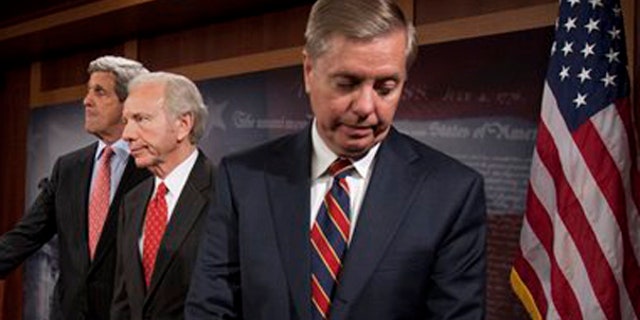 NEWYou can now listen to Fox News articles!
A senior Republican who has supported President Obama's goal of closing the Guantanamo Bay prison by January now says the president has botched the plan.
With less than two weeks before the Obama administration announces where the conspirators of the Sept. 11 terrorist attacks will be prosecuted, Sen. Lindsey Graham told Fox News that there is a war within the White House on what to do.
"And let me just say, the president, quite frankly, has screwed this up," he said. "You know, he announces on the first day of his being inaugurated that he's going to close Guantanamo Bay and he didn't do the hard stuff. Graham added that he's been talking with Obama for months about the plan, telling him he has to think it through.
While not responding directly to the senator's criticism, a White House aide said progress is being made. The aide also suggested their work is handicapped by chaotic records left by the previous administration.
"The previous administration succeeded in prosecuting only three detainees in more than seven years," the aide said. "This administration is committed to pursuing swift and certain justice wherever possible for those at Guantanamo who have killed Americans, committed acts of terrorism or enabled others to do so."
The Obama administration is scrambling to meet its self-imposed deadline of closing the prison by January as it tries to sort out the cases of the more than 200 inmates remaining at the facility.
The Obama administration has pledged to maintain the facility's controversial military tribunal system to try at least some Guantanamo detainees. Several detainees are facing charges, including five men accused of organizing the Sept. 11 attacks.
In 12 days, the Obama administration is promising a decision on where the self-described architect of the Sept. 11 attacks, Khalid Sheikh Mohammed and his four co-conspirators will be tried.
Graham supports military trials for the case and is proposing an amendment to keep the men out of federal court because he says criminalizing the Sept. 11 attacks will make the country less safe.
The White House has recently insisted no decision has been made.
A Pentagon spokesman said Defense Secretary Robert Gates is working to resolve the issue.
"We are very much in the midst of this discussion, hoping to come to a conclusion to it shortly and it is not helpful to that process in the estimation of the attorney general and the secretary of Defense for the Congress to be limiting our options there," Pentagon spokesman Geoff Morrell said.
Fox News' Catherine Herridge and Mike Emanuel contributed to this report.