Graham Accuses Holder of 'Making Bad History' With Sept. 11 Trial Decision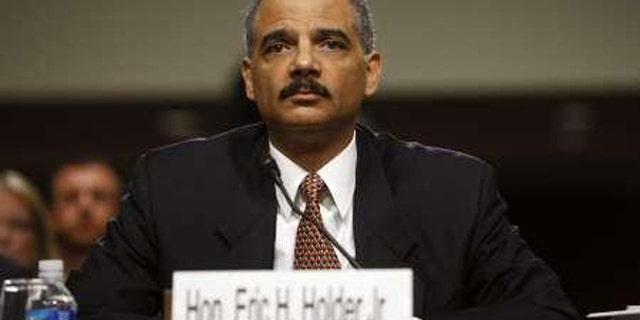 A top Senate Republican on Wednesday accused Attorney General Eric Holder of "making bad history" in his decision to send professed Sept. 11 mastermind Khalid Sheikh Mohammed and his co-conspirators to New York for trial in civilian court.
Speaking at a Senate Judiciary Committee hearing in which Holder testified, Sen. Lindsey Graham, R-S.C., raised concerns that the attorney general was imperiling national security by determining that war-time combatants, potentially even Usama bin Laden, might be sent into the criminal system.
"We're making bad history here," Graham said. "The big problem I have is that you're criminalizing the war. ... I think you've made a fundamental mistake here."
Testifying for the first time on the decision, Holder delivered a point-by-point rebuttal to his critics who say he's treating the suspects with a "pre-9/11 mentality."
"I know that we are at war," Holder declared.
The attorney general said he knew his decision would be controversial and considered it a "tough call." He said the defendants could have been tried in either military or civilian court, since, "The 9/11 attacks were both an act of war and a violation of our federal criminal law."
But he stood by his call to bring the five defendants into federal court, saying he considered "every alternative" and determined that New York is the venue "most likely to obtain justice for the American people."
"We need not cower in the face of this enemy. Our institutions are strong ... and our people are ready," Holder said. Asked what might happen if the suspects are acquitted, Holder replied: "Failure is not an option. These are cases that have to be won. I don't expect that we will have a contrary result."
Holder's testimony comes after days of criticism from Republicans and Democrats who warned that New York civilian court is not the appropriate venue and could pose several problems for the prosecution.
Critics say the venue could make it difficult to use evidence obtained without a warrant, create problems over classified information and give Mohammed the platform he wants.
But Holder defended the record of the civilian courts in handling international and domestic terrorists, and said Mohammed would have no more of a platform to "spew his hateful ideology" in New York than in a military commission.
"I'm not scared of what Khalid Sheikh Mohammed has to say at trial and no one else needs to be afraid either," Holder said, adding that the judge in the case will ensure "appropriate decorum."
Holder also faced tough criticism Wednesday from Sen. Jeff Sessions, R-Ala., the ranking Republican on the committee, who said the Sept. 11 trial and several other administration decisions signal a return to a "pre-9/11 mentality."
"I believe this decision is dangerous. I believe it's misguided. I believe it is unnecessary," Sessions said.
Chairman Patrick Leahy, D-Vt., defended Holder, voicing "great confidence" in the nation's top law enforcement official.
"They committed murder here in the United States and we'll seek justice here in the United States," Leahy said of the defendants.
Sen. Charles Schumer, D-N.Y., also called on Holder to ensure that New York City is reimbursed for all security expenses connected with the trial -- he pegged estimates at a minimum of $75 million a year.
"These trials will place a significant burden on the NYPD and the city to keep lower Manhattan safe and secure. This is a federal case in federal court and it is only fair that the federal government pay for the massive security mobilization that will be required," Schumer said in a statement.
Meanwhile, President Obama said in one of a series of TV interviews during his trip to Asia that those offended by the legal privileges given to Mohammed by virtue of getting a civilian trial rather than a military tribunal won't find it "offensive at all when he's convicted and when the death penalty is applied to him."
Obama quickly added that he did not mean to suggest he was prejudging the outcome of Mohammed's trial. "I'm not going to be in that courtroom," he said. "That's the job of the prosecutors, the judge and the jury."
The Associated Press contributed to this report.