GOP Senator Readies 'Bombs' for Favored Candidates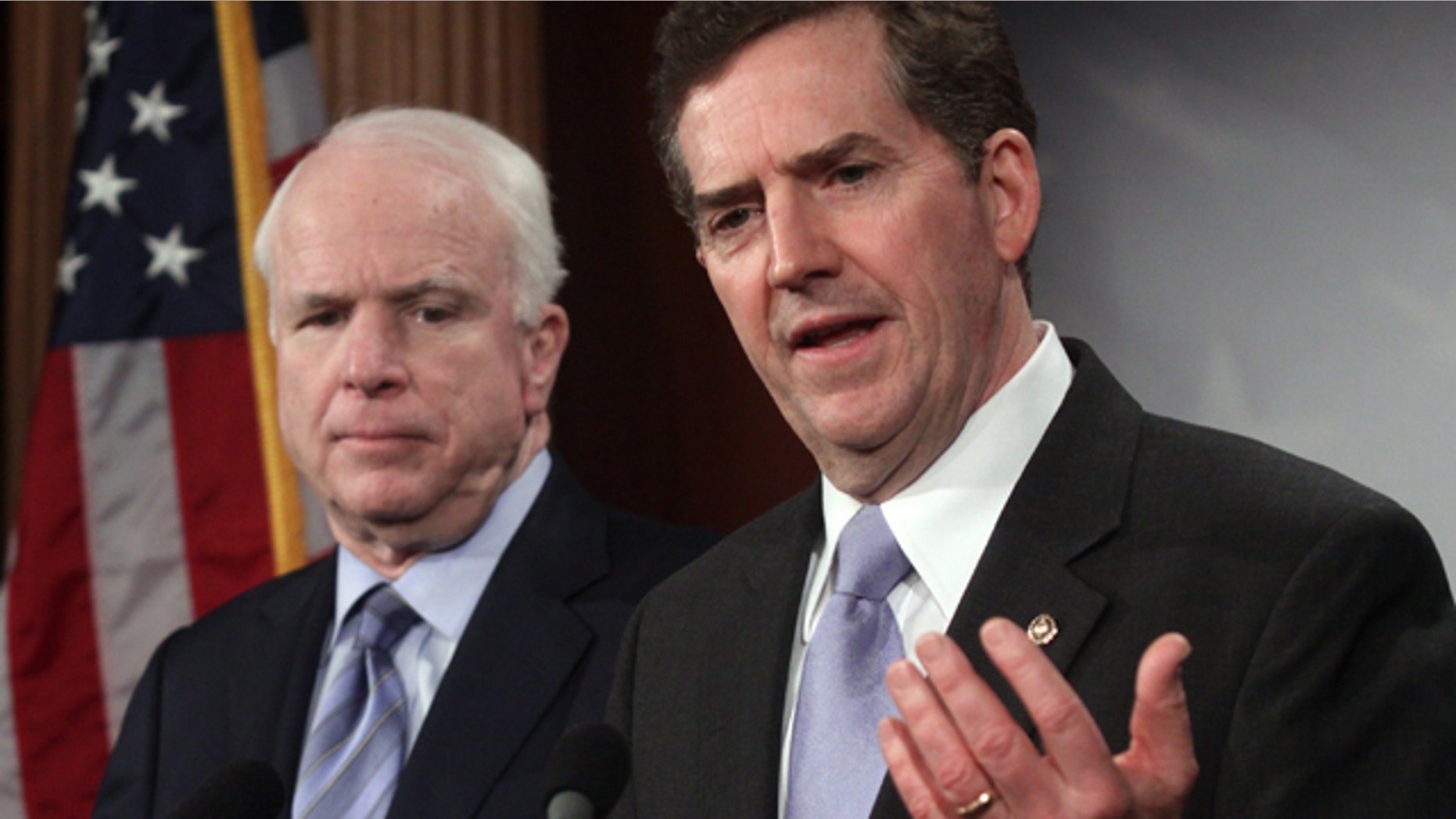 With a camera-ready smile and a flash of Southern modesty, Sen. Jim DeMint laughs off the suggestion that he is emerging as "a conservative kingmaker."
But the first-term Republican from South Carolina is undeniably engaged in the serious business of trying to anoint a few princes, particularly in the medieval kingdom known as the United States Senate.
The principal vehicle for DeMint in this endeavor is the Senate Conservatives Fund, an Alexandria, Va.-based political action committee he founded. The fund has already disbursed $1.4 million in the 2010 election cycle, according to its Web site and the Center for Responsive Politics, a non-partisan campaign spending watchdog.
Recipients of the fund's money have included a number of conservatives vying for U.S. Senate seats across the country. Among them are Pennsylvania's Pat Toomey, who has received more than $50,000; Chuck DeVore in California, who has received nearly $25,000; and Texas' Michael Williams.
And to help Marco Rubio, the former Florida House speaker who is waging an insurgent candidacy in the GOP primary against Gov. Charlie Crist, DeMint's PAC has aggressively used the Internet to build what it calls a "money bomb."
This refers to an intensive fundraising drive conducted in a short span of time, usually through online donations. According to DeMint, Sen. Scott Brown in Massachusetts successfully used a "money bomb" campaign to raise $1.3 million in 24 hours. In the case of Rubio, DeMint's fund set a $100,000 target for the end of Wednesday, the first anniversary of a controversial joint appearance by Crist and President Obama in Ft. Myers.
DeMint briskly moved to his talking points Wednesday morning when asked by Fox News about the kingmaker label. Later, DeMint said the term makes him "uncomfortable."
"My intent is not to shine a light on me," DeMint told Fox News, "but to focus on some underdog candidates in Florida, in Pennsylvania -- who are not underdogs anymore -- but just to give America a chance to see that there is a clear alternative of new Republicans that are standing up for the principles that we believe in."
DeMint peppers his talk with references to "new Republicans" and "old Republicans" and is fond of saying his fund's favored candidates are running "against the establishment." Again he smiles when asked if there is anything more "establishment" than a sitting U.S. senator with his own political action committee.
"Well, not everyone who is in the Congress is what I call an old Republican, the ones that I think helped run us off the road when we had the majority," he said. "The Democrats have gone so far to the left you can't see them anymore. But Republicans, when we were in power, we did spend too much. We put too much focus on earmarks. We didn't do what we said we were going to do. So we're looking for new Republicans."
Interviewed at his home in suburban Miami on Wednesday, Rubio expressed profound gratitude for the South Carolinian's commitment.
"Jim DeMint was the first prominent national figure to support my candidacy, at a time when no one thought it was possible," Rubio said. "He figured out before everyone else that there was this big pushback coming in America against what was happening in Washington, D.C. Had it not been for his early support, I'm not sure we'd be where we are today, as a campaign."
Recent polls place Rubio nearly 10 percentage points ahead of Crist, according to the Real Clear Politics Average, a compilation of major polls widely consulted by political professionals.
The Crist campaign rejected the notion that Rubio is an anti-establishment outsider.
"Speaker Rubio worked as a Miami lobbyist while simultaneously serving in the state legislature," Crist campaign spokeswoman Andrea Saul told Fox News.
"As the consummate insider, if Rubio isn't the establishment, he must be the special interests," she said.
Crist's aides also weren't fazed by DeMint's deployment of the "money bomb" technique.
"We are confident that by the end of this race, those backing Rubio will better appreciate that there are enough pro-tax, soft-on-guns lobbyists already in Washington, without Florida sending another," Saul said.
One critical Senate primary campaign in which DeMint is not using his name or his fund's money to influence the outcome is the GOP nomination battle in Arizona, which pits incumbent Sen. John McCain, the party's 2008 presidential nominee, against former Rep. J.D. Hayworth.
"I'm going to stay neutral in Arizona," DeMint told Fox News.
But some analysts hardly saw that stand as truly neutral.
"It's a pretty bold move and I think it's going to be read that way by a lot of people," said Jonah Goldberg, editor-in-chief of National Review Online and a Fox News contributor. "McCain is a very established power in the Senate. He is really, in many ways, the elder statesman of the Republican Party. ... And to not lend his support to McCain, I think, is a real sign that DeMint is putting himself in the outsiders' camp, in the Tea Party camp, in the insurgents' camp, against the Establishment."
DeMint said the frequent linkage of his political fund to the burgeoning Tea Party movement "wasn't intentional" on his part - even as he expresses admiration for the loose confederation of anti-tax, small-government protesters whose first national convention, held last week in Nashville, featured Sarah Palin as its keynote speaker.
"The Tea Party is really the energy and the ideas that we've been talking about with the Senate Conservatives fund," DeMint said. "It's really a cross-section of the American people: Republicans, independents, and the old Reagan Democrats who think we're spending too much and borrowing too much, and [that] there's too much government taking over our private economy. These are ideas that I hope the Republican Party will embrace, because I think, again, that is what's going to make us the majority party again."
Yet when pressed to name a single individual affiliated with the Tea Party movement who might help Republicans re-establish themselves as the majority party, DeMint demurred, saying "I don't think there's anyone I can say [who] came up through the Tea Party movement," and cautioning against viewing the Tea Partiers as "one homogeneous group."
DeMint also denied elevating politics over public policy with his widely quoted comments on health care reform to a conservative group last summer, in which the senator said: "If we're able to stop Obama on this, it will be his Waterloo. It will break him." Asked about those comments Wednesday, DeMint said they had "nothing to do with politics."
"I don't want to break his presidency," DeMint said with a faint drawl. "But we had to stop this rampage of government takeover and spending that [President Obama] was clearly pushing ahead on."
Fox News' Trish Turner in Washington and Steve Greenbaum in Miami contributed to this report.