GOP Sen. Flake, after trip to Cuba, predicts U.S. embassy opening in Havana is 'imminent'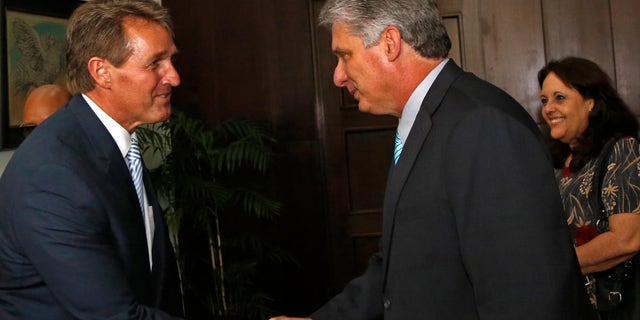 NEWYou can now listen to Fox News articles!
HAVANA (AP) – The opening of a U.S. embassy in Cuba for the first in 54 years is "imminent," a U.S. senator said Saturday as he and two other Republicans finished a short visit to Cuba said.
Sen. Jeff Flake of Arizona was in Havana with fellow senators Susan Collins of Maine and Pat Roberts of Kansas on a fact-finding mission and to gauge progress on talks to restore normal diplomatic relations between the U.S. and Cuba.
After meeting with Cuban Foreign Minister Bruno Rodriguez and North American Affairs Director Josefina Vidal, Flake predicted the opening of both a Cuban embassy in Washington and a U.S. embassy in Havana will occur in the very near future.
"Nothing has been set, but it's imminent," he said.
Flake and his delegation also met with Cuban First Vice President Miguel Diaz Canel, who is widely seen as President Raul Castro's successor when the Cuban president retires in 2018.
"We talked about U.S.-Cuba relations, a continuation of meetings we have had before and will continue to have. We are very excited about the prospect of full diplomatic relations, which are very close," Flake told The Associated Press shortly before returning to Washington.
Like us on Facebook
Follow us on Twitter & Instagram