GOP Candidates Make Pitch to Colorado Latinos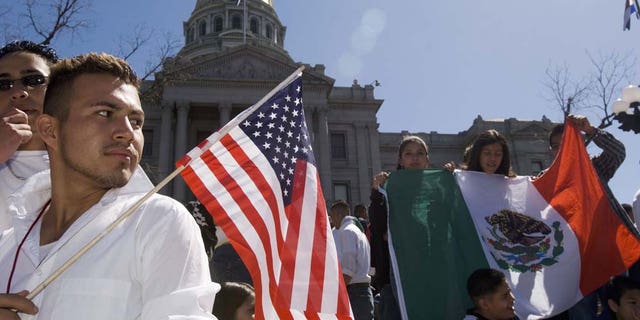 The next stop in the GOP primary with a significant Latino presence is Colorado, which holds its caucus Tuesday.
Colorado's Latino population surged more than 40 percent over the past decade, and Denver, the state's largest city, is more than 30 percent Latino. A majority of Colorado's Latinos lean Democrat and will not be participating in the caucus, which is open only to registered Republicans.
Colorado's three million active voters are split nearly evenly among Democrats, Republicans and independents.
Though most of Colorado's Latinos are Mexican-American and tend to vote Democrat, the state Republican party has stepped up its Latino outreach efforts, and with good reason.
Latinos are voting in increasing numbers.
"I recognize the political realities of the changing demographics of the state," said Ryan Call, Colorado's GOP state chairman, according to The Denver Post. "Reaching out to our Hispanic neighbors is absolutely critical if we hope to be successful."
Mitt Romney Rolls to Victory in Nevada Caucus
On the other side, President Obama's campaign is up and running, with a network of offices working to keep Colorado in the president's column. In 2008, more than 60 percent of the state's voters cast their ballot for Obama.
A story in Boston.com said "The Obama campaign has been careful to cultivate support among Hispanic voters who might harbor deep reservations against Republicans, particularly Romney, who has taken a harder line than some of his opponents on immigration issues."
The GOP presidential candidates have not pounded the pavement in Colorado with the same intensity and high profile they did in Iowa, New Hampshire, South Carolina, Florida and Nevada. Republican front-runner Mitt Romney won the Colorado GOP caucus in 2008.
Democrats have rolled up big victories statewide and, in 2008, Obama became the first Democrat in two decades to carry Colorado's nine electoral votes.
Today, however, unemployment is near 8 percent, and Coloradans are gloomier about the economy and their elected officials. Romney and his rivals in Tuesday's party caucuses – the other caucus is in Minnesota -- are counting on that mood to redeliver Colorado to the GOP this November.
Romney's challengers, former House Speaker Newt Gingrich, Sen. Rick Santorum of Pennyslvania and Sen. Ron Paul of Texas are hoping the next stops in the GOP fight for the nomination will give them enough to support to validate their staying in the race.
"Whoever the Republican candidate is going to be, there's going to be support for that person in Colorado," Republican state Sen. Kent Lambert said, pointing to a state unemployment rate on par with the national average as a reason.
In 2010, Republicans regained control of the state House and captured a narrow lead in the state's congressional delegation. One of Colorado's largest employers, the oil and gas industry, is frustrated by perceived hostility from the Obama administration, with an Interior Department led by a Colorado Democrat, former Sen. Ken Salazar.
All that gives Republicans hope.
This story contains material from The Associated Press.
Follow Elizabeth Llorente on Twitter: @Liz_Llorente
Elizabeth Llorente can be reached elizabeth.llorente@foxnewslatino.com
Follow us on twitter.com/foxnewslatino
Like us at facebook.com/foxnewslatino