GOP Candidates Court Tea Party Voters in Race Against Reid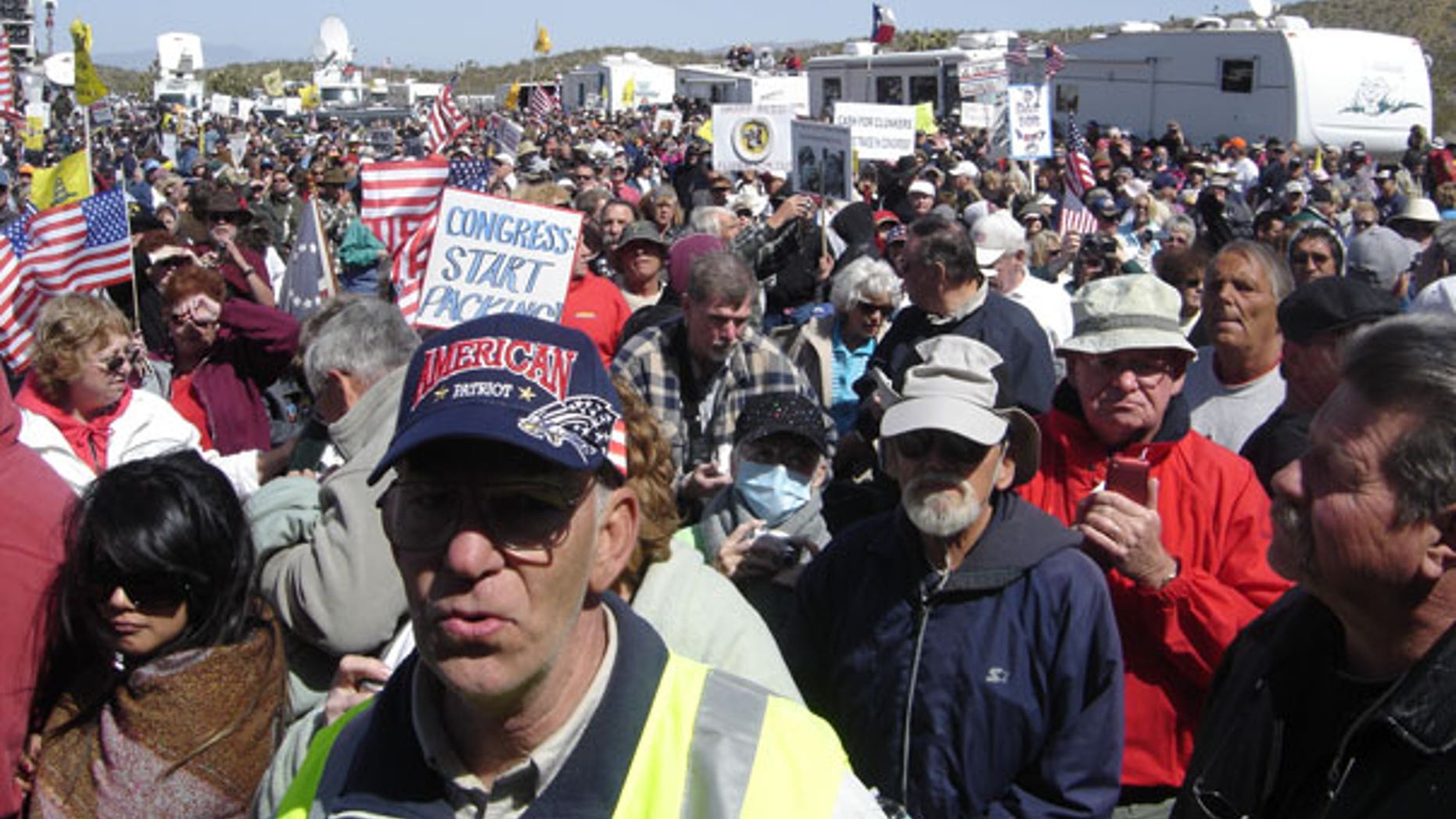 The Tea Party rally Saturday in Nevada, billed as the "Showdown in Searchlight" because it took place in the hometown of Senate Majority Leader Harry Reid, also served as an unofficial showdown of sorts for three of the Republican candidates vying to unseat Reid in the election this November.
The three leading Republican candidates are competing for the "seal of approval" from the conservative Tea Party movement, which, so far, has refused to endorse anyone in the Nevada race.
That's not because of a lack of challengers. A dozen Republicans are running in the June 8 primary, and several polls show Reid, a five-term senator, as the underdog against at least three of them: real estate owner Danny Tarkanian and former state lawmakers Sue Lowden and Sharron Angle.
But each of the Republicans is still relatively unknown compared to Reid, so they are actively courting Tea Partiers to boost their candidacies.
"Certainly I would like to have that endorsement," Angle, former state representative, told FoxNews.com. "These are folks that believe in lower taxes and less government spending and I believe that I am that person in a lot of ways."
Angle, Lowden and Tarkanian, attended Saturday's rally in Searchlight, which drew a crowd of thousands. The organizer, Tea Party Express, has launched a 42-city bus tour to protest the policies of the Obama administration and Democratic-controlled Congress.
The three candidates each brought supporters to the rally and added their own red meat speeches to the festivities in an attempt to win disaffected conservative activists.
The Tea Party movement has not formed its own national party, but it also remains adamant in its refusal to merge with the Republican Party and endorse a candidate in the Nevada Senate primary, priding itself in its anti-establishment, libertarian-leaning philosophies. And while nearly three-quarters of those associated with the movement identify themselves as Republicans, movement leaders say the labels Tea Party and Republican are not synonymous.
"A Republican is a person who puts the party first and a Tea Party member is someone who puts ideas first," said Howard Kaloogian, a California attorney and chairman of the Our Country Deserves Better political action committee, which is sponsoring the Tea Party Express bus tour.
"You want to be outside of the party so you don't succumb to its internal politics," added Steven Maikoski of La Palma, Calif., a 60-year-old freelance photographer and registered Democrat who attended Saturday's rally clad in American colonial uniform.
Lowden, a former Nevada state senator and casino owner, said she sees no difference between the Tea Party activists and the rest of Nevada voters.
"I don't consider the Tea Party voters different from any other voter," Lowden said in an interview with FoxNews.com. "They're people I've known for years. They're just regular folks who have not necessarily been involved in politics before and feel that they've been disenfranchised."
Tarkanian, meanwhile, has said he hopes the movement maintains its independence from the Republican establishment. "I would be disappointed if they made an endorsement," he told FoxNews.com. "They're a movement of like-minded people who are frustrated with the way our country is being run.""But the three candidates' presence at Saturday's rally indicated that the Tea Party's clout is growing.
"Every Republican candidate is courting the Tea Party vote," said Eric Herzik, a political science professor at the University of Nevada, Reno. "Each one of these candidates is going to try to find the message that resonates with the Tea Party group."
Herzik and others said that despite candidates' attempts to appeal to the populism of the Tea Party voters, the movement's influence in the midterm elections remains unknown.
"The Tea Party has gotten a lot of attention, but there's no coherent voice out of the movement," he said. "Is this a grassroots movement analogous to Ronald Reagan and the Republicans in the 1970s? Or is it more like the movements of Ron Paul and Ross Perot, which stayed at the fringes?""
"There's a difference between the ability to make an event and the ability to sway votes," added Ted G. Jelen, a professor of political science at the University of Nevada, Las Vegas. "I think these people are much better at making noise than making progress."