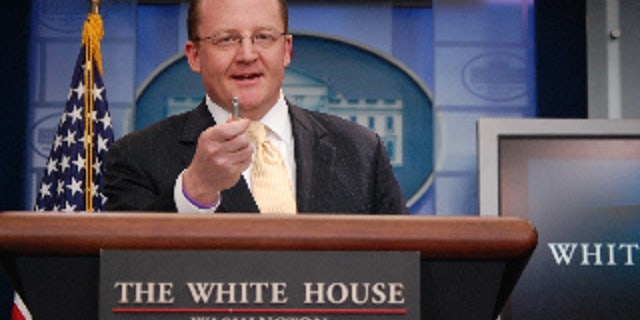 After giving only one on-camera press briefing so far in November, White House Press Secretary Robert Gibbs is going in front of the lens to answer questions from every-day Americans. He is soliciting questions through the social-networking web site Twitter.
Around 10 a.m. Monday Gibbs tweeted through his @PressSec account, "Had a trip or 2 since last time, but let's get back to it: Send in your q's ... What do you want to know?" He asks that the questions be submitted with the Twitter hash-tag #1q.
Gibbs will select questions from the hash-tagged list then answer them through a video on the White House website. He has answered selected questions through social media and the White House website before but hasn't made the new technology a part of regular press briefings.
But it's not just Washington outsiders lobbing electronic queries at the White House press secretary. Incoming Speaker of the House John Boehner asks Monday via his @GOPLeader Twitter account, "If POTUS supports an "outright ban" on earmarks, will he call on Leaders Pelosi and Reid to do the same?"
The recently ramped-up TSA airport screenings are also a subject of questions. @misterdham asks "@PressSec Does @BarackObama still think it's OK for the TSA to strip search breast cancer survivors and 9 y.o. boys? If so, why?"
Following the digital exchange, Gibbs steps in front of live cameras in the White House Briefing Room for the second time this month.
1p.m. Update: Gibbs selected two Twitter questions. The first was whether the president will push for a vote on Don't Ask Don't Tell during the lame-duck session of Congress.
"The answer to that is yes" Gibbs said. "Our strong belief and hope is that we can have a vote and change this policy legislatively before the courts do."
When asked about whether the START Treaty would be watered down in order to get the 67 Senate votes needed to pass it, Gibbs said "The treaty is intact and won't be watered down between now and then."
VIDEO: Click here to see the full answers.