Geraldo Rivera: Arnold's Telenovela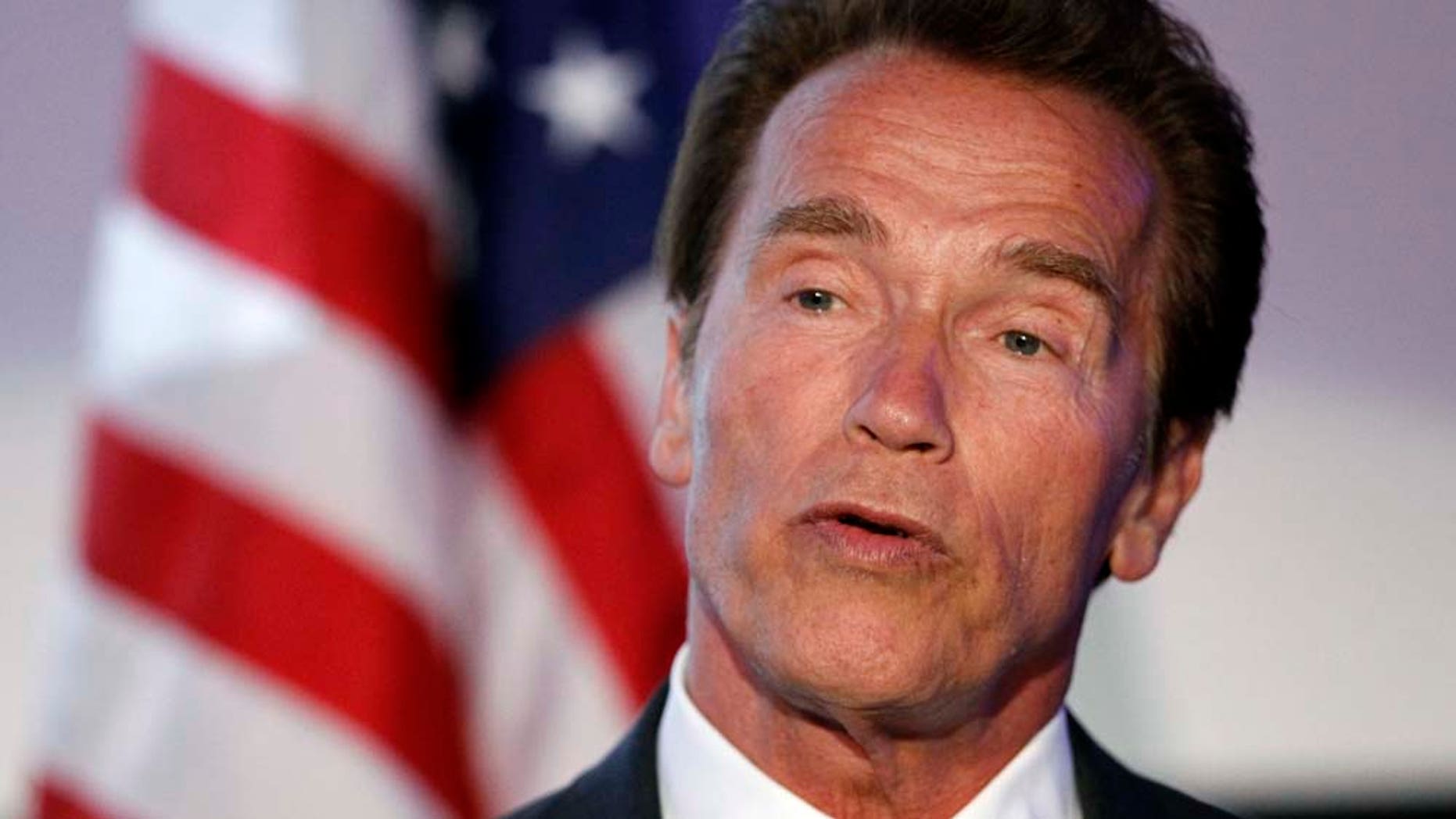 Mildred Patricia Baena, or simply Patty to the Schwarzenegger family, would never be mistaken for Salma Hayek; yet she has now become the country's most prominent Latina, temporarily eclipsing even Shakira and JLo.
Like Latina Raquel Welsh or Rita Hayworth in their time, she was irresistible, attracting the affection, loyalty and generosity of a big man, larger than life.
For his part, Arnold is being called the creep of all time. That is impossible while John Edwards still lives, but when the love child story of Arnold and Patty broke it shocked, amused, hurt and filled us with disdain.
The Guatemalan Maid!
At least three stereotypes color her story.
First, in this time of immigration cholera, her family hails from south of the border. How much more incendiary can an aristocratic California politician get? Fathering a love child from a shunned class that generates enormous friction because it represents the humble future of his changing state?
Furthermore, his betrayed, estranged wife, mother of his children is beloved royalty, making the tawdry story more egregious. How could he do it? Is he just a horn dog, an indiscriminate, uncontrolled sex machine? What did this master of the universe see in a domestic subordinate?
In explaining why Arnold betrayed his queen and deigned to taste the salt of the earth, Patty's 'Latinisma' is sometimes mentioned. Regardless of the unflattering photographs published, it is assumed she had that classic smoldering appeal. A honey trap is assumed.
A typical complaint: "Not only did she pursue him, she also slept with him several times during the day in the house!" How did the man mountain fight off her pursuit? What venue would have been preferred, his old hybrid Hummer?
The final stereotype in this telenovela, anti-Cinderella is the "Upstairs/Downstairs" angle. She cleaned the Schwarzenegger toilets for two decades, "Maid in Manhattan" set in Beverly Hills, Hyannis port and Sacramento. I don't know her, but she must be big-hearted, loving and loyal. She not only raised the Terminator's baby, kept his secret and lived two lives, she also washed his laundry.
I've known Arnold for four decades. I first put him on television when "Pumping Iron" came out. Unique and ambitious, he has been a show business sensation. His run has been historic, carving huge success from sheer willpower and personality. Then he ran for governor.
How could he do it with this secret hanging over him?
That takes chutzpah, arrogance, narcissism and cosmic balls.
Imagine if it had been revealed on the eve of his election, or worse, immediately after? The Golden State would have been in chaos. He knew the danger. Bums who risk their family's well-being know how the specter of exposure weighs heavily. Add that deep cut to the potential earthquake at stake when you're running a state?
Arnold? Dude? We were going to change the Constitution for you.
You should have stayed in the movie business. There, what you do is between you and your family, and not you and everybody who ever thought you were cool.
For her part, Patty is clearly a woman of incredible strength. To raise her son in the literal shadow of that swaggering man, keeping the truth of their child's parentage secret for a time even from Arnold, required world-class love and trust. Imagine all the times she wanted to tell everybody that her fatherless child's daddy is one of the world's most recognizable people?
And then, she could no longer keep the secret.
Imagine how terrified Arnold must have been? Loving his son, he knew what we now know.
The boy looks so much like his daddy that it couldn't be long before the world blew up.
It is a miracle that no one made the connection sooner. It is also as unlikely as the Pakistanis not knowing Osama Bin Laden was hiding in plain sight.
That story will come out. And Latinos will figure out whether we still love Arnold, and whether we're embarrassed or proud of Patty.
Geraldo Rivera is Senior Columnist for Fox News Latino.
Follow us on twitter.com/foxnewslatino
Like us at facebook.com/foxnewslatino